Hiii guys! Happy Friday!! Today I thought I would share with you about how I decided to redecorate my mudroom for the holidays. It's not necessarily a "room" but it is part of the hallway from the garage into our house, and it's a place where we can sit down to put on boots or shoes! It's one of the very first things you see when you walk into our home, and I thought it definitely needed a little revamp. Let's call it my mudroom nook!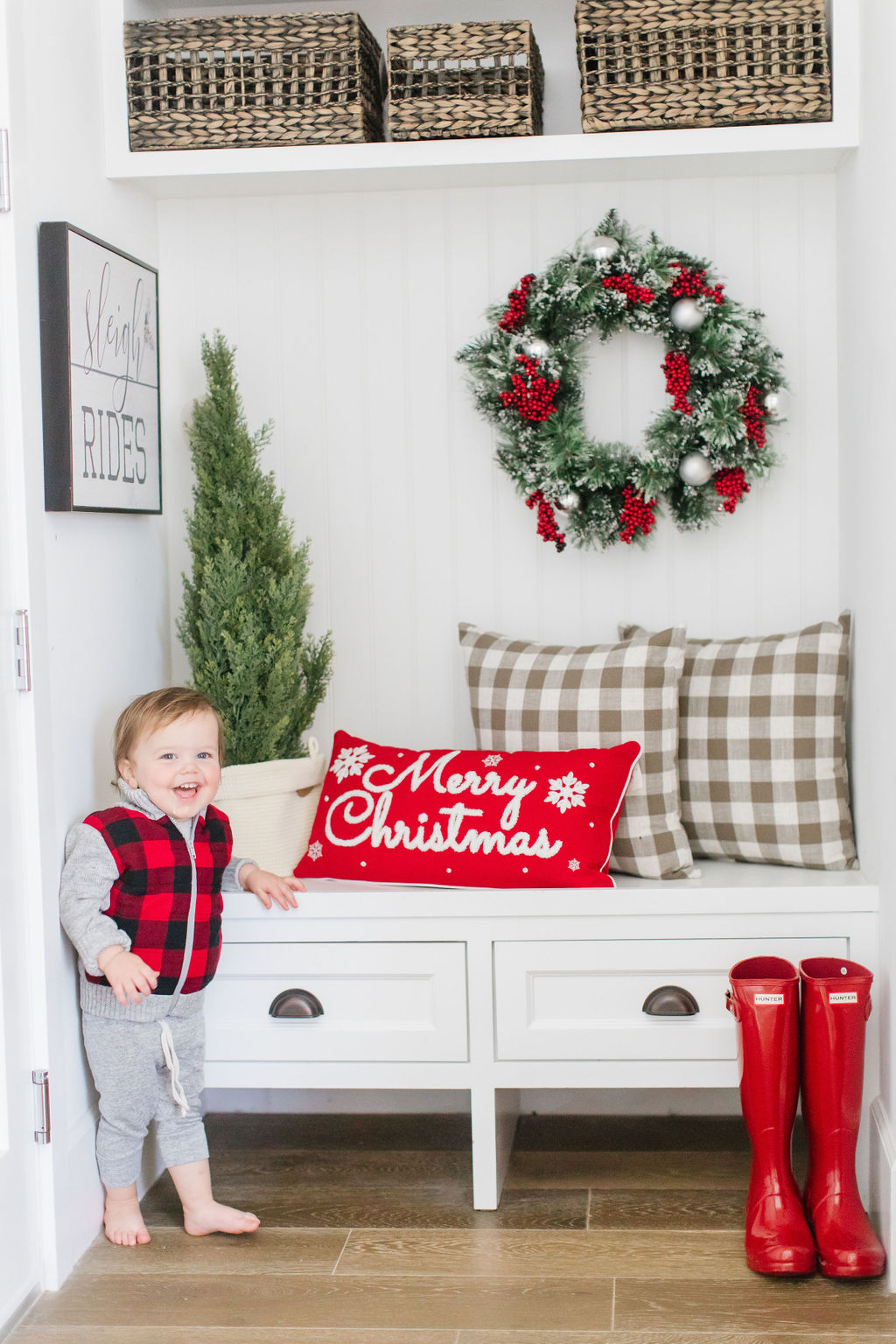 1. BASKETS | 2. PLAID PILLOWS | 3. TREE | 4. MERRY CHRISTMAS PILLOW | 5. WREATH
I decided that it would be perfect to decorate it for the holidays so that when guests are arriving, it is a much nicer view when they walk in our home. It really was such a simple and affordable fix, that this could definitely be considered an Affordable Friday…. but for home decor! So Happy Affordable Friday! And I got everything from one place – The Home Depot. They have to cutest home decor stuff. And get this, EVERYTHING in my pics is under $50. Including Riley…kidding 😉 That is SO great for home decor prices.
Decorating My Mudroom
I am so excited about my new mudroom and I hope it inspires some of you too! Really, these decor items could be used anywhere in your house, not just in a mudroom! And I also think that they would be great for any entryway from a garage into a house. Or if you have a little bench somewhere were your kiddos put on their backpacks or take off their shoes, you could show that area some holiday love too! Okay so onto my mudroom! And as you can see, Riley looks so stinking cute chilling in it 🙂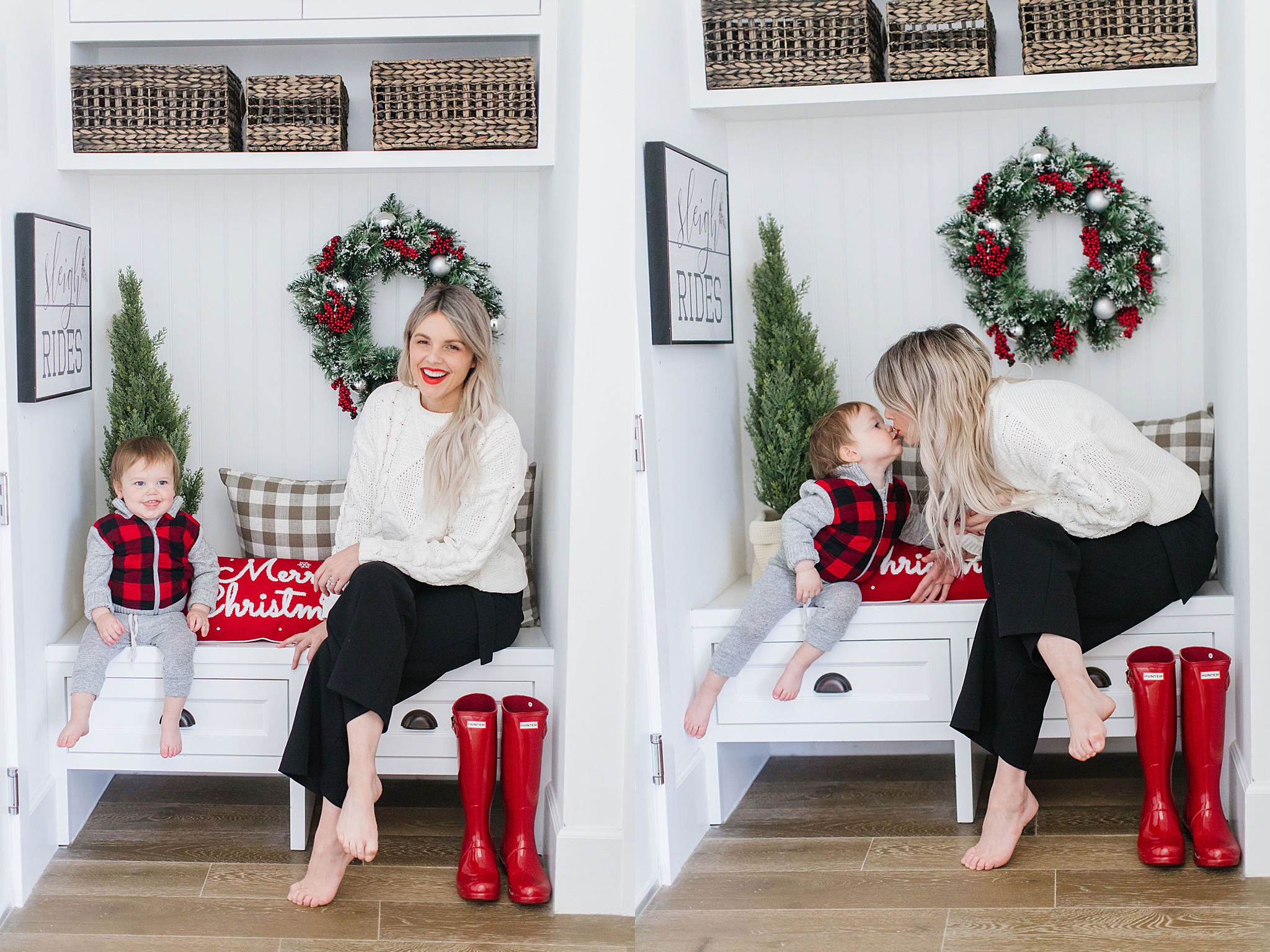 1. BASKETS | 2. PLAID PILLOWS | 3. TREE | 4. MERRY CHRISTMAS PILLOW | 5. WREATH
Neutral Plaid Pillows
Honestly, I built the entire space around these plaid pillows. And the reason I did that is because I wanted some of the items that I got to be things that could stay here year-round. And these plaid pillows are the perfect neutral that I will be able to decorate them with different accent pieces every season. They are so cute, look expensive and have such a great farmhouse vibe. I think they would look cute on the guestroom bed, or on your couch or really anywhere you need a throw pillow.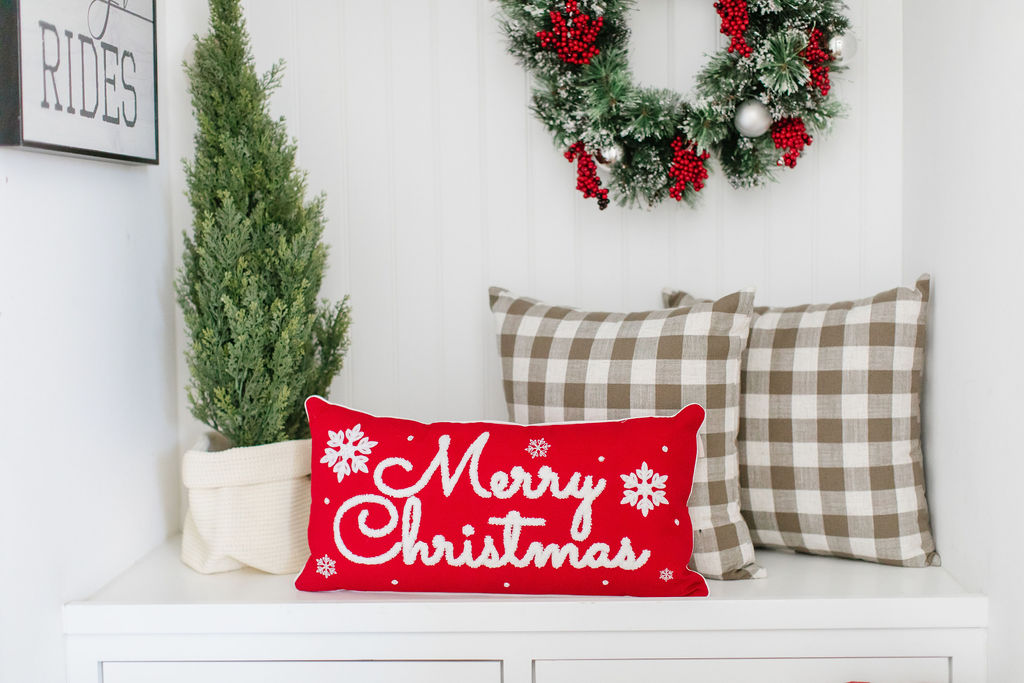 1. SLEIGH SIGN | 2. TREE | 3. KNIT  BASKET | 4. CHRISTMAS PILLOW | 5. PLAID PILLOWS
Accent Christmas Pillow
Next I knew I wanted an accent pillow and this super beautiful and colorful Merry Christmas pillow was just perfect! I love that it's festive but very tasteful. This is another one of those pillows that would be so easy to throw on a guest room bed or even your own bed to give it a little festive flare! And again on a couch or chair or wherever you could use a throw pillow.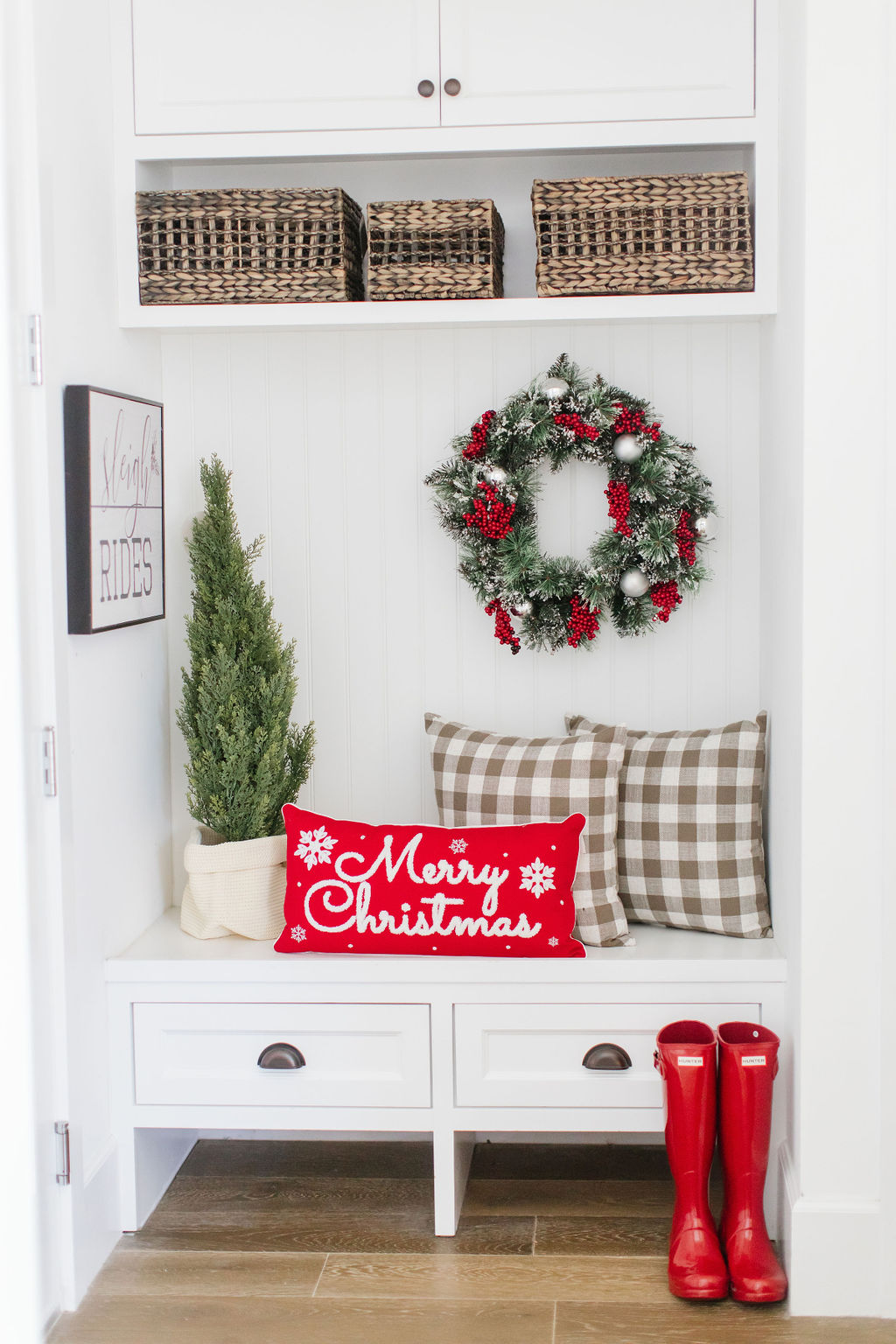 1. BASKETS | 2. PLAID PILLOWS | 3. TREE | 4. MERRY CHRISTMAS PILLOW | 5. WREATH
Storage Baskets
Another item that's going to stay in the mudroom nook year-round are the baskets that I found. Before I really got into decorating, I used to just have so many little tiny knickknacks on my shelves. And I realized that was really distracting for the eye and kind of makes your house feel cluttered. Baskets like these are the perfect way to fill in spots on shelving in your home making it look neat, organized and put together. I really love the rich brown color of these. When you buy them they come in a two pack. A larger basket and a smaller one. I bought two 2 packs. The larger baskets are on the sides and one of the smaller basket is in the middle. And then I'll just use the third basket to fill with cookies and treats for a holiday gift I give to someone. Baskets are always a great way to present any sort of gift.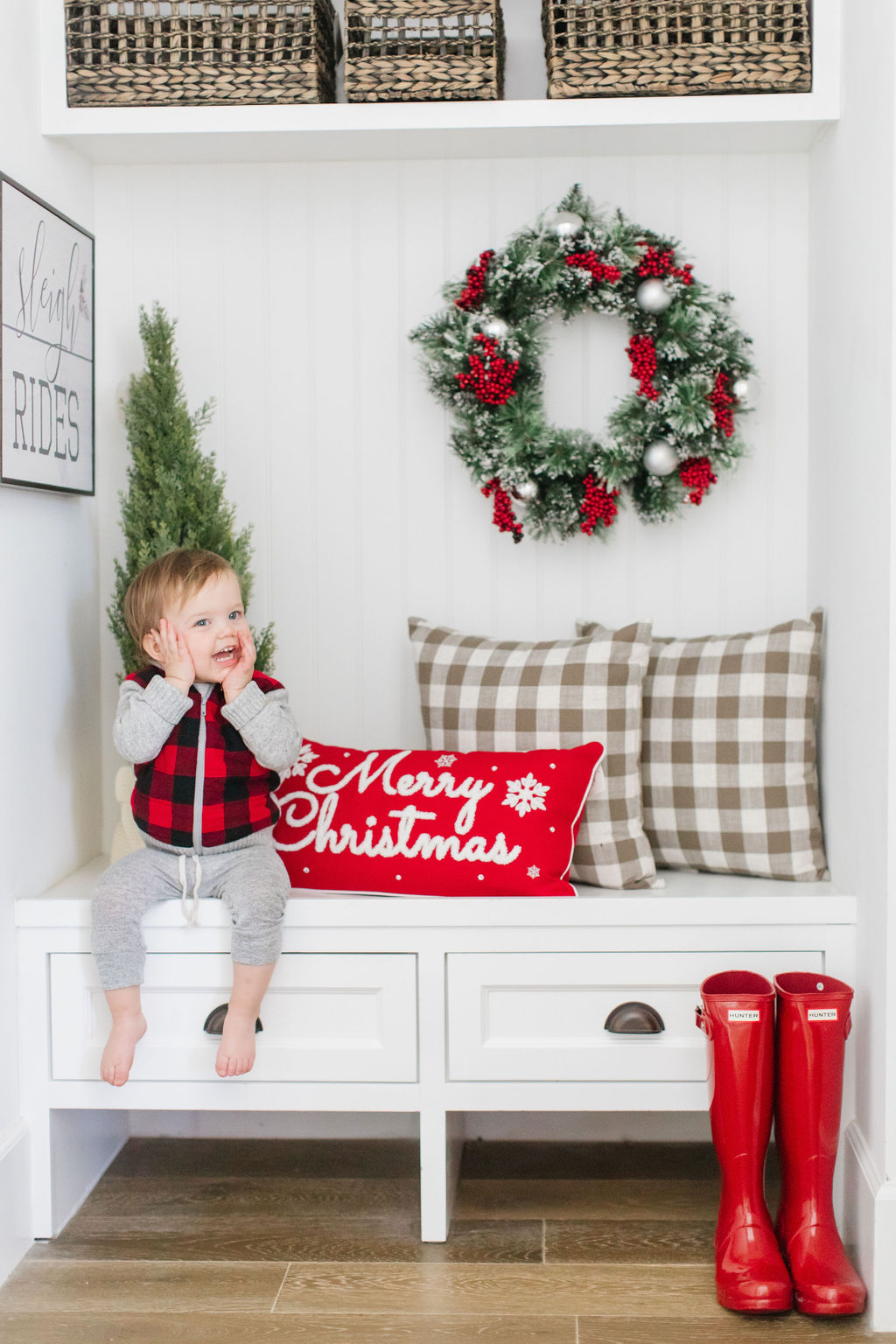 1. BASKETS | 2. PLAID PILLOWS | 3. TREE | 4. MERRY CHRISTMAS PILLOW | 5. WREATH
Greenery
So at this point, I realized that this area needed some height and something to fill in all the white space. So I got this faux tree and just put a little white knit basket around the bottom of it so it wasn't a black plastic part on the bottom. And I didn't bother decorating it because I just liked it plain. I also kind of think it's something I could keep up all year because it's not decorated. Although if you wanted to decorate it, you could go for it. I just thought it looks nicer looking natural.
And how stunning is this wreath?! I love that it's flocked. And the red holly berries make it so festive and fun. Because I left my tree bare, I really felt like my wreath needed to have something special and this one totally does the trick! It truly is so stunning in person. Molly LOVES it!

1. SLEIGH SIGN | 2. TREE | 3. KNIT  BASKET | 4. MERRY CHRISTMAS PILLOW
Signage
And last but not least I completed the space with the sleigh rides sign. I'll link a few signs below from The Home Depot that are holiday themed that I think would also look so cute in an area like this. I chose this one because it felt whimsical and my kids think it's fun! But I will say, when I was looking for signs, it was really hard for me to pick one because The Home Depot has so many cute signs on their site! And at really affordable prices! So while I was looking for the sleigh ride sign I actually came across the sign below. Plus all of these super cute options:

Gather with Grateful Hearts
As you guys know I've been searching for a sign to put above the shutter doors in our living room area for quite a while now. Maybe six months ago I asked you to help me find a cute sign and I just couldn't choose! But I finally found this one while searching on The Home Depot site. I love it so much because I see it as soon as I walk in my front door and it instantly reminds me of everything I have to be grateful for.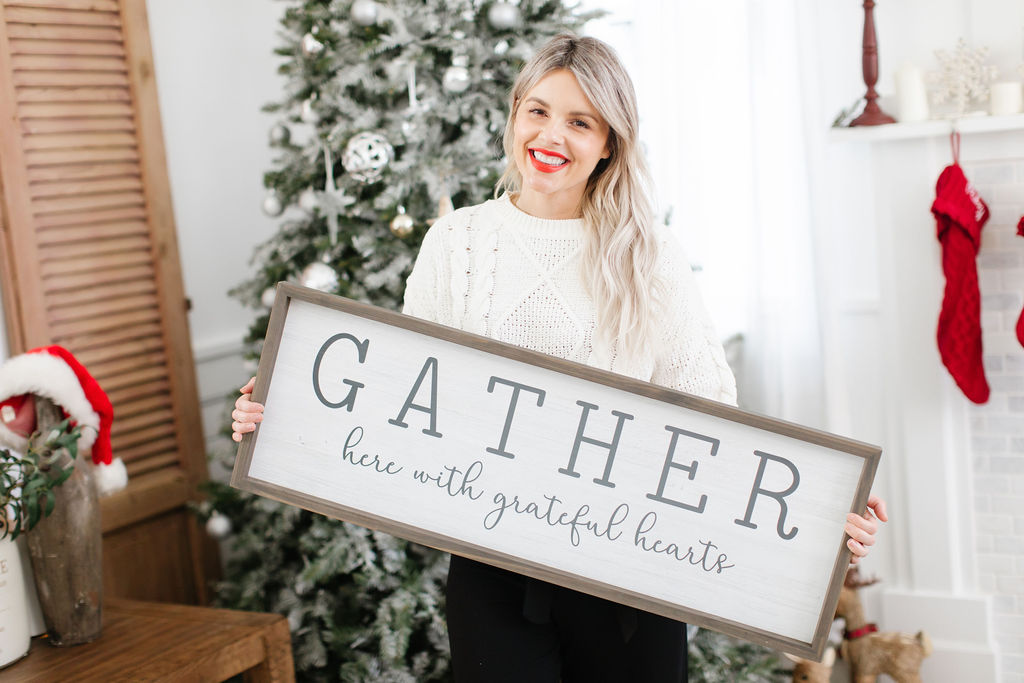 I feel like sometimes when I come home from work after a long day, I can feel exhausted and tired and grumpy depending on the day, but when I look up at the Gather sign I instantly feel a sense of gratitude and am so grateful for everything I have in my life. It just really is such a great reminder as you walk in the door. I love it so so so much! Plus for how big it is, it was ridiculously affordable! So I wanted to include it in this post because I feel like you guys will love it too.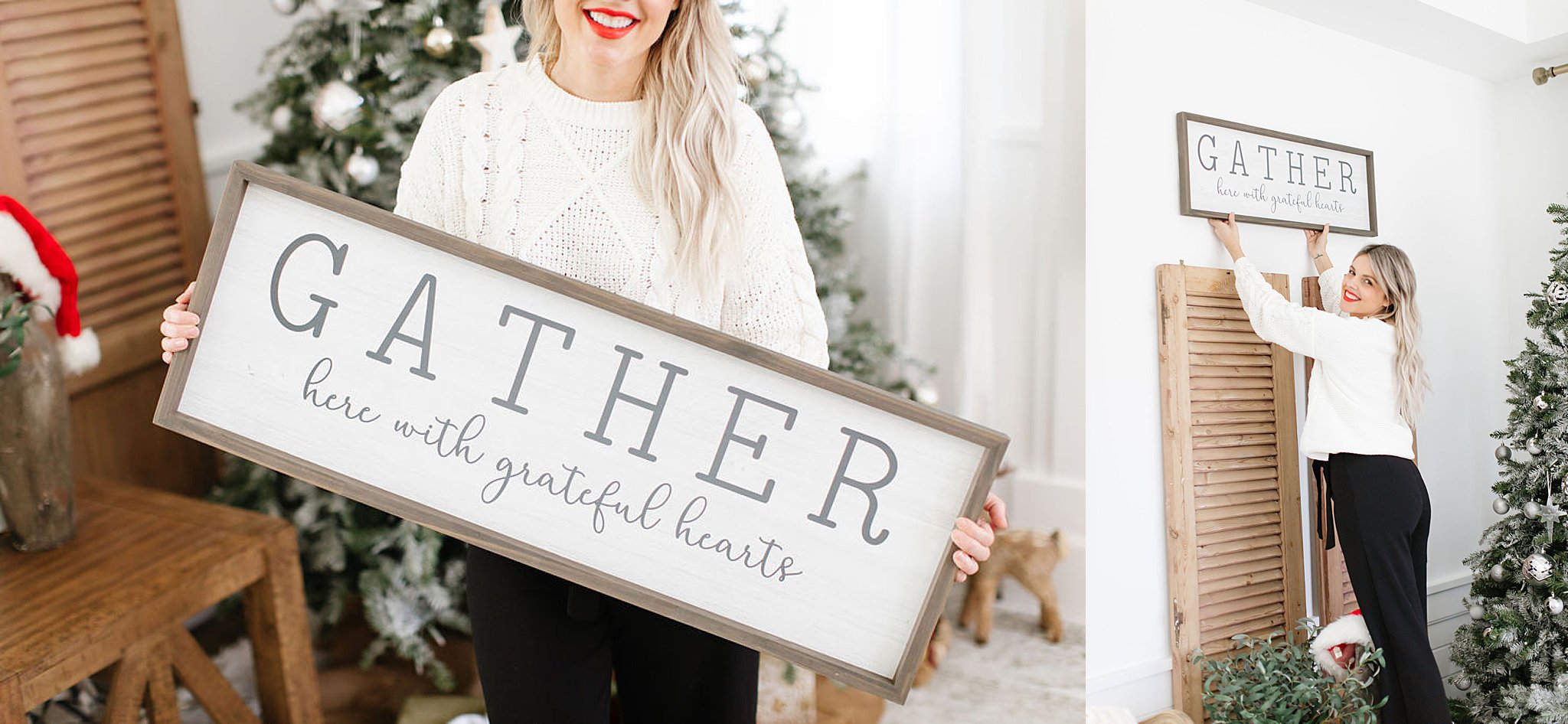 Plus, when your guests come to visit this holiday season and anytime throughout the year, it's the first thing they're going to see and it will make them feel welcomed and grateful to be there with you! It just sets the tone for you and for everyone else that comes through the door.
Let me know what you guys think in the comments below! And I definitely recommend checking out The Home Depot if you're looking to revamp any spaces in your home, either for the holidays or to start fresh in 2020! But real quick before you go, help me with my guest room!
GUEST ROOM REFRESH
Since I was already doing the mudroom and ordering a bunch of stuff, I thought I might as well check out the other home decor that I could find on The Home Depot's site for our guest room. It's been a while since we did a refresh so I thought why not since I was finding so much cute stuff on their site. I ended up finding this awesome flannel bedding that I think is just perfect for our holiday guests. Not only is it sooo cozy, but it definitely brings extra holiday and vacation enjoyment to the guest room!! There are a few different color options for the flannel bedding, and I recommend that you check if any are perfect for you!!!
That being said, once the holidays are over, we decided that we want new bedding for the guest room altogether. I found a handful of ones that I really like and linked below, and I wanted to get your thoughts! Which of these is your favorite? Or do you see another one on The Home Depot site that you think I should get instead? They have so many to choose from! I'm thinking maybe going for a color… but you know how I am about my neutrals!!!

Anyway, I hope you guys feel inspired to do a little Holiday refresh decorating by this post! Let me know if you've any questions about anything! There is a bunch of other home decor inspo on my site as well. And thank you so much to The Home Depot for sponsoring this post! I had soooo much fun finding such cute affordable stuff on your site!