Happy holidays! I'm so happy that we're now officially into the holiday season. I don't really know why it's official. Maybe because most people think it's acceptable to celebrate the holidays now? This is coming from a girl that had her Christmas tree up a few days before Halloween. Ha! I love Christmas, and every year I start celebrating earlier and earlier! And every year, I leave my decorations up later and later. There's just something about the holidays that make me feel so happy. I want to celebrate them as long as I can, and that means drinking a Peppermint Mocha as soon as I can!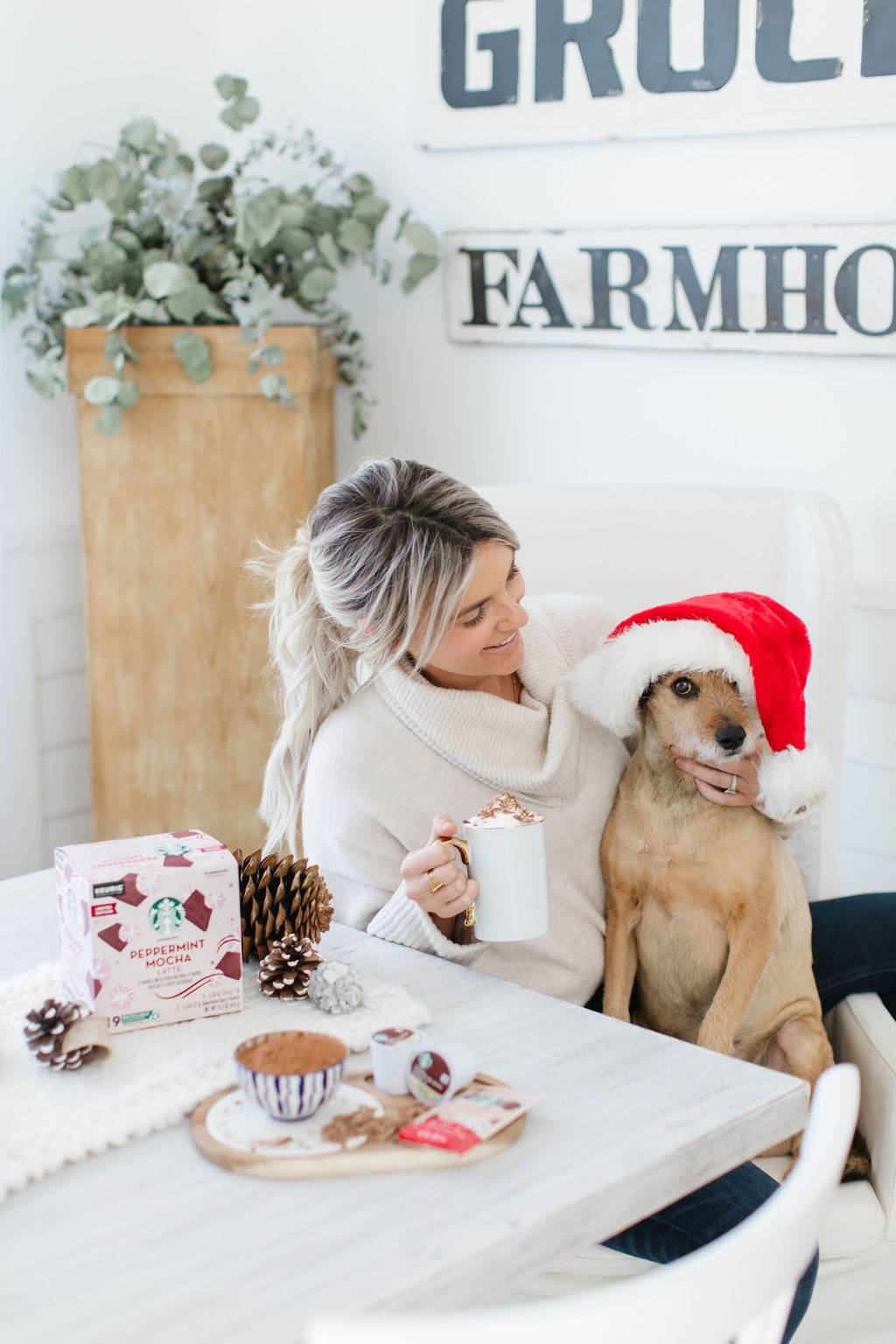 Starbucks Holiday Drinks
So today on my blog, I'm sharing with you guys some of my absolute favorite holiday drinks using Starbucks® Holiday Collection coffees. I always think it's the coolest thing ever when brands I love reached out to me and ask to work together. I have to pinch myself about it every time it happens!
You guys I know I love my Starbucks. Just look at my Instagram and or my Instagram stories – I pretty frequently have a Starbucks cup in my hand. Nowadays, I'm just not able to get into my neighborhood Starbucks store as much as I used to, or as much as I would like to! Mostly because when I'm out and about, I usually have two kids in car seats in my car and the last thing I wanna do is take them out of their car seats to stop just about anywhere. Ha! So for me, being able to make Starbucks drinks at home is the best thing since sliced bread!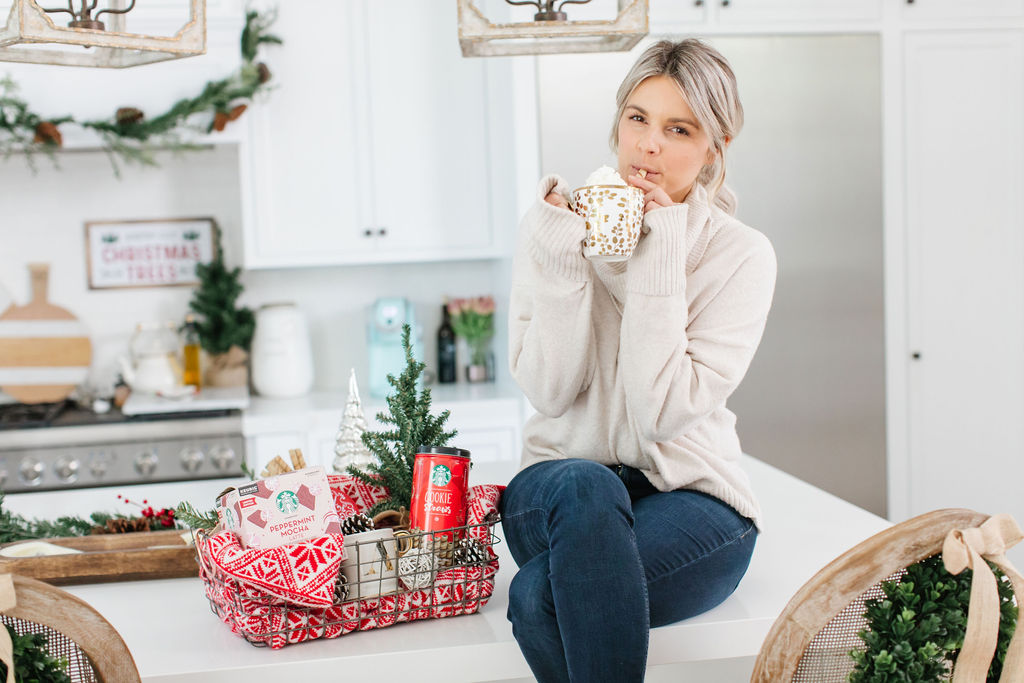 I know some people even say that the holidays don't even really start until the red cups come out at Starbucks. Well for me, the holidays don't really start until I make my favorite Starbucks Holiday drink at home!
Peppermint Mocha
So today, I thought I would show you 3 really fun ways to make Peppermint Mocha drinks for the holidays. It's super super easy to do and they look really pretty too! All three drinks are essentially freshly brewed Starbucks® Peppermint Mocha Latte K-Cups® and I just garnish them differently.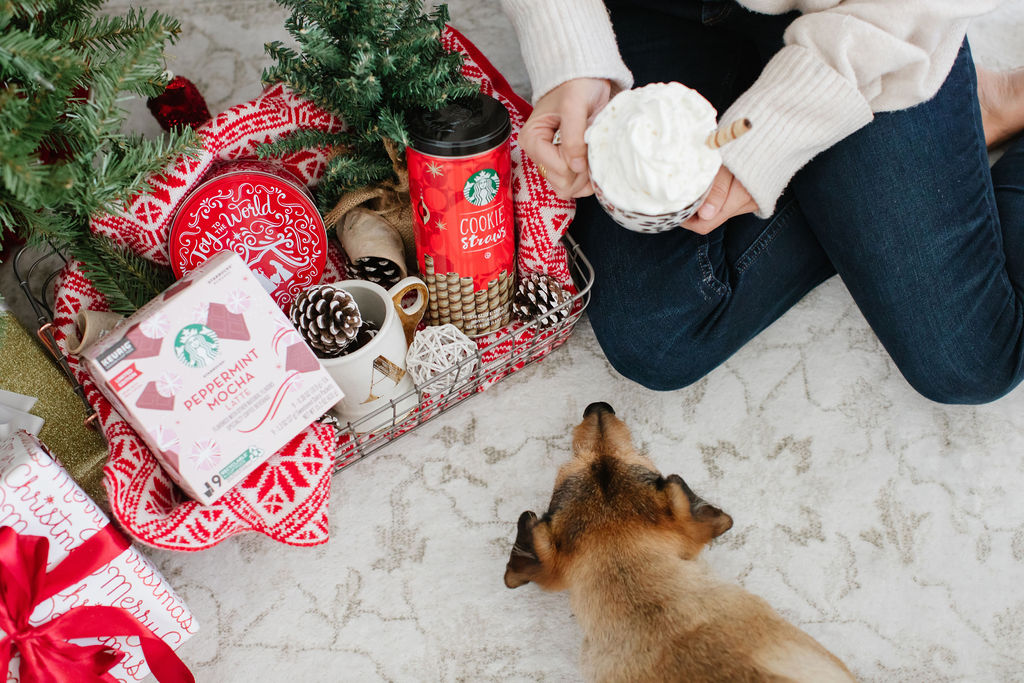 I really think this is a great idea for a little beverage bar at a holiday party. If you were going to do this as a beverage bar at a holiday party, I actually recommend using the Starbucks VIA® Instant Peppermint Mocha Latte! That way you can just put a little bit of the instant coffee in your mugs at the beginning of your party, and then people can add water and toppings as they go down the beverage bar. It's just really fun and your guests will love it!
So here's what you need to make Peppermint Mocha three ways.
Base:
One mug of freshly brewed Starbucks® Peppermint Mocha Latte K-Cup® OR the Starbucks VIA® Instant Peppermint Mocha Latte. Then you just add whipped cream for all three options and finish it off with your toppings! It's SO simple, you can't go wrong. Take a look at some of the pretty photos of each one below.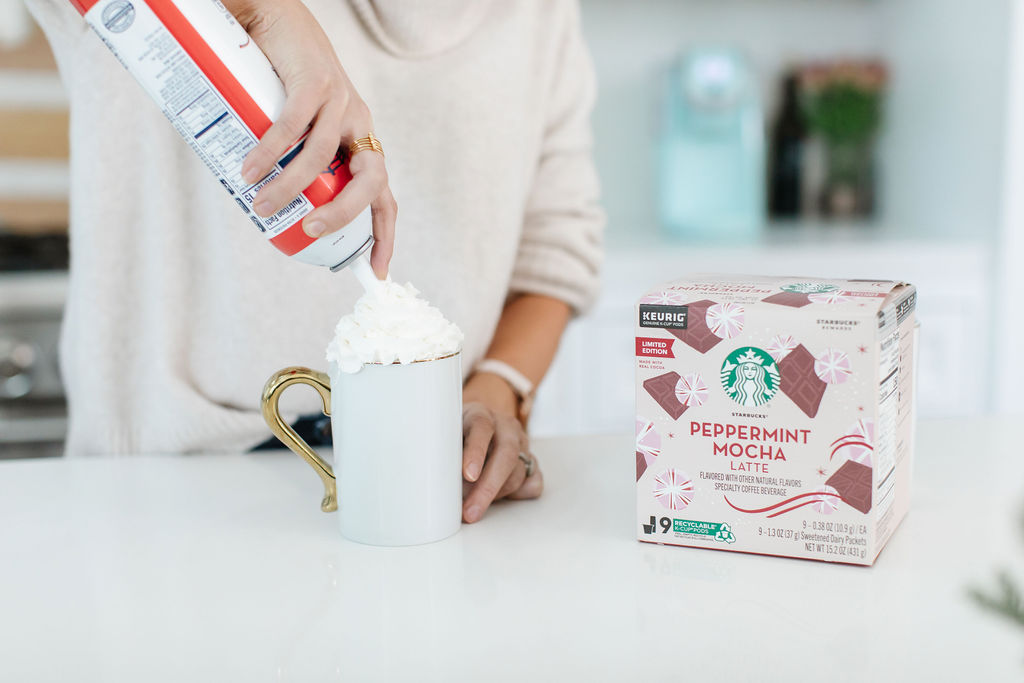 Classic Garnishes:
* Whipped Cream
* Crushed Peppermint Candy
* Mini Marshmallows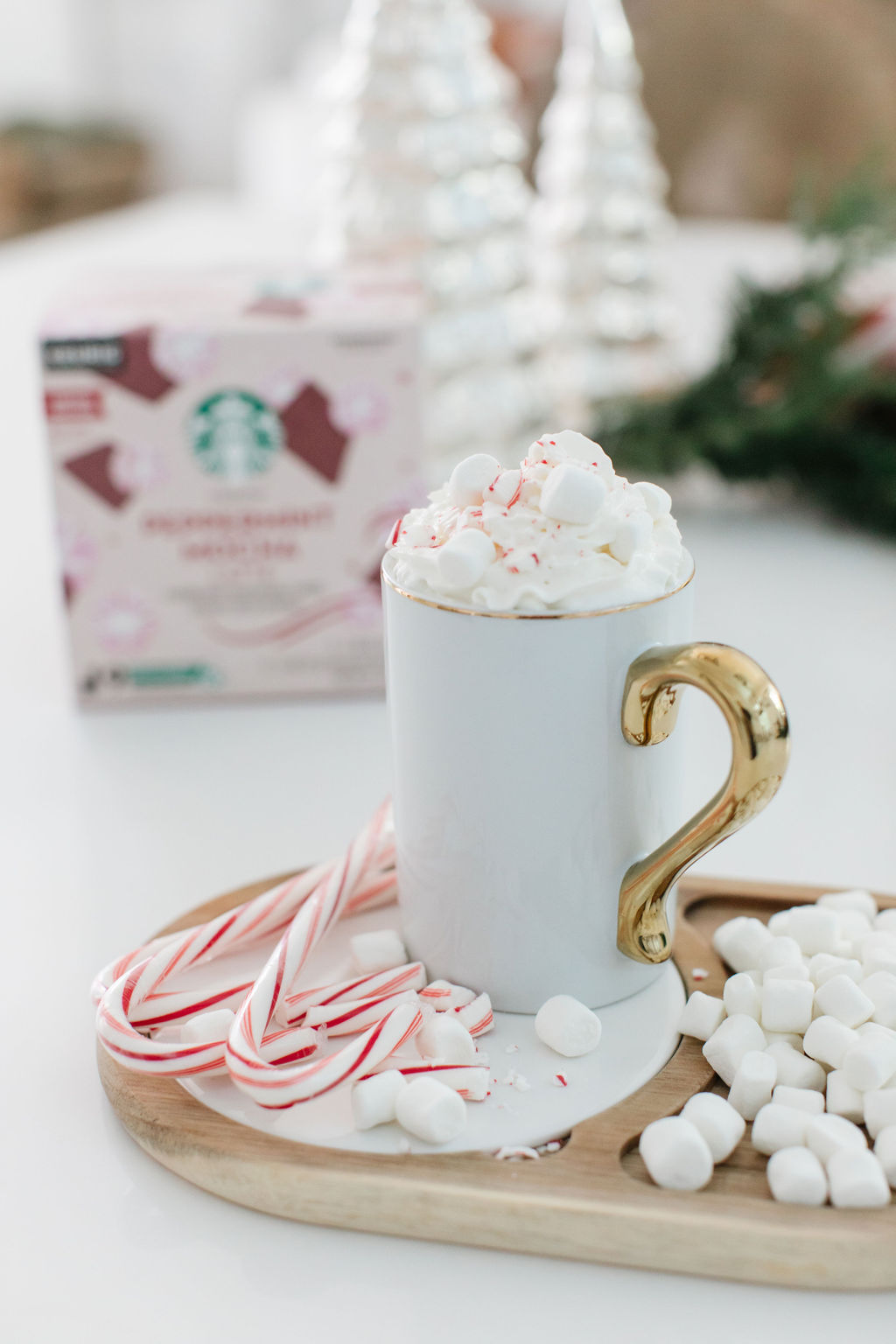 Chocolate Lover Garnishes:
* Whipped Cream
* Cocoa Powder
* Milk Chocolate Shavings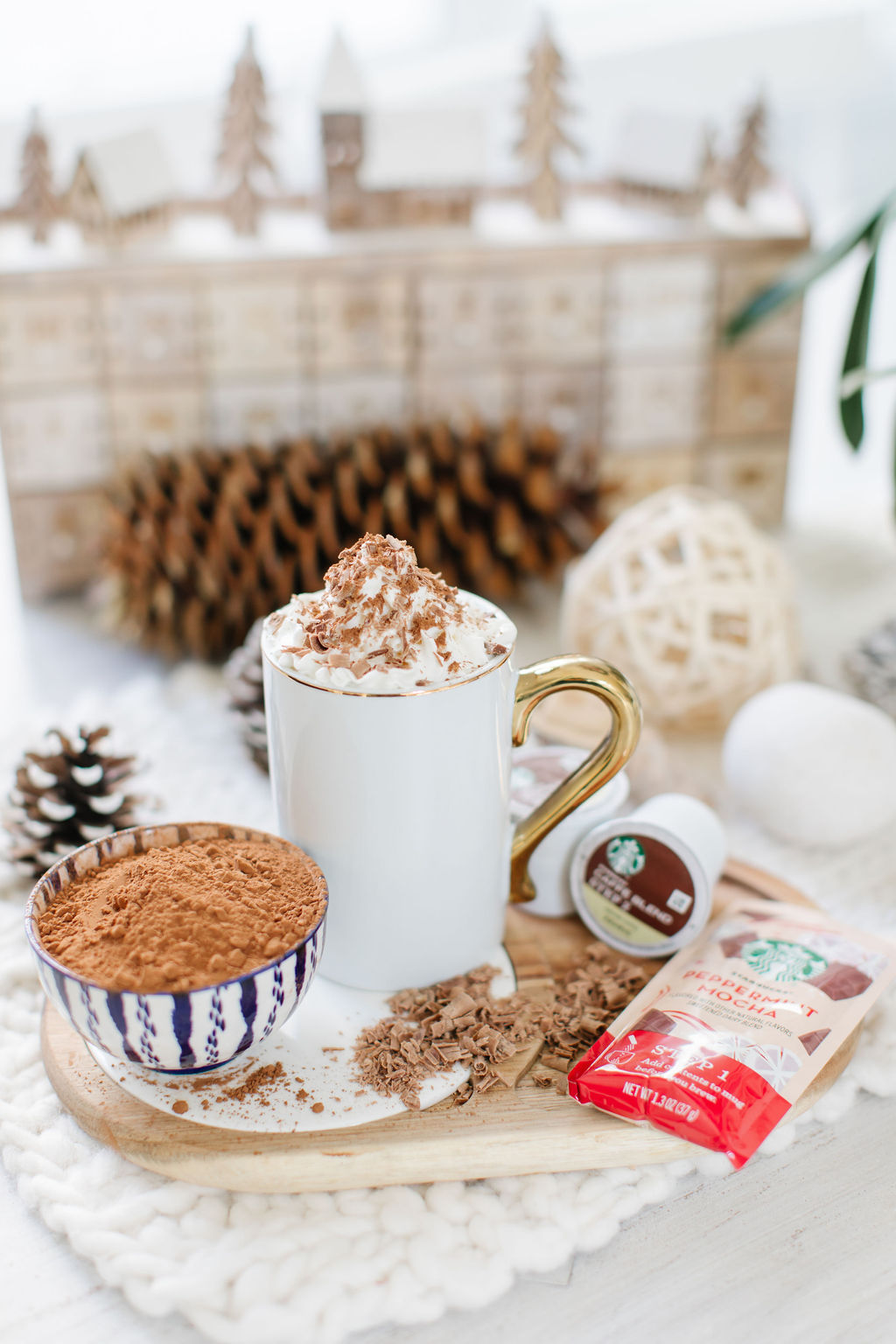 Cookie Celebration Garnishes:
* Whipped Cream
* Starbucks Cookie Straws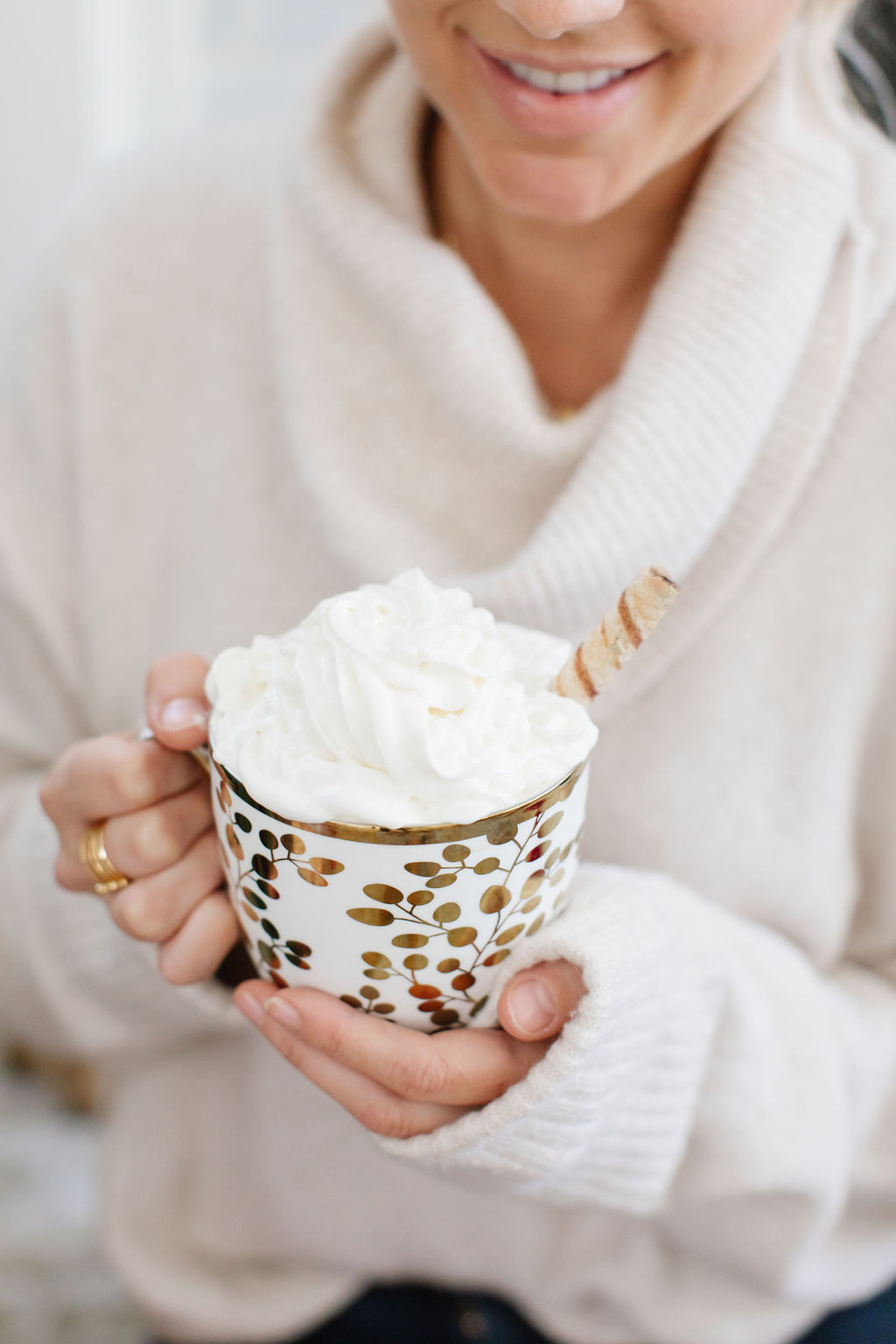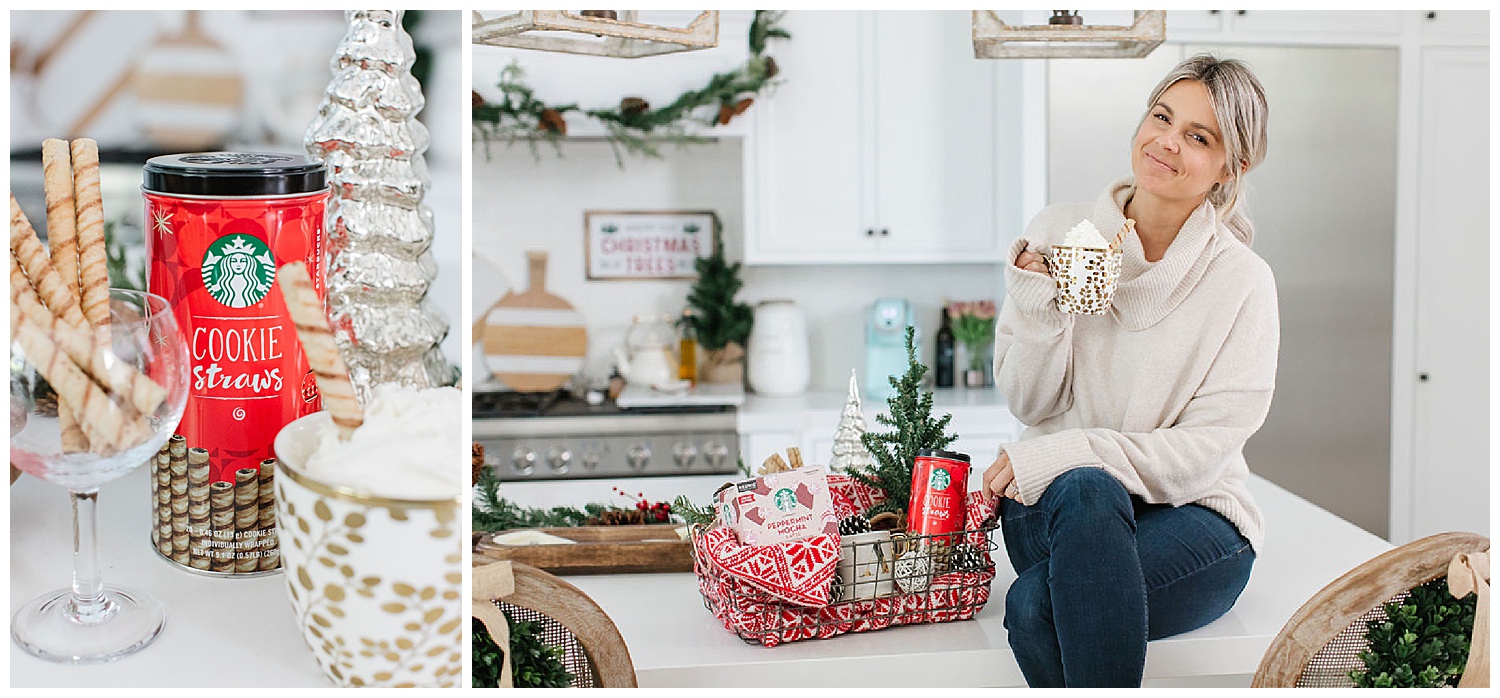 I hope you guys get a chance to make these drinks and enjoy them as much as I've been enjoying them! But I 've got to say, the Starbucks® Peppermint Mocha Latte K-Cup® is so dang good on it's own! All these drinks make it extra fancy and great for parties. But in the morning, I just drink it as is. I love it! And it's really putting me in the holiday spirit! What's your favorite Starbucks K-Cup, coffee or latte?! Do you switch it up during the holidays? Tell me in the comments below!