Hi everyone! We're in Indiana right now visiting family, and this was our first time traveling with two toddlers. Phew! There are so many items that we needed to pack and also bring just for the flight and car ride. When we were putting our bags together, I thought it would be the perfect time to snap a few photos and show you exactly what we packed! So here we go!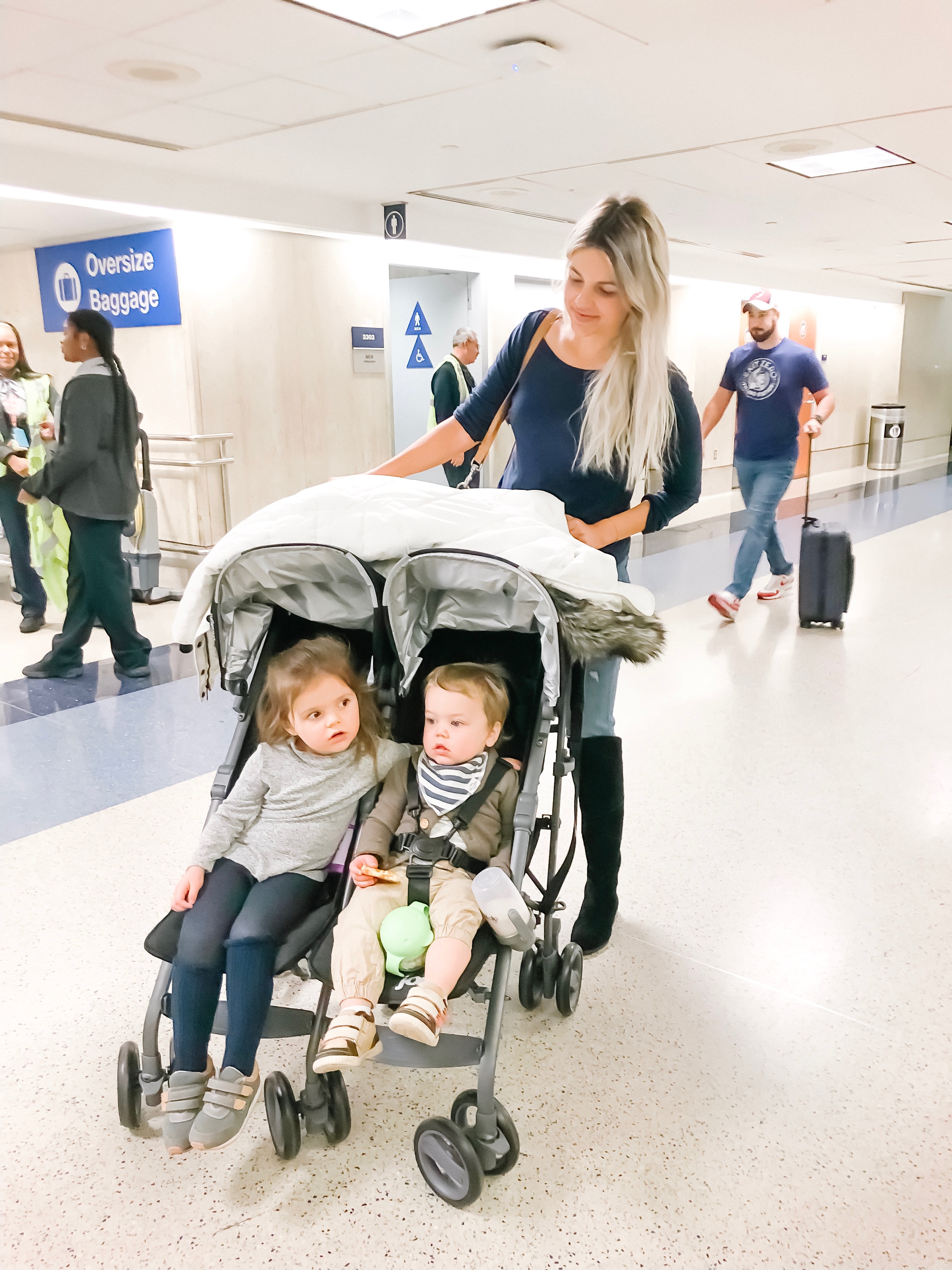 Packing Light while Traveling?
Packing light is nearly impossible when traveling with toddlers, because there are so many items that are just non-negotiable! There is so much stuff that you need!!! Pack-n-plays, toys, clothes, food, Riley's diapers…. the list seems like it can go on forever. Since this is our first time travelling on a plane with two toddlers, I really was trying to think ahead and make it as easy as possible for all of us.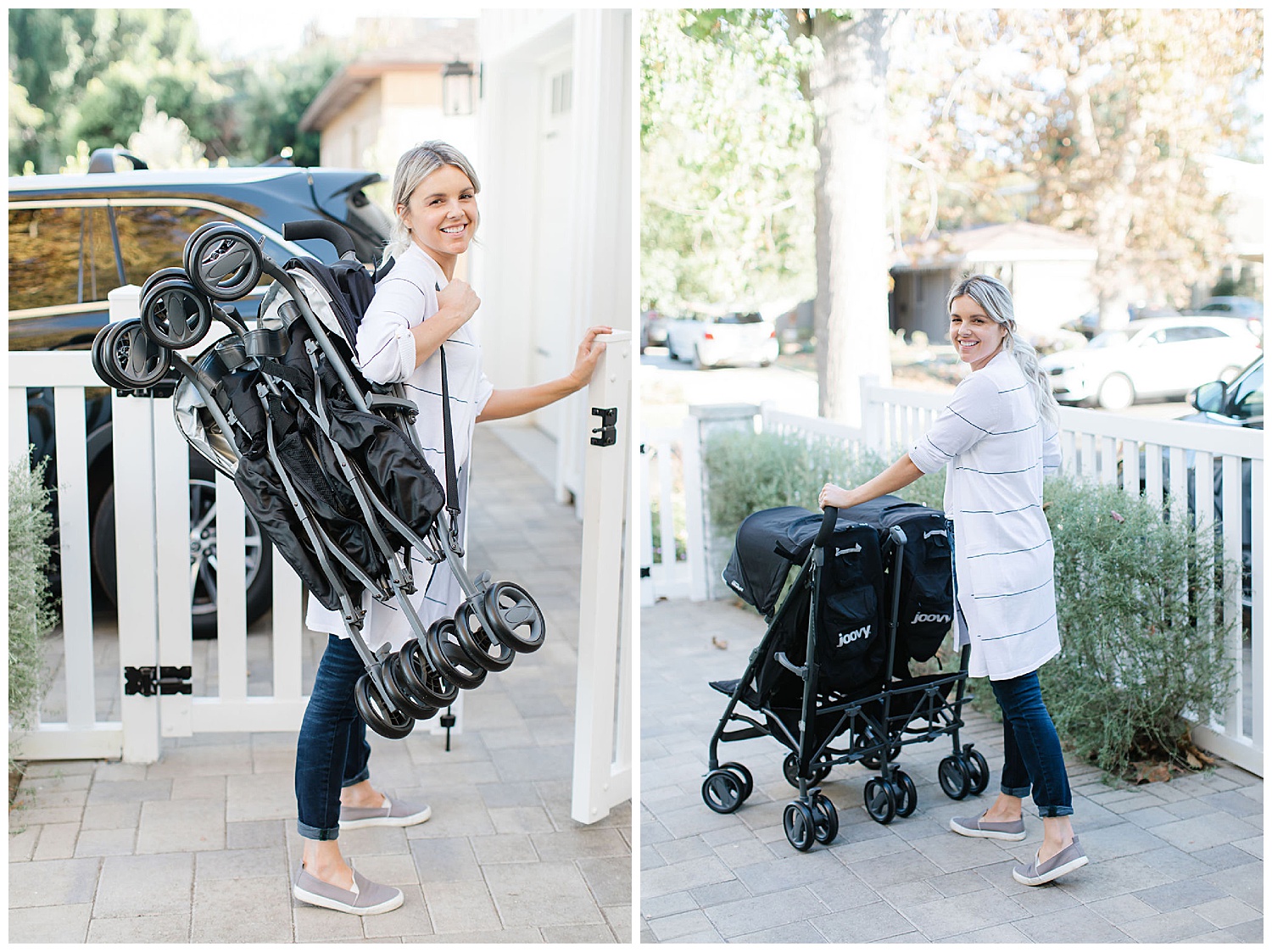 1. DOUBLE STROLLER | 2. CARDIGAN SWEATER | 3. SLIP-ON SNEAKERS
We got this new Joovy double stroller recently, because it is super lightweight. Kevin was able to just throw it over his shoulder in the airport, what a lifesaver! And there are no pieces to take apart (a big reason we didn't want to bring our other stroller), you just fold it up and carry it on your shoulder. Some of you might be thinking that you don't need to bring a double stroller because your kiddos like to walk. DON'T THINK THAT!!!! We made that mistake when going to the farmers market once and then had to not only carry our kids, but everything we bought too! So even if you think your kiddos will want to walk, there is a good chance they will get tired. Airports are big! And if for some reason they don't, then you can use the stroller to carry your bags around the airport.
I also love that this stroller has zip-up pouches on the back so that when we fold it up,  things don't fall out. In general, I just REALLY recommend bring a lightweight stroller. Walmart has a bunch of options, click here if you want to see what other strollers they have. I just really liked everything about this one so we got it and the reviews are stellar.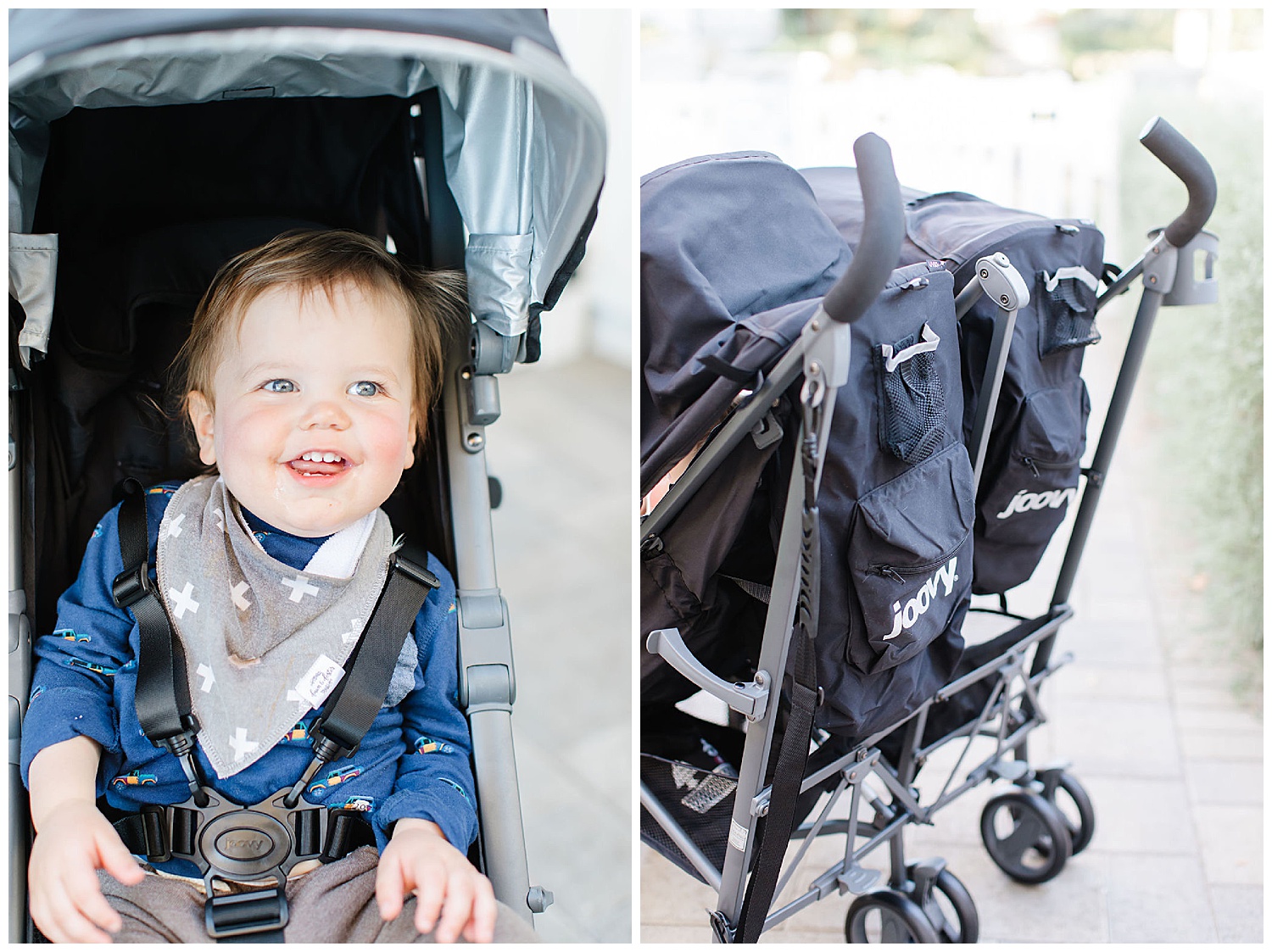 If you saw on my stories this week, I was running around like a mad man trying to get everything ready to go and packed. I mean, I realized on Tuesday afternoon that we were leaving for our trip in less 40 hours, and I hadn't started packing or getting together one thing for the trip. But thankfully, the day was saved because I was able to order some of my last minute toddler items for pickup from Walmart!!!! I added all of the snacks for the kids to my online cart, and even some extra sippy cups for them, and then I just drove over to pick them up! The Walmart employees even come out to your car for curbside service! SOO thankful because without this I don't think I would have had everything together on time! And the LAST thing I want to do when picking up items for my baby/child, is have to get them out of their car-seats to go inside for pickup. Curbside pickup is a game changer!
Walmart is the perfect place to pick up last minute items (especially baby items) because they really have such a variety of everything you could need, and it's all so convenient! Even if you only have a handful of days before a trip, you can also order online with their quick and free delivery. Most of the time when I order from them I get the items the very next day!
Quick Snacks
I would say that one of the most important, if not the most important, item to pack are snacks for your kiddos! It's not even just the plane ride that they will be wanting snacks, but in the car on the way there and especially when you take off to help their little ears pop.
When we travel, we always make sure to bring pouches, and one of the most important are prunes. Just like adults, childrens little bodies can get out of whack when traveling, and prunes are great to help them in a new place! We also make sure to bring veggie packs, with no fruit in them. Especially when my kiddos were really young, we tried to only give our kiddos the veggie pouches. I truly think that is why Molly is such a good eater! They are also great for the plane and so easy and compact to back in your bag.

Another great snack are these bars! They actually are for adults, they are Kevin's favorite and he gets them for himself, but the kids have started loving them too. They are jam-packed with amazing superfoods, so that's a huge plus! Also, they are organic and vegan! We used to just bring them for us, but overtime Molly started asking for them, and now Riley just recently started asking for them. We seriously all love them!
Fresh Food!
Especially if your travels are going to be longer, like ours, it's great to bring fresh food for the kiddos! This takes a little bit of extra planning, but so worth it in my book! First of all, I do want to mention that I always bring an empty drink cup for my kids that I refill throughout the trip. I've talked about them before on a few occasions, but they love these ones. They truly are one of the main cups that we've used with Molly for over 2 years. And it's so important for them to drink and eat when taking off to help their ears pop.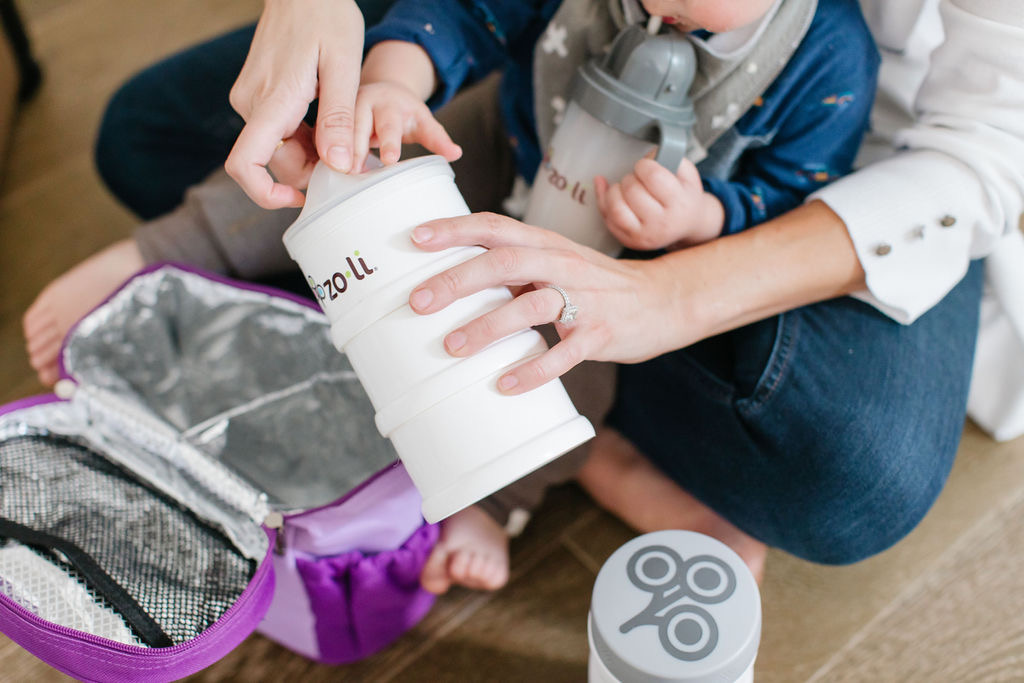 1. LUNCHBOX | 2. SNACK CONTAINERS | 3. INSULATED CONTAINERS | 4. WATER BOTTLE WITH STRAW
Whether your kiddos like strawberries, cucumbers, or are pasta lover like my kiddos, they need a good way to eat these while traveling, and you need a good way to bring them along. If you have room in your bag, I definitely recommend bringing an insulated lunch bag that can keep everything cool. We brought these snack containers and also this suction bowl kit! The bowl is great because it can stick to the tray in the airplane, and they can't knock it off, and also if there happens to be any turbulence the bowl is still secure. We love the bowl because it can be used a few different ways. It comes with an insert with sections so that you could give your kiddo 3 types of food, or you can take that out if they need to use it as a bigger bowl. The insert doubles as a plate, so you could even use both the bowl and the insert at the same time!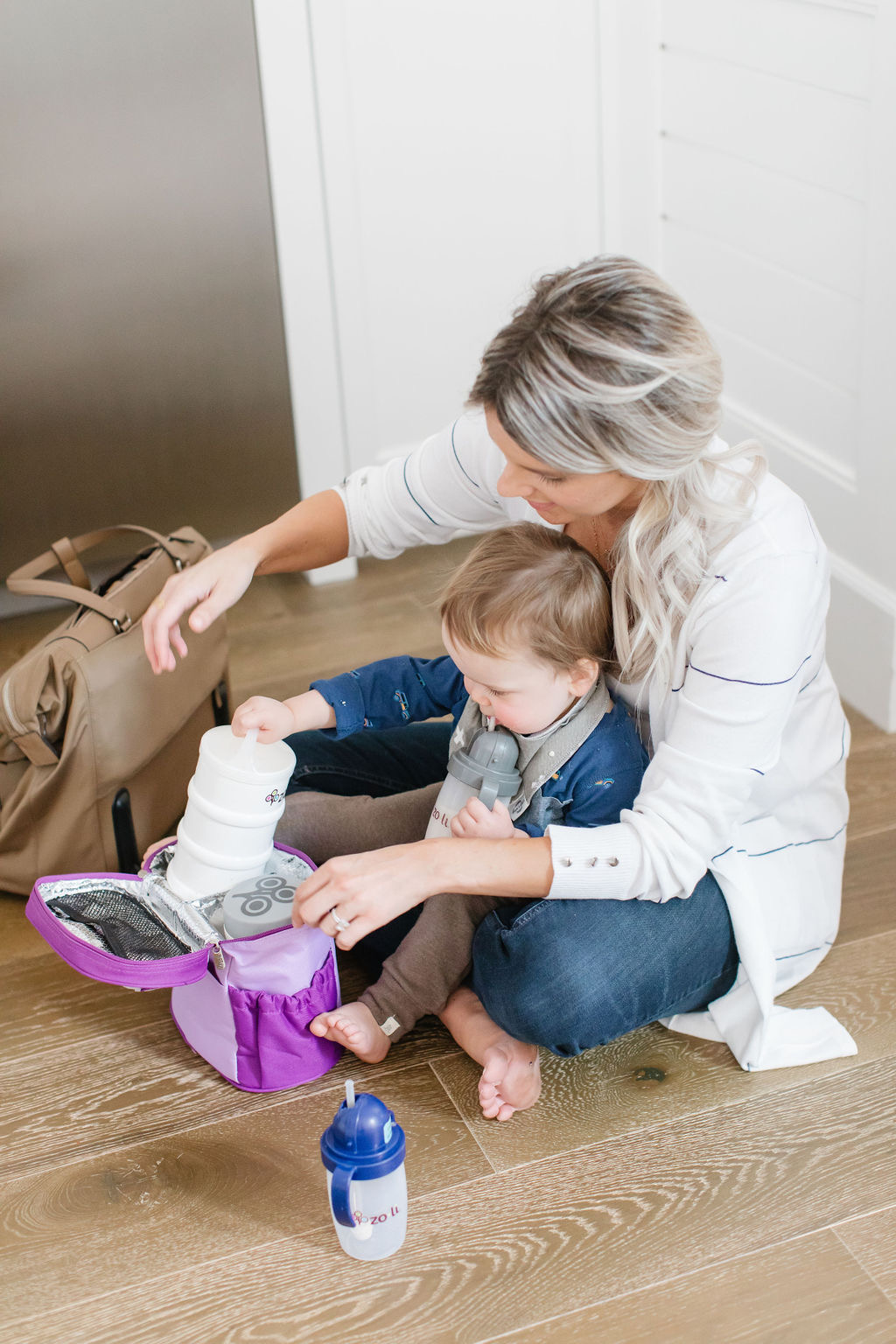 1. LUNCHBOX | 2. SNACK CONTAINERS | 3. INSULATED CONTAINERS | 4. WATER BOTTLE WITH STRAW
Oh! Another great item to bring, especially if you don't have room to carry an insulated lunch pail would be these stackable insulated food jars. These are what we used for bringing pasta onto the flight, ha! You could also use it to bring something like soup, or even milk. It keeps the food both hot or cold!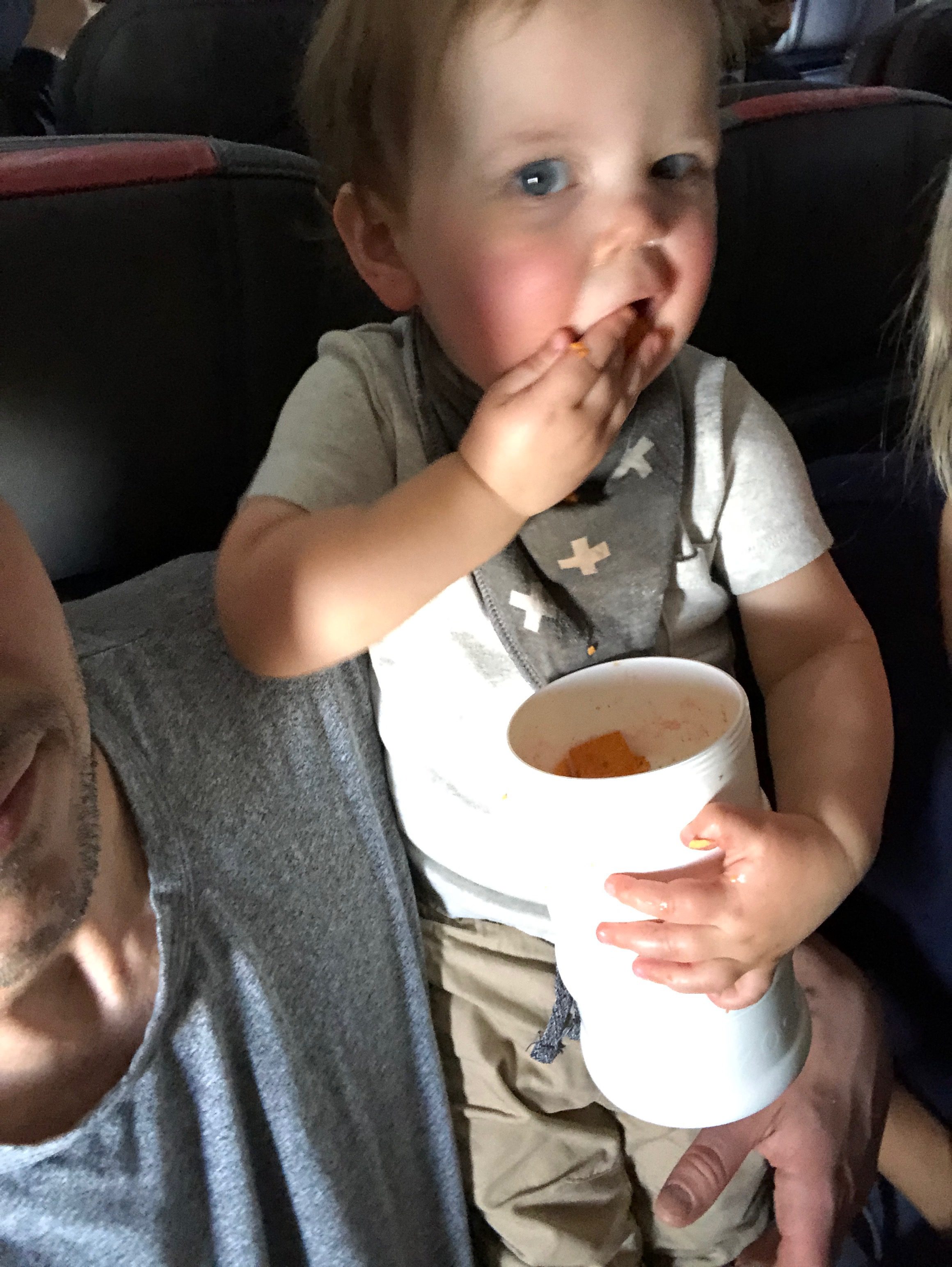 Educational Toddler Apps
We certainly aren't the type of parents that put our children in front of the screen when we want to keep them to be occupied. We do our absolute best to constantly taking them out of the house to the park, or even just having our family dance parties in the living room. However, we have been letting Molly explore learning on some educational toddler apps, and we really have seen an explosion in the amount of words and sounds she knows how to say and spell. So on the airplane, this is definitely something we utilized for her! Not only was she learning, but it helped to pass the time for her on the long flight.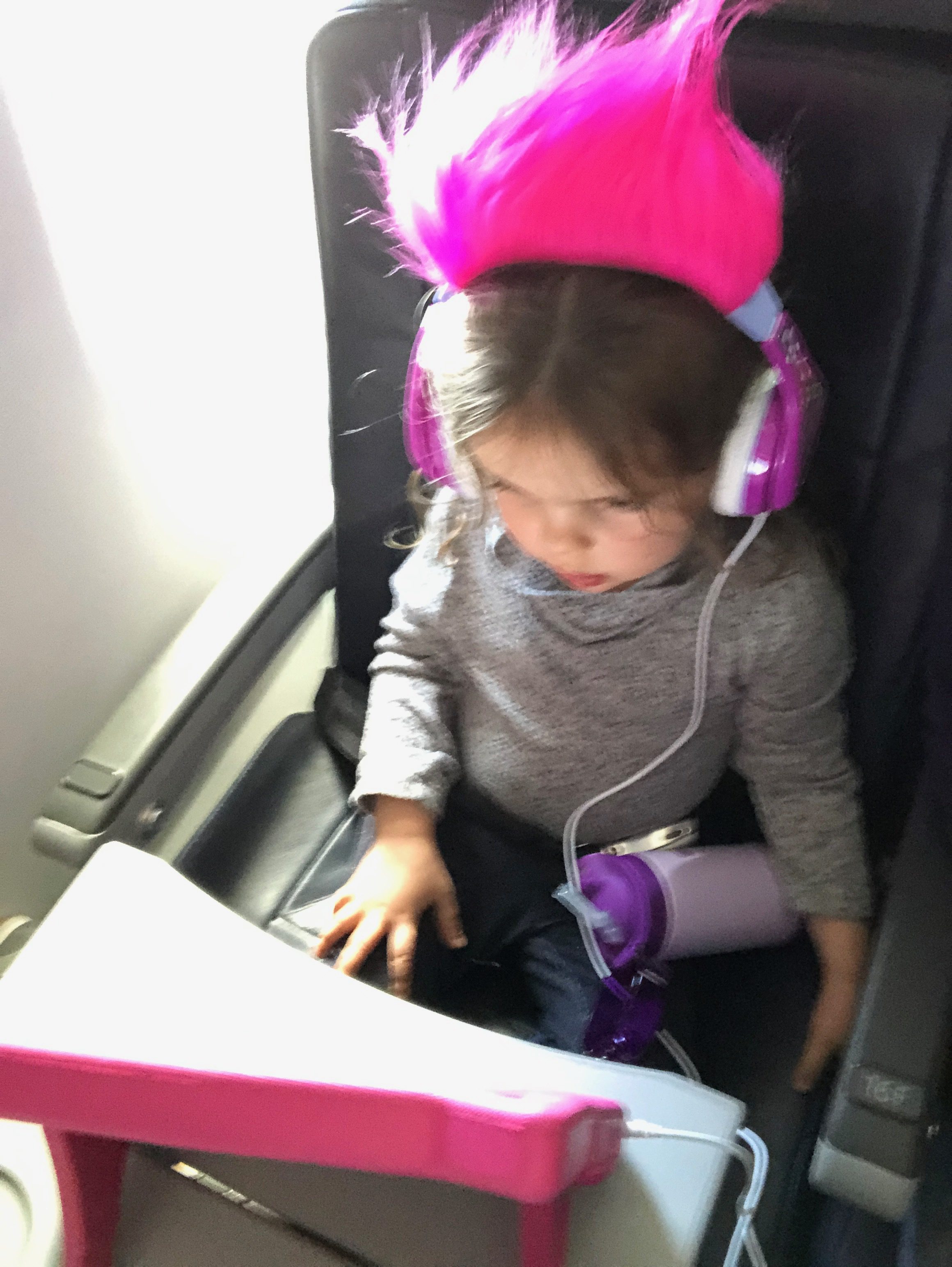 1. SIMILAR POPPY HEADPHONES | 2. INSULATED WATER BOTTLE 
Some parents might judge me for this one but I will do absolutely anything in my power to keep them happy on a long flight. So even when Riley got a little fussy, we let him see one of Molly's old favorites, Peekaboo Barn. Since toddlers, for the most part, have very short attention spans, I think it would be great to have a few different apps loaded onto your phone so that if they are getting fussy after a few minutes, you can try a new one. And like I said, we really don't give our kiddos screentime, but on the plane, it is worth every minute of it!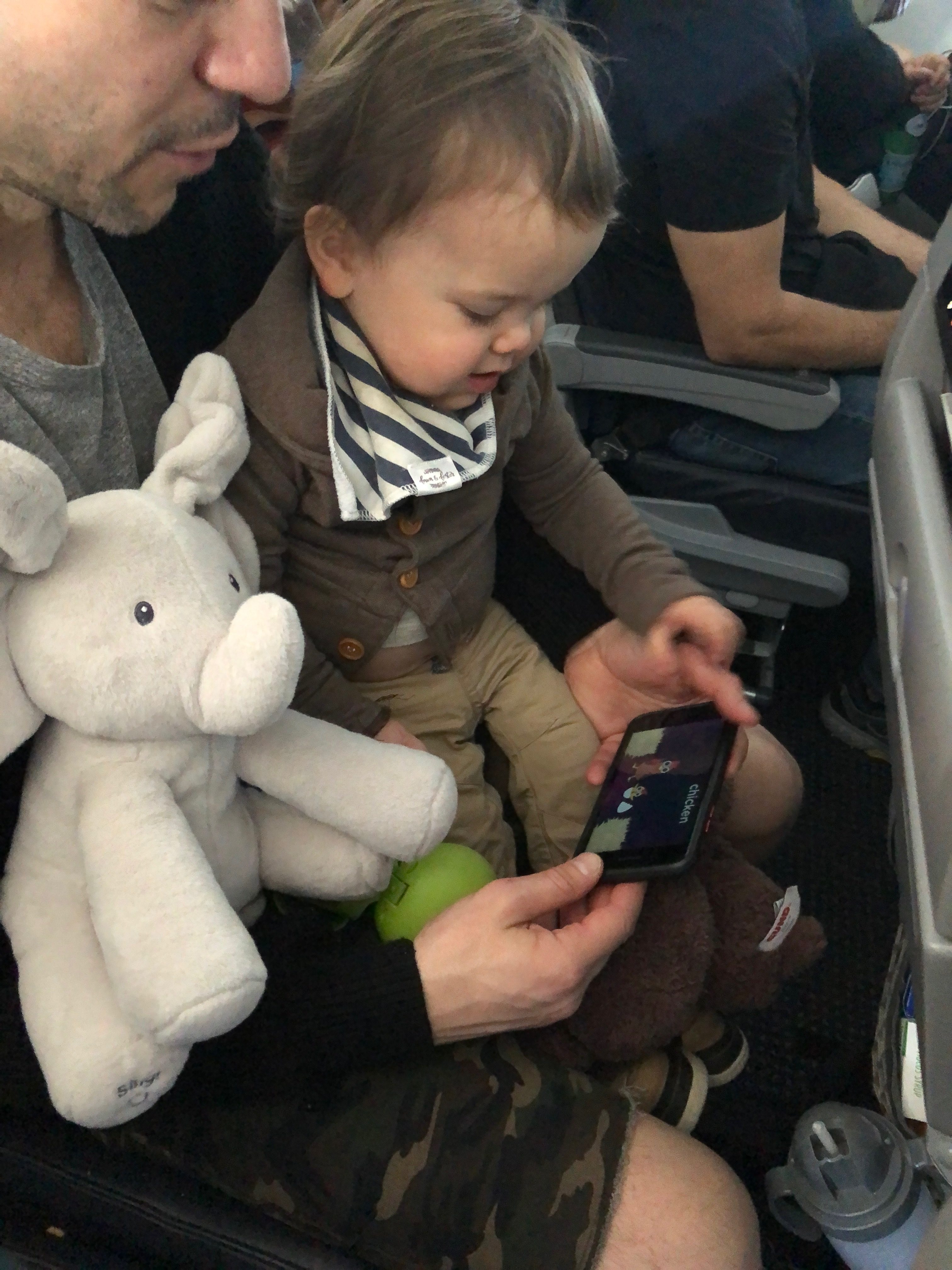 A Bag of Surprises!
When we first started traveling with Molly, Kevin had the idea to hide some of her favorite toys a week or so before the flight so that she'll be super excited to see them going on the plane. I personally think it was a brilliant idea! So that's what we did again for both Molly and Riley. We put away a few of their toys that they like, not their absolute favorites, but ones they'd be missing and happy to see! Then we also picked up bunch of inexpensive new toys from Walmart that we could pull out throughout the flight! And as we know, kids can get tired of toys pretty quickly so being able to surprise them with something new definitely helps save both the kiddos sanity, and ours, throughout the long flight!! This trick really works and I would highly suggest it!
Black Trash Bags
This tip was given to me by our sleep trainer and it's such a great piece of advice! So, thank you, Kimberly, for giving it to us! She recommended that when we travel with the kids to pack black garbage bags and tape them around the windows wherever we are staying. Not everyone has black out curtains and not every hotel has black out curtains. And both of our little ones sleep in complete darkness with white noise machines on. So when we travel we not only make sure to pack our white noise machines, but we also pack the garbage bags.
Here's a photo of the window from the room in Indiana!!

Sometimes will be in a really nice hotel room and it looks absolutely comical because we will be taping these ugly black bags all over the windows. But it works! Especially when you're switching times zones! When we travel east we try to keep the kids on their same sleeping schedule. Meaning that they go to bed around 6:30 PM Pacific time but when we travel to the East Coast we will put them to bed at 9:30 PM Eastern time to keep them on the same schedule. But that means they're waking up three hours later as well. So instead of waking up at 6 AM when we're on the West Coast, they wake up at 9 AM on the East Coast. Because it's 6 AM our time.
You guys get the point. Anyway, because of that, the sun is up for a few hours before we want them to get up. So the black garbage bags are absolutely essential and have absolutely saved us on our trips!
Happy Travels!

 1. DOUBLE STROLLER | 2. CARDIGAN SWEATER | 3. SLIP-ON SNEAKERS
I hope that this helps you on your future traveling with your toddlers! Let me know what tips and tricks you try out, or if you have some to share too!
If your kiddos are still younger, I made this traveling essentials list when Molly was an infant! I'm sure some of the items on that list are sold out by now, but it might give you some inspiration!!!
Thank you Walmart for sponsoring this post!!!!! And for making my life easier 🙂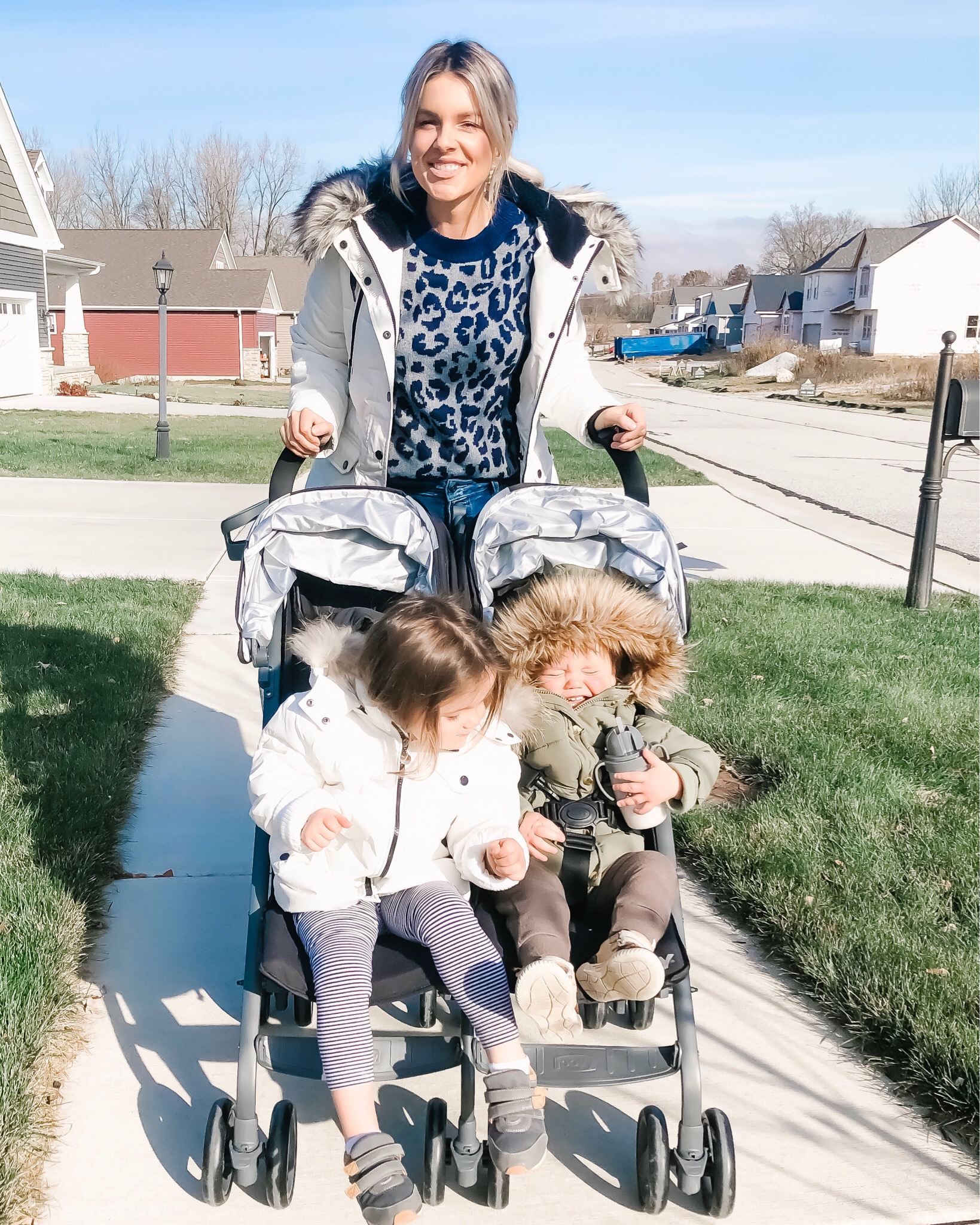 1. STROLLER | 2. ADULT PUFFER JACKET | 3. LEOPARD SWEATER | 4. $17 JEANS | 5. MOLLY'S JACKET