Hi guys! As I'm sure you have seen on my Instagram, I recently decided to try out Home Chef a couple months ago! I'm somewhat of a creature of habit when it comes to my meals, if you haven't realized from how often I eat pasta, but I had been hearing such fantastic things about Home Chef that I decided to give it a try! One of the main things I was hearing is that the many meals are SUPER quick and easy to make. For example, the veggies are often already chopped and ready to go for you. Heck yes for time savers. And I have to say I am so glad that I tried it. Home Chef is seriously going to help me out SO much during this busy holiday season, by allowing me to quickly whip up healthy and delicious meals.
I've always joked that if I become super rich, the first thing that I would do is hire a personal chef so that I can eat well and eat healthy! Haha! But I feel like Home Chef is my own, and much more affordable, version of a personal (home)chef for a few reasons: 1) everything is so easy to make that it often takes me 5-10 mins to make, 2) the meals are healthy and nutritious, and 3) everything is delivered right to my door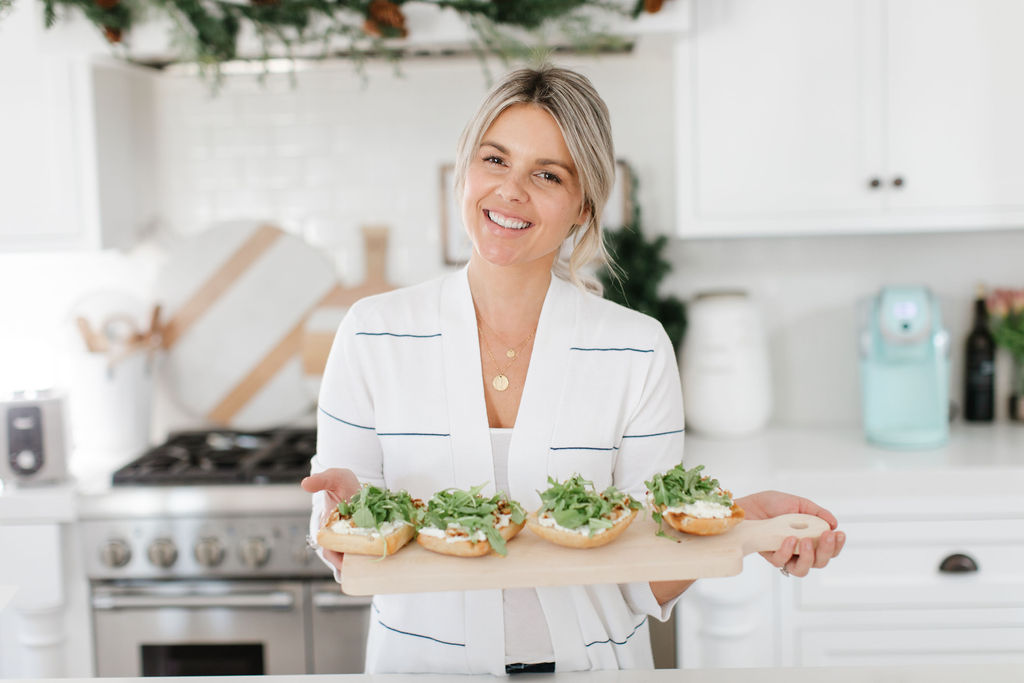 Two Amazing (and Fast) Recipes!
Today, I've decided that I'm gonna share two recipes with you so that you can see truly how easy Home Chef makes meal time, and you can also make them for yourself at home to see how delicious they truly are!!! One is a snack and the other is an entrée, and I hope you enjoy them as much as I do! Plus, I haven't really had a chance to do a recipe in a while, so I thought this was the perfect time, especially when we are all going to all be so busy with the holidays! This will help tremendously with cutting out the time it takes to prep your meals! You can use my code ALI80OFF to get $80 off your first month, which is the equivalent to 8 free meals!!
Like I mentioned, you can definitely buy these ingredients and remake them at home, but my absolute favorite part about the whole thing is about how majority of the ingredients come pre-prepared, like pre-chopped carrots for a salad, and perfectly portioned wonton strips. I don't have to go to the store and buy a huge bag of wontons that I might not use. Plus, you save money because you just get what you need for the recipe and not the whole bag or the whole bunch of herbs. And, also since many things are pre-cut, you get to skip all the time it usually takes to do the chopping and sometimes I can take a really long time. Prep is my LEAST favorite part about cooking.
Both of these recipes that I'm sharing today take maybe 5 to 10 minutes to make. And then, of course, the convenience of it being delivered and not having to plan a meal and then go buy all the ingredients at the store. Home Chef truly is so much easier than any other meal delivery service that I have tried!
Snappy Snack | Ricotta Walnut Toast
The first recipe that I'm going to share with you today is what Home Chef calls a Snappy Snack, one that is quick but full of nutrients and delicious! This one is called the Ricotta Walnut Toast, with Honey and Arugula!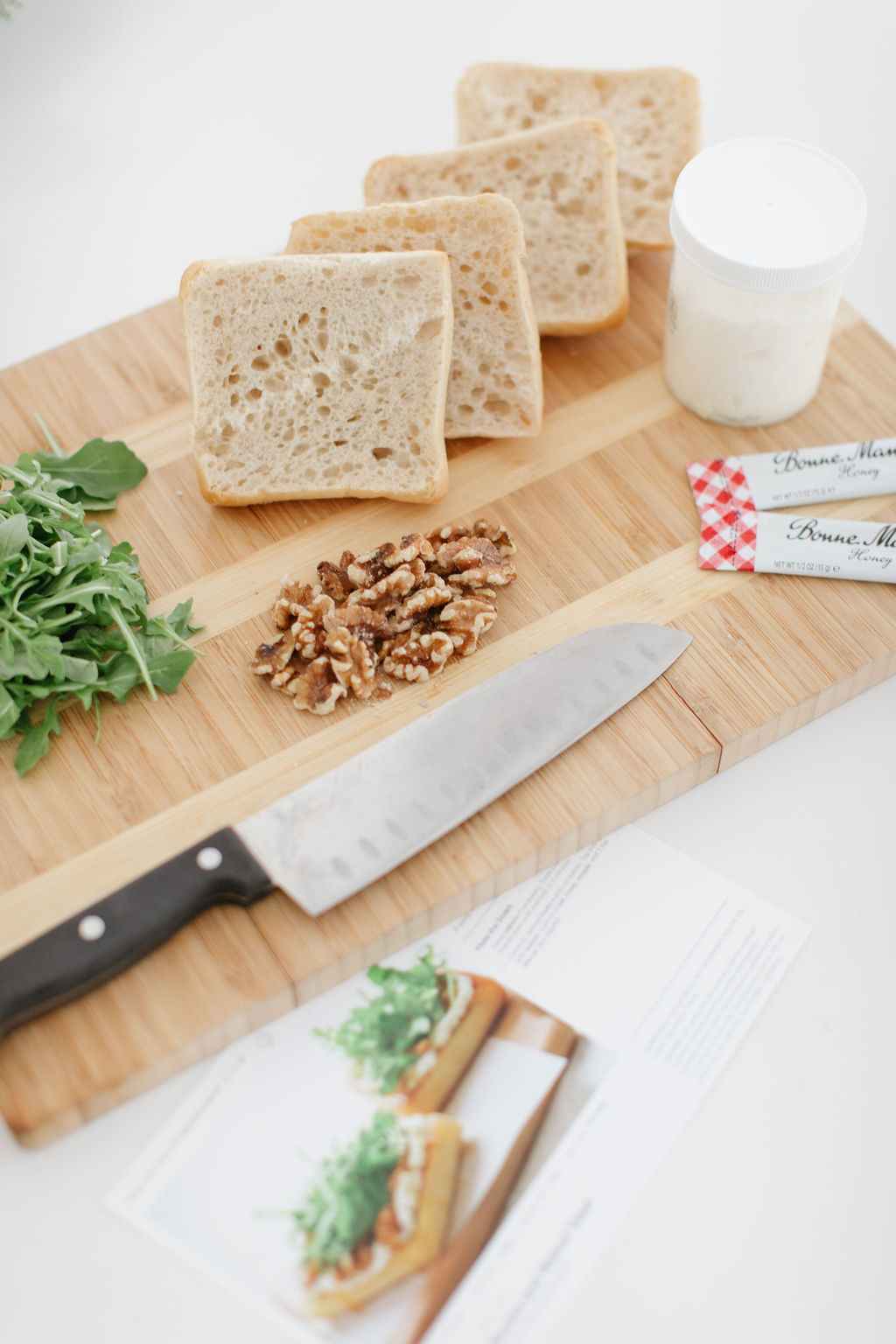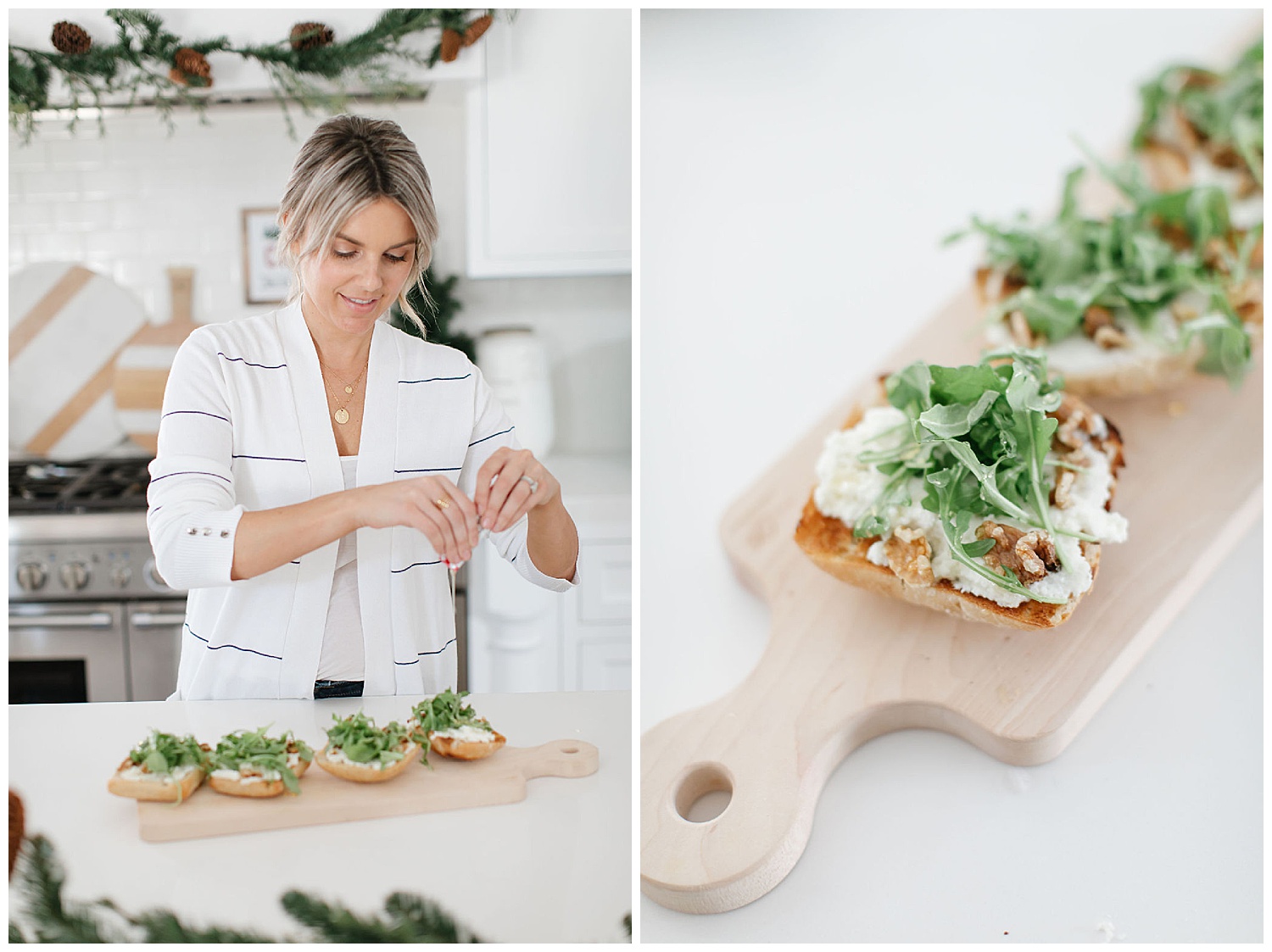 Ingredients
1 ciabatta, cut in half (I made two in these photos do just double up!)
half an ounce of baby arugula (which would I say is about two handfuls)
1 ounce of walnut halves
6 ounces of ricotta
1 ounce of honey
pinch of salt
1 teaspoon olive oil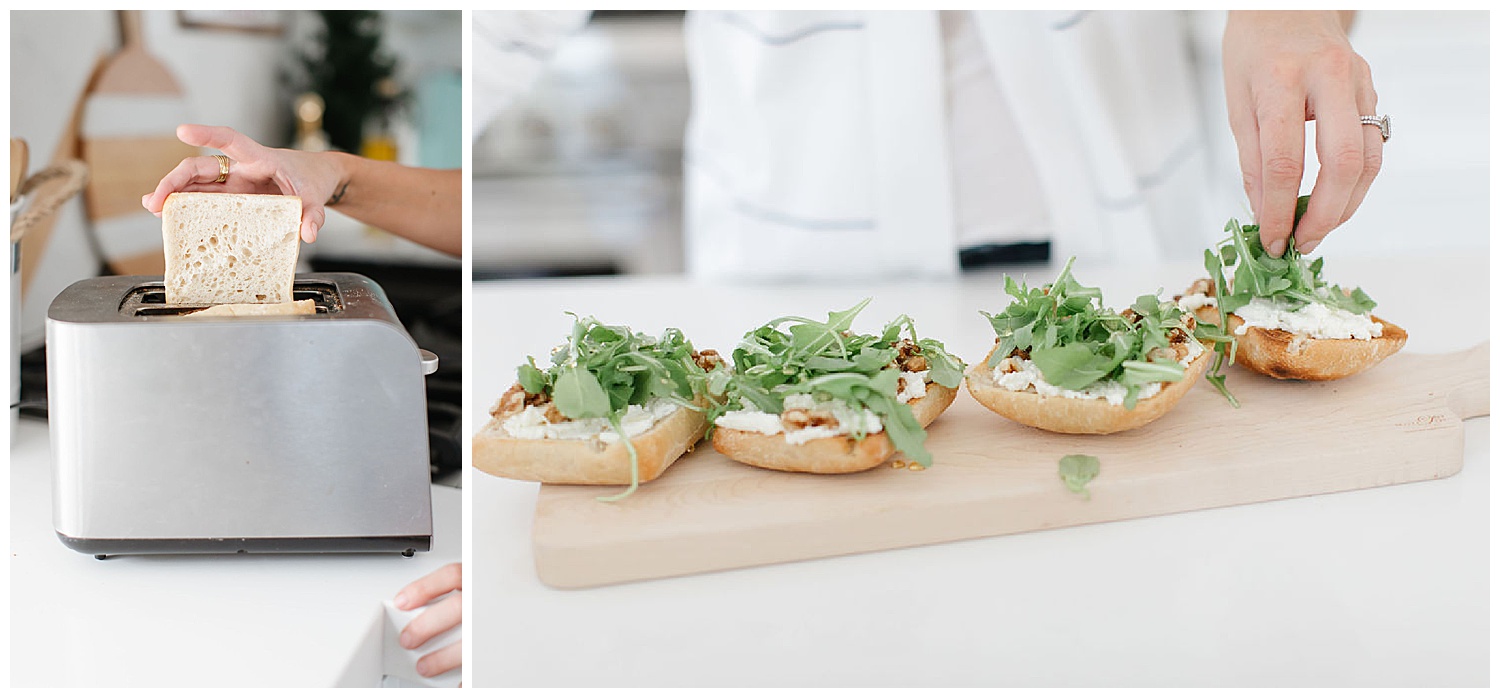 Cut your ciabatta in half if it isn't already, then toast it in the toaster oven or a toaster for 2 to 3 minutes. Then spread ricotta evenly on both halves. Sprinkle walnuts on top of each, and add a pinch of salt. Next, drizzle your honey over the walnuts, and top with arugula and 1 teaspoon of olive oil. That's it! And this Snappy Snack contains 24 g of protein, which is amazing! Plus, the kids LOVE it, as you will see in the photos in this post! Riley seriously couldn't get enough!!!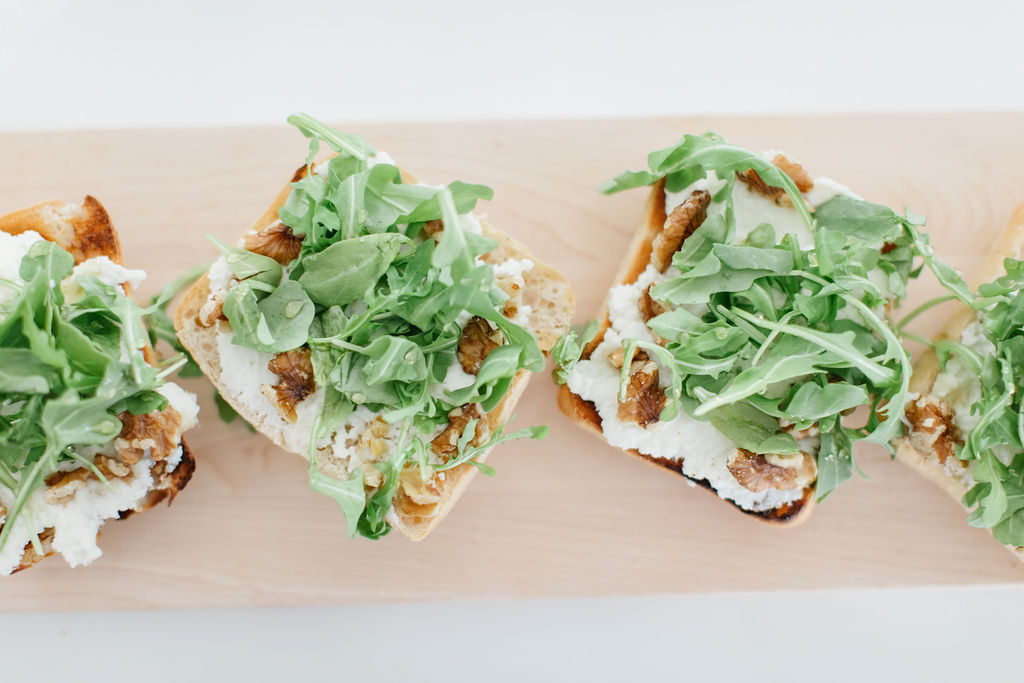 Isn't that just so easy? So not only are the ingredients pre-prepped for you, but they are super delicious, fast, and likely something you wouldn't have thought of on your own. All the ingredients came pre-measured and all I had to do was take the walnuts and arugula is out of their bags. That's how simple they make everything. It really couldn't be easier! It didn't even take me 5 mins. Maybe 3 mins and half of that time was toasting the bread!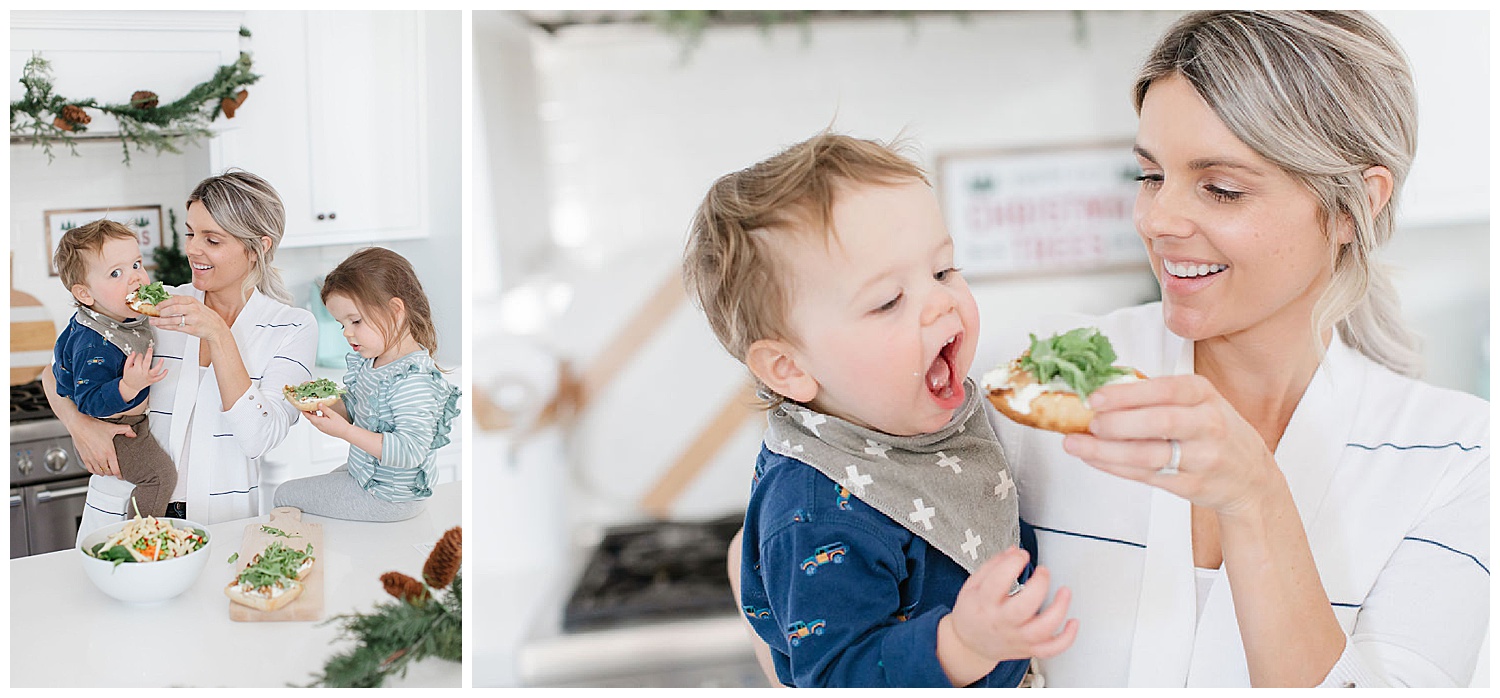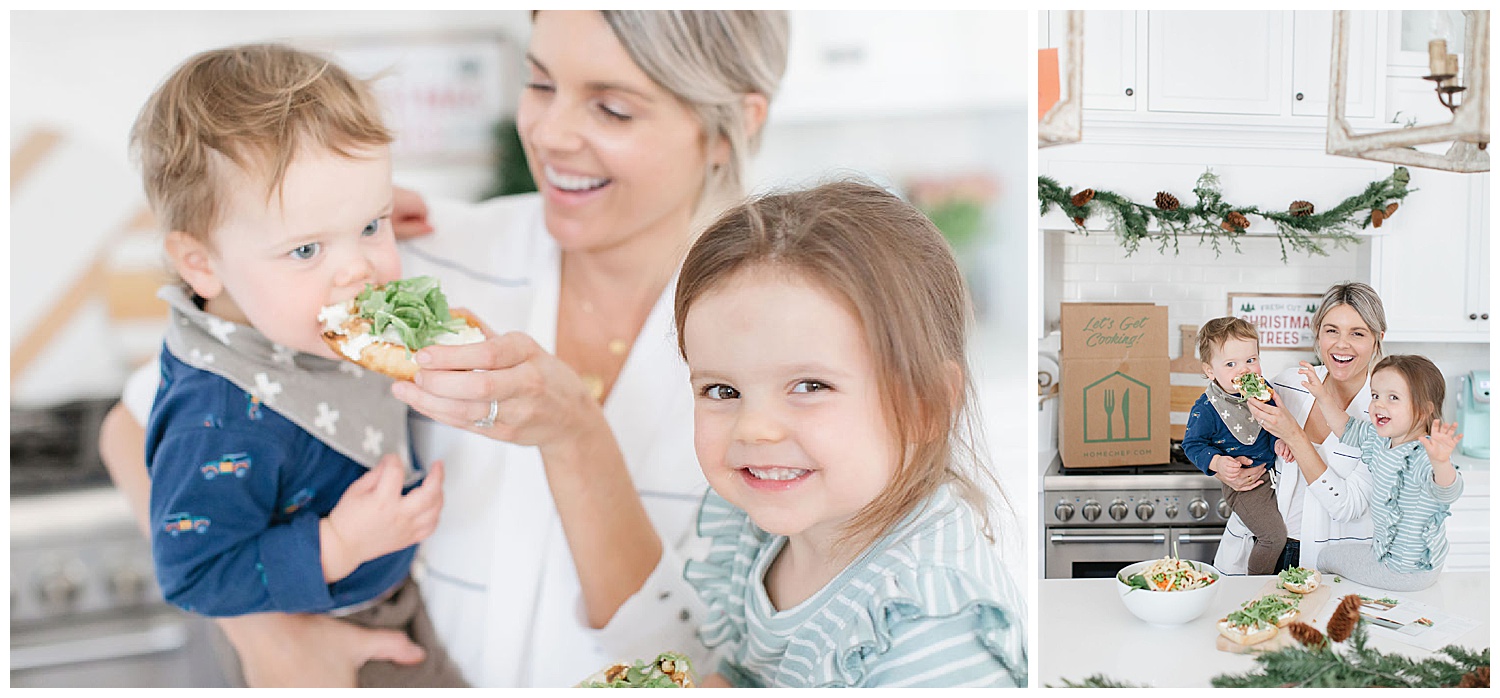 Entree | Apple Miso Crunch Salad
The next recipe that I'm going to share with you is this Apple Miso Crunch Salad, which is so perfect and delicious for lunch, or a quick dinner! The prep time is about five minutes!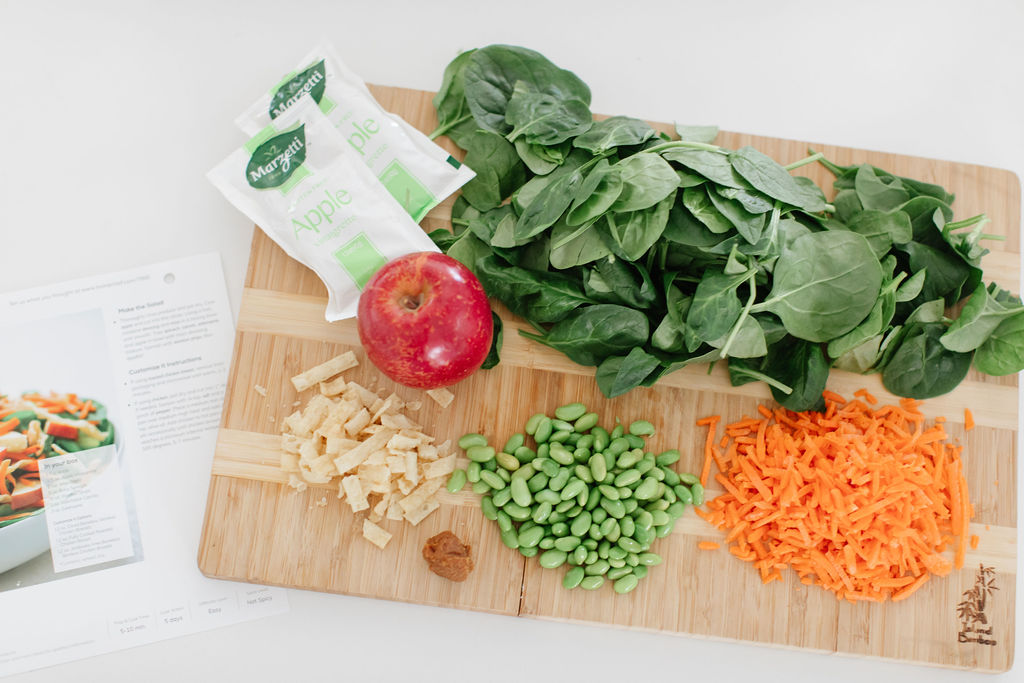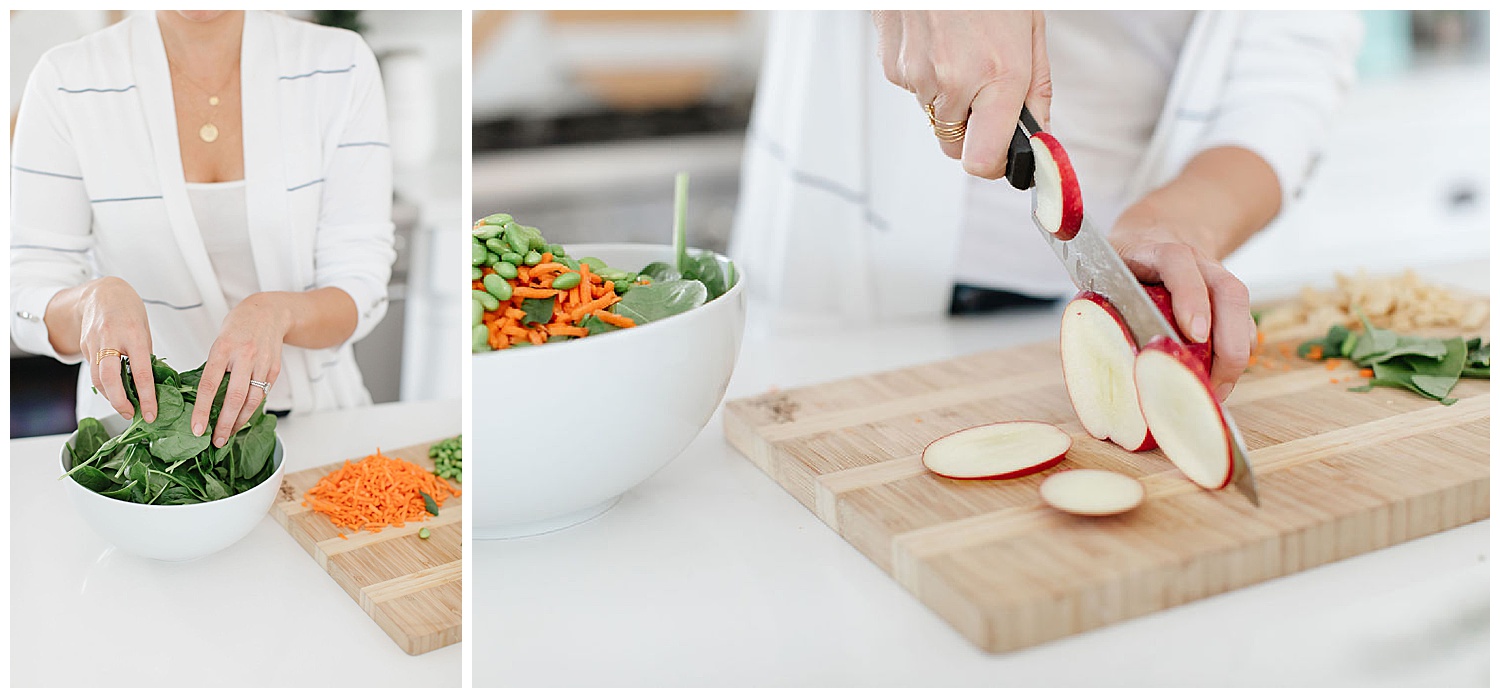 Ingredients
1 Fuji apple
3 ounces of vinaigrette (Home Chef includes apple vinaigrette with this recipe)
2 teaspoons of miso paste
5 ounces baby spinach (I actually find cutting in into shreds makes it extra yummy. I love a good chopped salad)
half ounce of wonton strips
3 ounces of shredded/matchstick carrots
3 ounces of edamame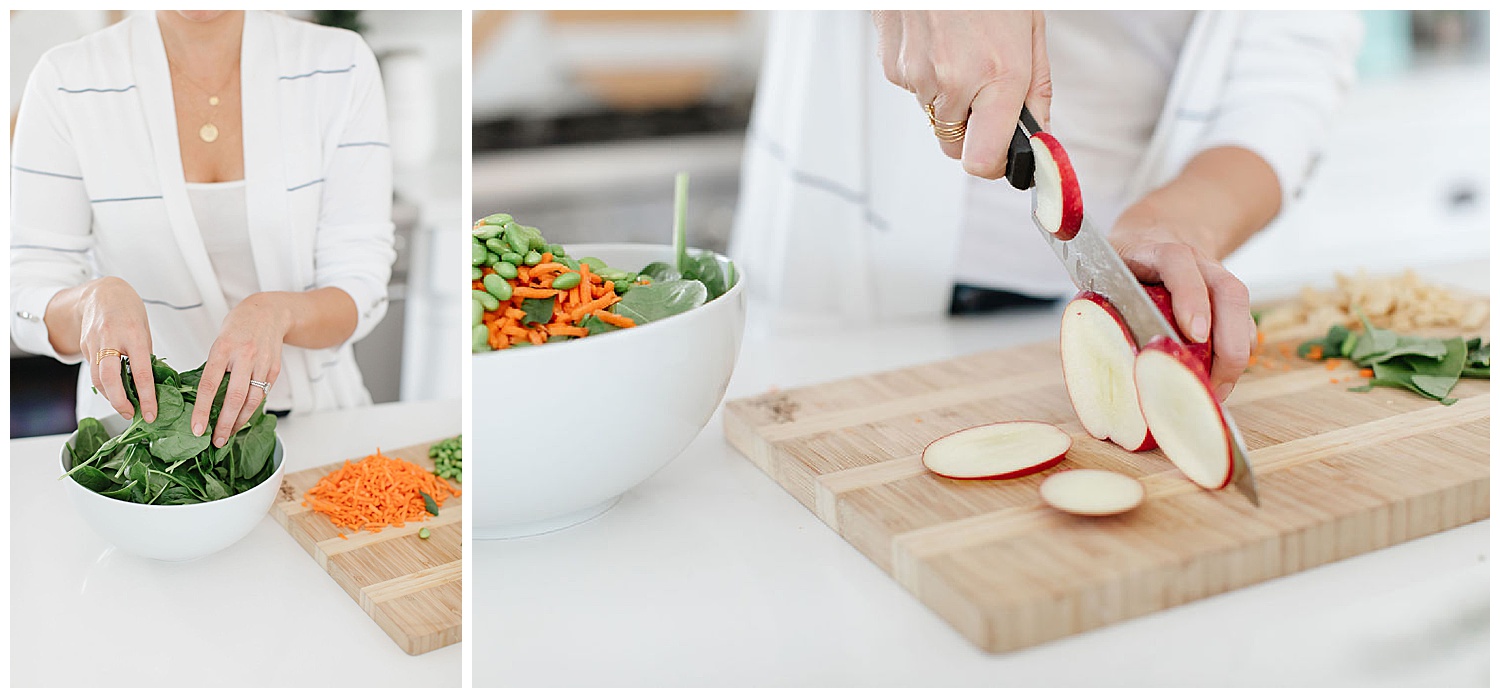 The recipe card also mentions that this would be great paired with 12 ounces of diced boneless skinless chicken breast. And that reminds me that you can customize some of the meals on their website so your order is EXACTLY what you want! One of my favorite things about Home Chef is that you don't have to worry about getting things you don't like because there are so many choices to choose from each week (seriously soooo many). Unlike other meal delivery services I've seen, you can customize even further from there. When you choose a recipe, some of them have the ability for you be able to choose  what kind of meat you want to go with it or if you want no protein if you're vegetarian like I am (The price is adjusted depending on what you get). That makes it even better, if you ask me! Everyone has different preferences and this allows you to eat what you want!
To make this, first rinse your produce and pat to dry. Cut your apple into thin slices. Using a fork, combine your dressing and miso in a mixing bowl until smooth. In that same bowl, add your spinach, carrots, edamame and apple and toss! Garnish with wonton strips, and it is ready to eat.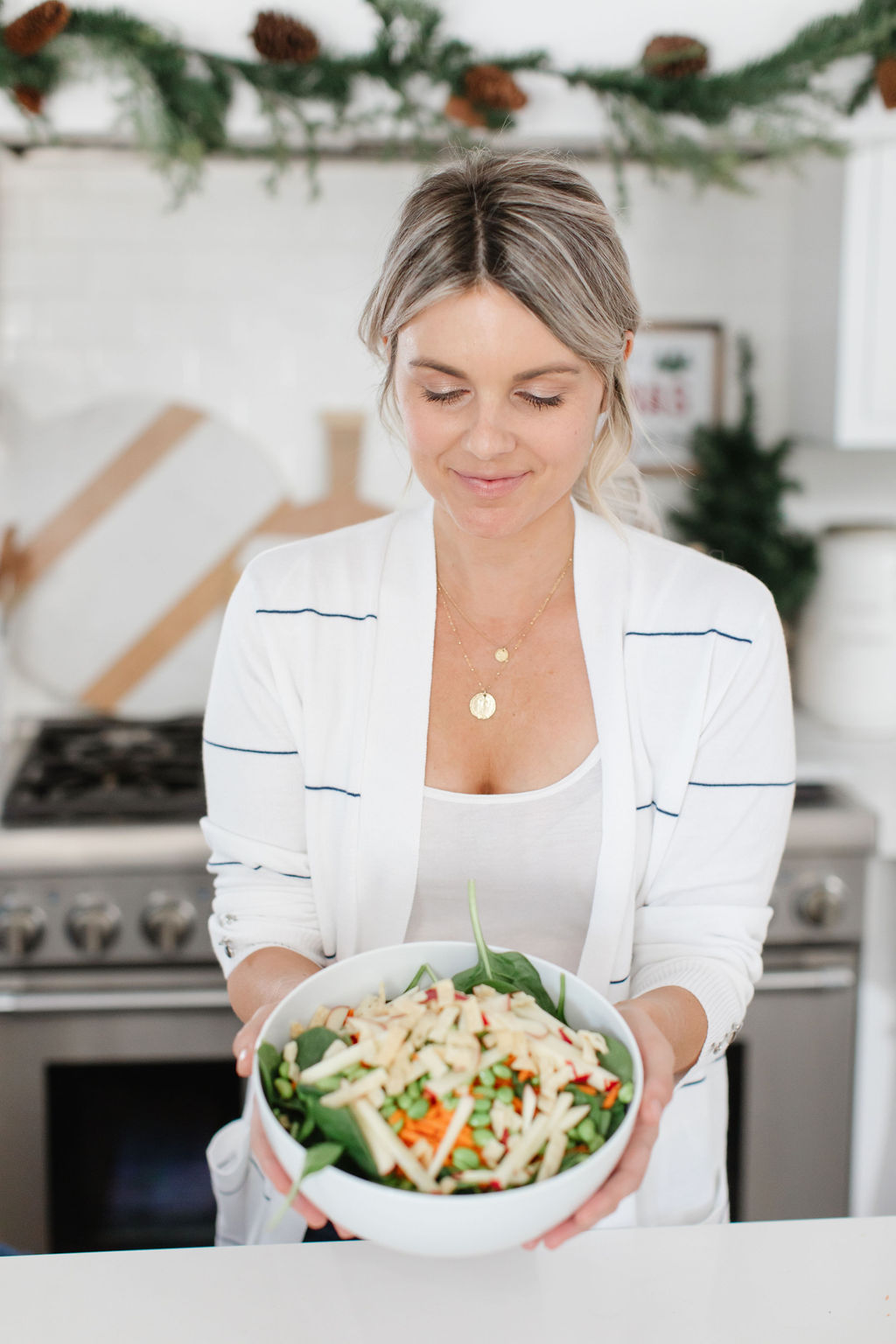 So really, the only real prep you have to do here is cutting your apple! As you all know, apples bruise easily and also change color with oxidation, so I actually preferred that this is the one ingredient that I needed to chop! As I mention toward the top of this post, the carrots come pre-shredded and the wontons are perfectly measured out so you aren't left with a giant package of them in your pantry. I also love that the dressing comes measured out as well!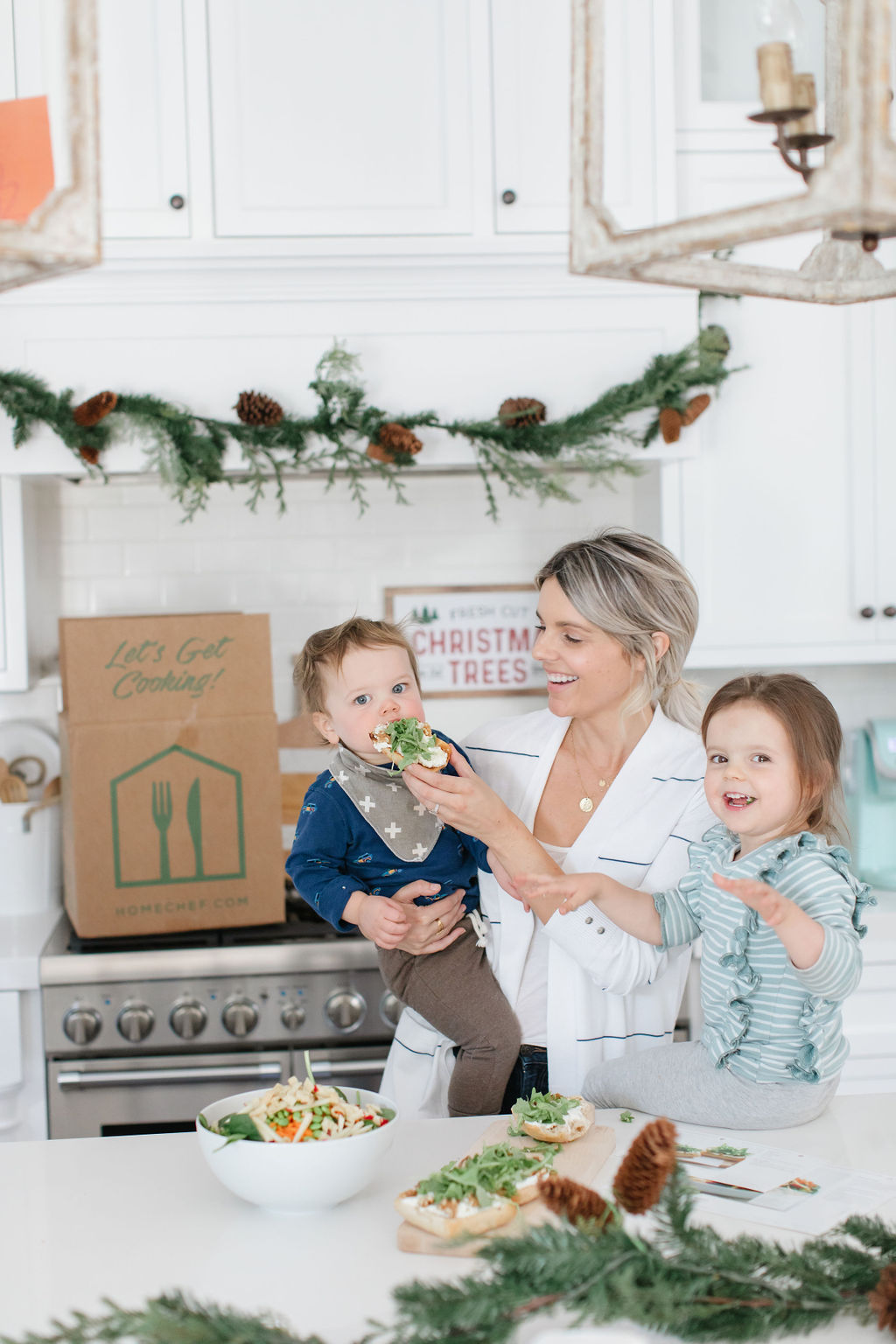 Enjoy!
I hope you love these recipes as much as I do and consider trying Home Chef, I am so glad that I did! If you do make sure you use my code ALI80OFF to get those 8 free meals! Or have you tried Home Chef, already? What is your favorite meal from them? Or if you haven't what would you be most excited to try? Will you try making these recipes? Let's chat in the comments!