Hey guys! Thanks for coming over to the blog today. With the holidays just around the corner, you're going to start seeing a lot more gift guides on my blog. I'm so grateful (and realize how lucky I am) that I'm in a position where brands send me lots of products to try out. Especially baby and toddler items!
I'm telling you guys this for a couple reasons. One, to be transparent. And two, because I feel like I've tried so many different kid items that I definitely feel like I'm kind of an expert when it comes to which ones are the best! And that's just the honest truth. I'm sure you're wondering what happens with all those products we get, since we obviously can't use them all! Well, I give some to our wonderful nanny Jessica. I donate quite a bit! And I also give some to friends and family.
Okay okay, so why am I starting today by posting this? Well, because I can say without a doubt LeapFrog LeapBuilders electronic building blocks are by far one of the best toddler toys I have come across! Honestly, I wish I had these years ago for Molly. Let me tell you about them.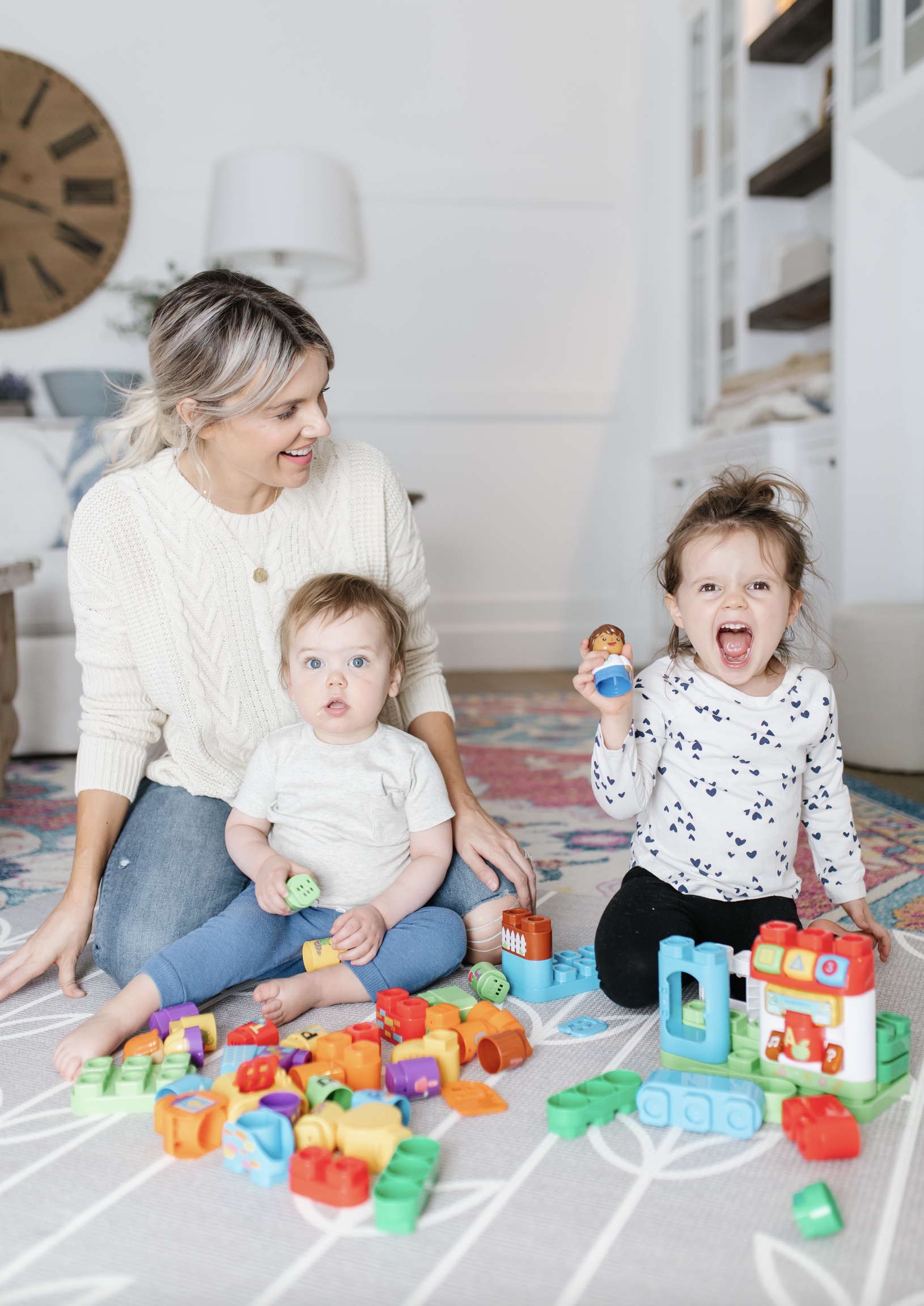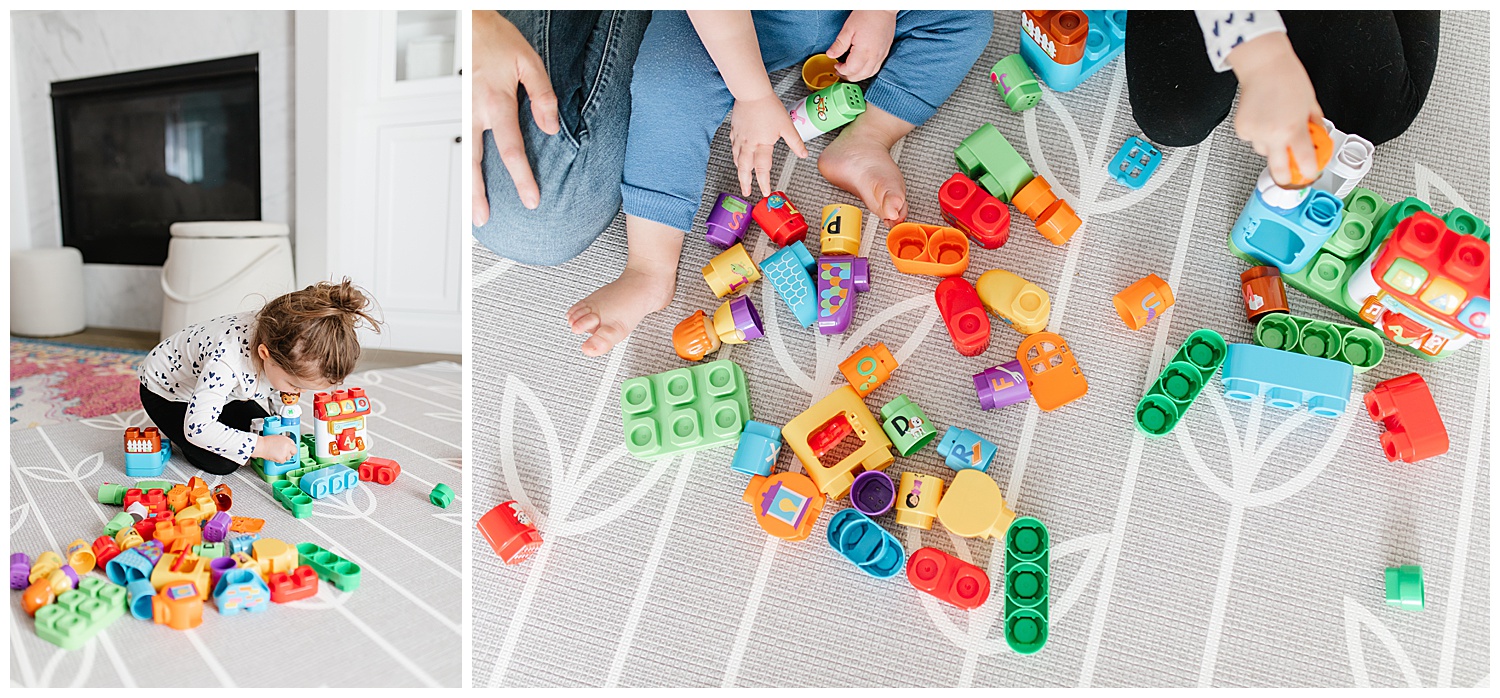 So, we all know kids love building blocks. They're fun and encourage kids to be creative! But what I love about LeapBuilders is that they're made for learning and they are interactive! So not only is your kid encouraged to be creative, but they learn right along the way! In these photos, Molly and Riley are playing with the LeapFrog LeapBuilders ABC Smart House and an additional 81-piece Jumbo Blocks box. What's so cool about the ABC Smart House is that it comes with 41 building blocks and 20 learning blocks that can also be used as building blocks.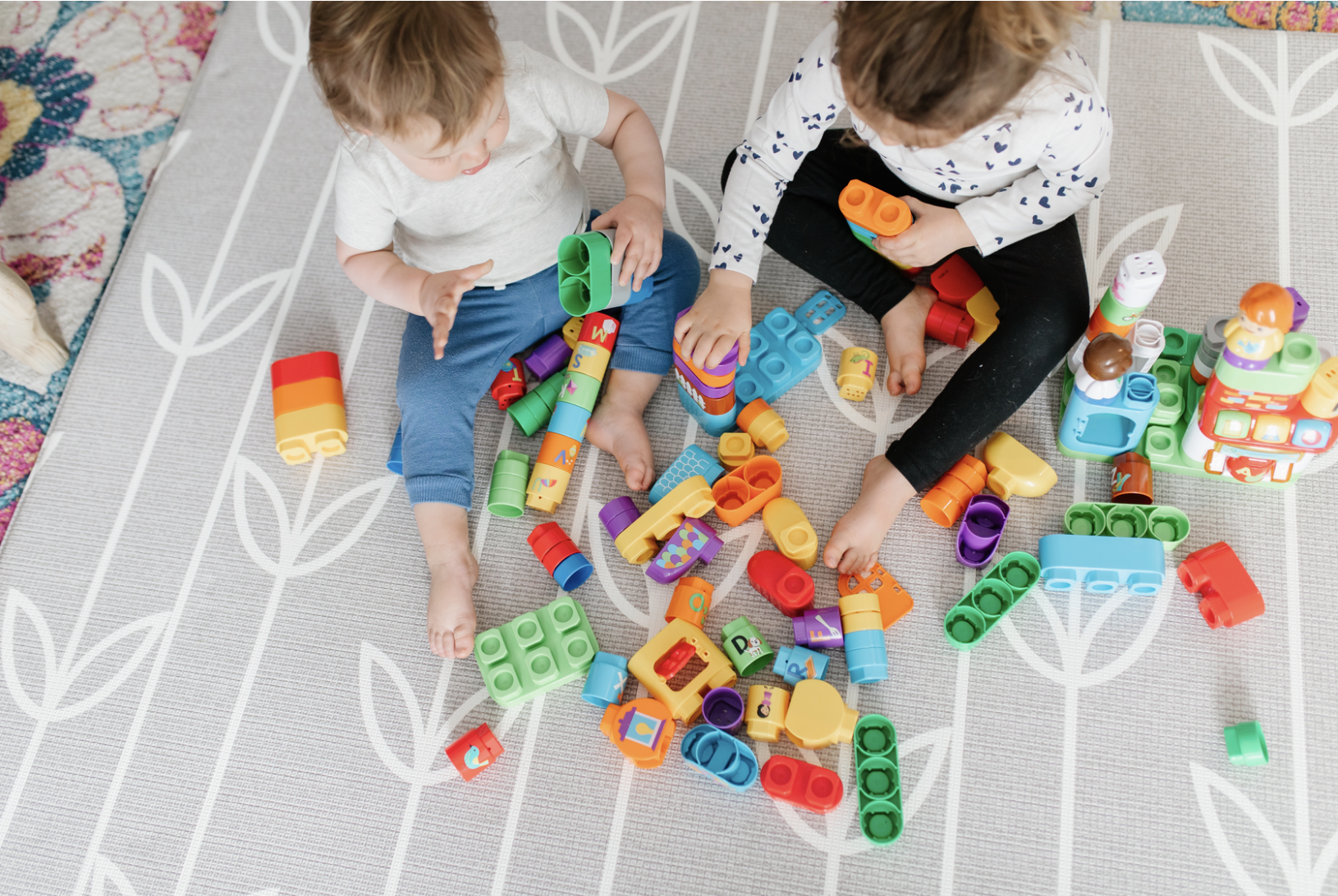 A learning block is essentially an interactive building block. You can build with them, but when you place them in the interactive Smart Star Cube it responds with sounds, educational songs, and phrases corresponding to that block. For example, if you put in the letter "A" block, it will tell you what letter it is, what sound(s) it makes, and asks your child if they can make the sound(s). And after that, it will ask your child to find a block with a different letter on it. For example, it will say something like, "Great. Now let's find the letter S". It's honestly so stinking cool!
Molly obviously already knows all of her letters, but it's definitely helping her with sounds and identifying what words start with different letters. Lately I've noticed her saying things like "Ah ah Apple. Apple starts with A!" And she gets so proud of herself. Especially when it's an item that she is seeing for the first time. No joke, the other day at the farmers market she asked me what a certain fruit was and it was an apricot. And she did the exact same thing and could identify what letter it started with. I was really proud of her!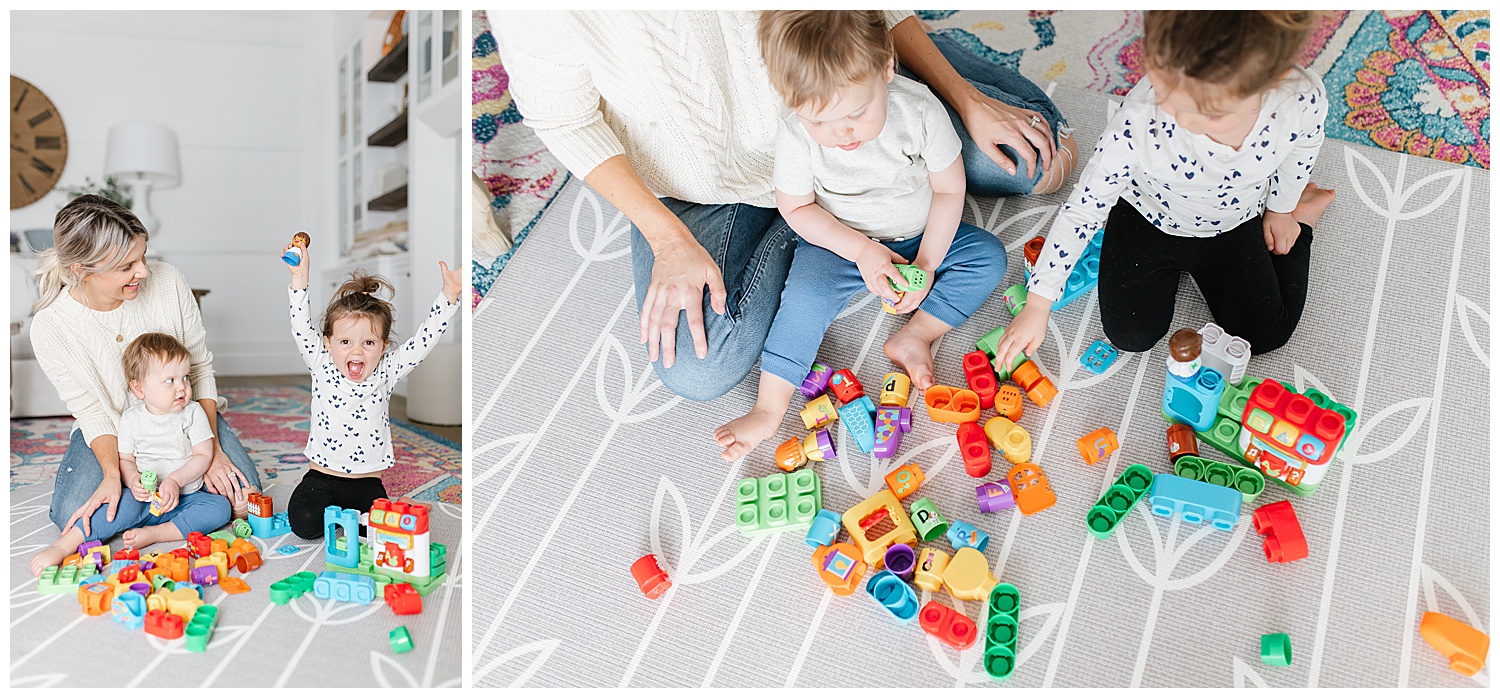 And here's the thing, they're not just great for Molly, but they're really great for Riley, too! I love the building blocks for him because they are easy grip blocks that are really easy for little ones to snap together and pull apart. To be completely honest, we had another set of building blocks before these, and Riley could never get them apart. So he would get really frustrated. But these ones he can use so much more easily. I've also noticed that when the Smart Star Cube asks to find another letter that Riley will go looking for that letter. He's just starting to identify some of them. So far he's pretty good at identifying the letters A, B, and X. I don't know why but it makes me laugh that he knows X and not C. But with LeapBuilders learning blocks, I know he'll get there in no time.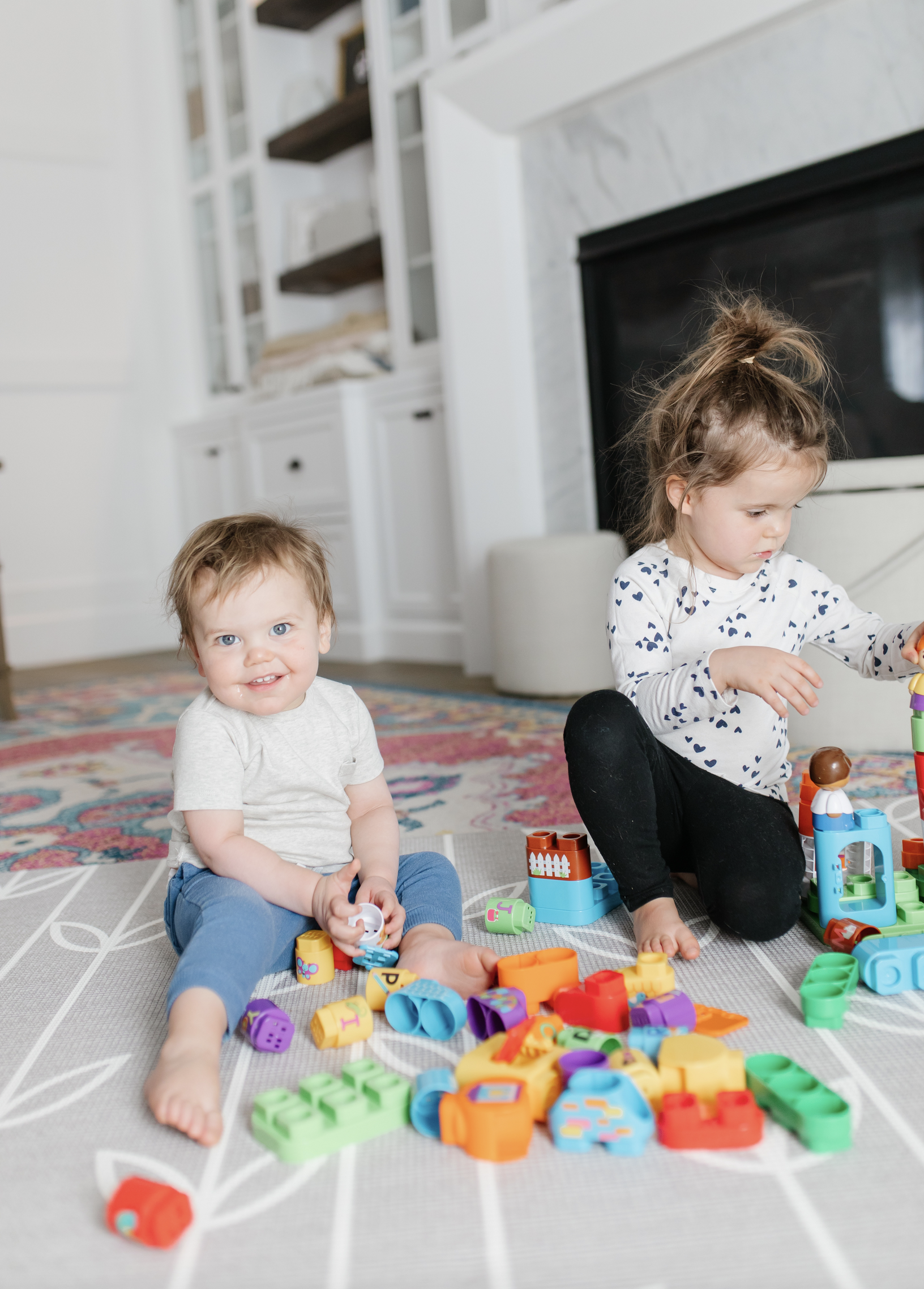 Anyway, to be completely transparent, I have partnered with LeapFrog to write this blog post, but my review is 100% honest and my own. I truly love the LeapBuilder blocks and I know any other parent out there that gets them will love them too! And more importantly, your kiddos will love them.
I wanted to get this review up on my blog post as early in November as possible because I know a lot of you are getting your holiday shopping done now! I just think this is the type of gift that any parent would truly be happy to receive. There are so many toys out there in the market and a lot of them are just that, toys! It's always been important to me, and will continue to be important to me, for me to give my children toys that are interactive, spark creativity, and foster their thirst for knowledge. And LeapBuilders do just that.
Do any of you guys haveLeapFrog LeapBuilders learning blocks? If you do, tell me what you think in the comments below! I have no doubt that you will love them just as much as I do! Also, let me know what other types of gift guides you'd like to see on my blog! I hope to have a lot in the next coming months!