Hey guys! The other day I posted a photo of our family Halloween costume and you guys seem to really love it, so I wanted to take a minute to write a blog post to tell you guys about some of the items I used to create it. Most of them are from Amazon so you can easily order them overnight or with two day shipping for free! So there still plenty of time to get all the stuff if you're in need of last minute Halloween costumes for you and your family.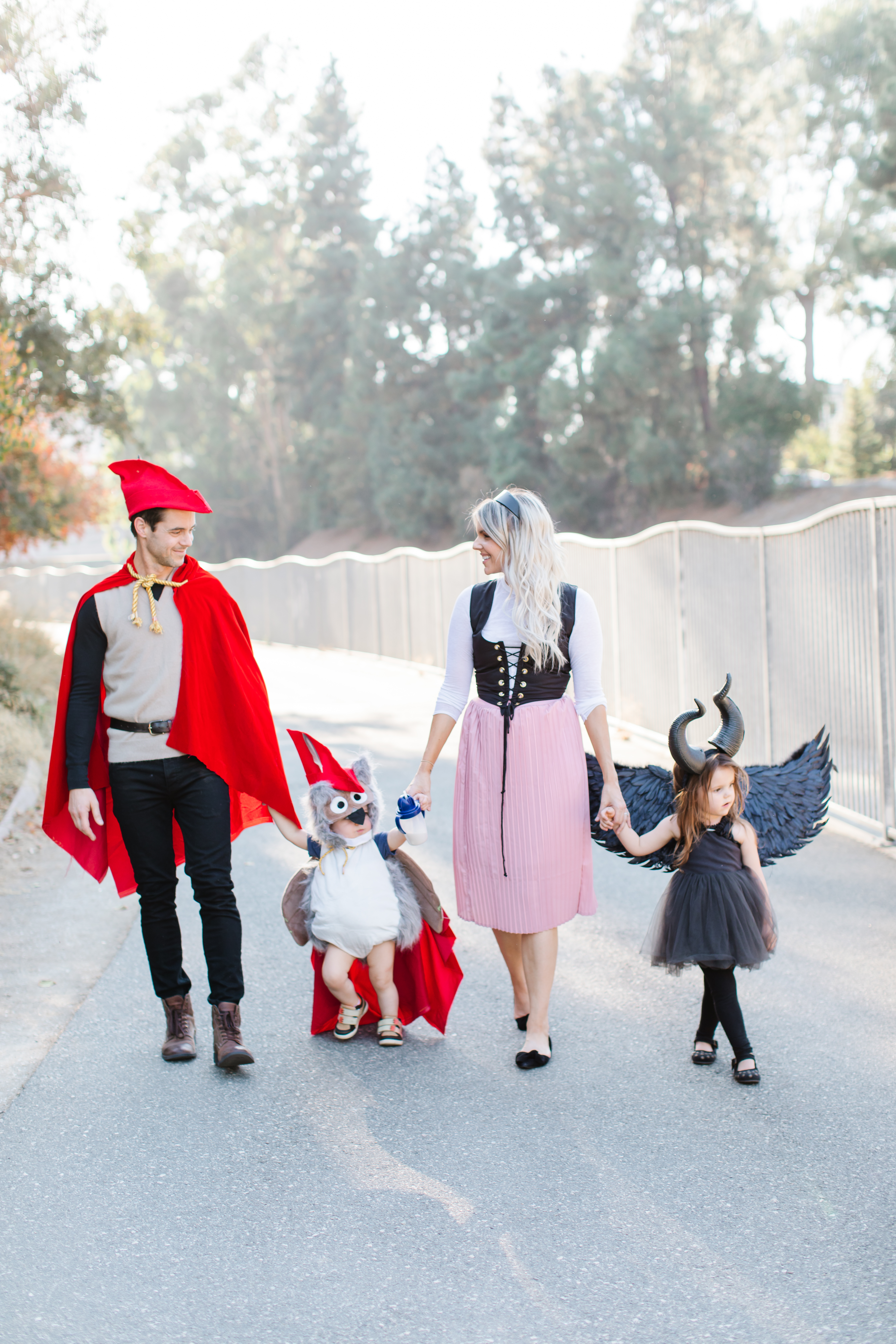 A couple weeks back I asked you guys to help me come up with a good idea for our family Halloween costume. And I got so many good responses from all of you. But at the end of the day it was Molly who was the one who got to decide. Ha! Honestly, I didn't think she was going to have such a strong opinion on what she wanted to be, but she totally did this year which is really fun for us! Last year we just put her in a strawberry costume and called it a day. It was really cool to me that this year she had so many ideas about what she wanted to be.
For the first week or so after we asked her she changed her mind every day. One day she wanted to be a ghost and the next day she wanted to be a police officer. And then one day we were driving by a Maleficent billboard that's by our house and she shouted out that she wanted to be maleficent for Halloween! And then for a good week after that every single day, multiple times a day, she said she wanted to be Maleficent. So Maleficent it is! And then that inspired me to make the rest of our family costumes. Let's start with Maleficent.
Maleficent Costume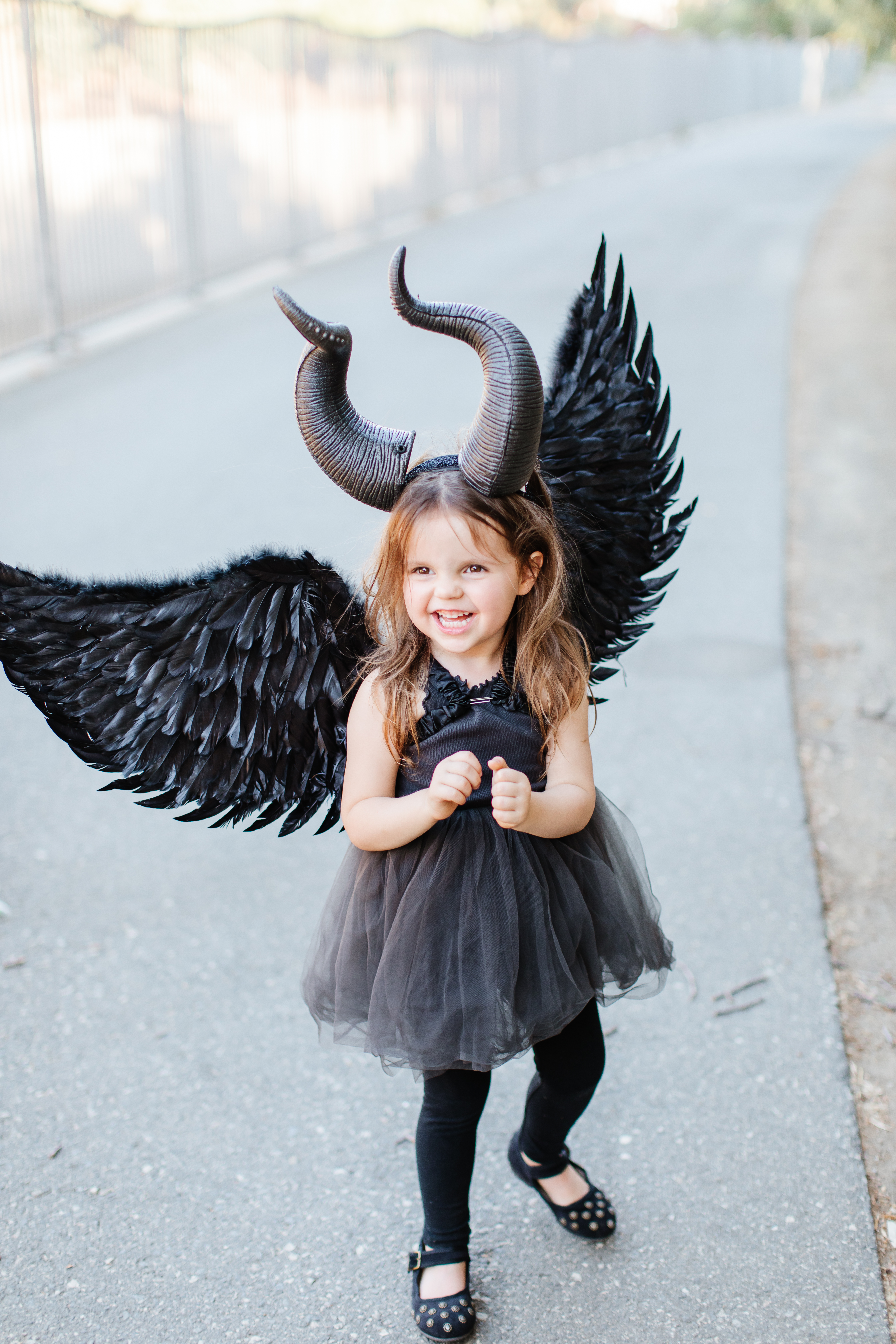 1. MALEFICENT HORNS | 2. BLACK TUTU DRESS | 3. SIMILAR WINGS | 4. LEGGINGS 
I got Molly's horns from Amazon. They come with this clear plastic band that secures them to your head. But it wasn't staying super well when we went to Molly's Halloween party at her school, so I decided to take them off the clear plastic band and use fabric glue to attach them to a headband.
But honestly the headband was worse! They kept falling off nonstop white we were shooting these family photos. The horns even fell off the headband. The headband just didn't work very well to attach the horns to. Even though normally that works great! I think it might be because the headband had glitter on it. So if you get the hornshttp://bit.ly/2pOTMcTadult sized red cape I definitely recommend keeping them on the clear plastic band that comes with it. If you're putting the horns on a small child like Molly, I definitely recommend using hair clips to secure it in place. I wish I had thought of that in the first place.

1. MALEFICENT HORNS | 2. BLACK TUTU DRESS | 3. SIMILAR WINGS | 4. LEGGINGS 
I got Molly's wings from the Party City store. But I can't find them on their website. So I'm going to link a few wings below that I think would work well.

And finally, I just put black leggings on her, and a black tutu dress. If you have any black dress it would totally work. But I found a few black dresses  below that you can easily get. The Amazon ones can be shipped to your house in two days and then the other ones could be bought online and picked up in store if there's a mall near your house.

The Owl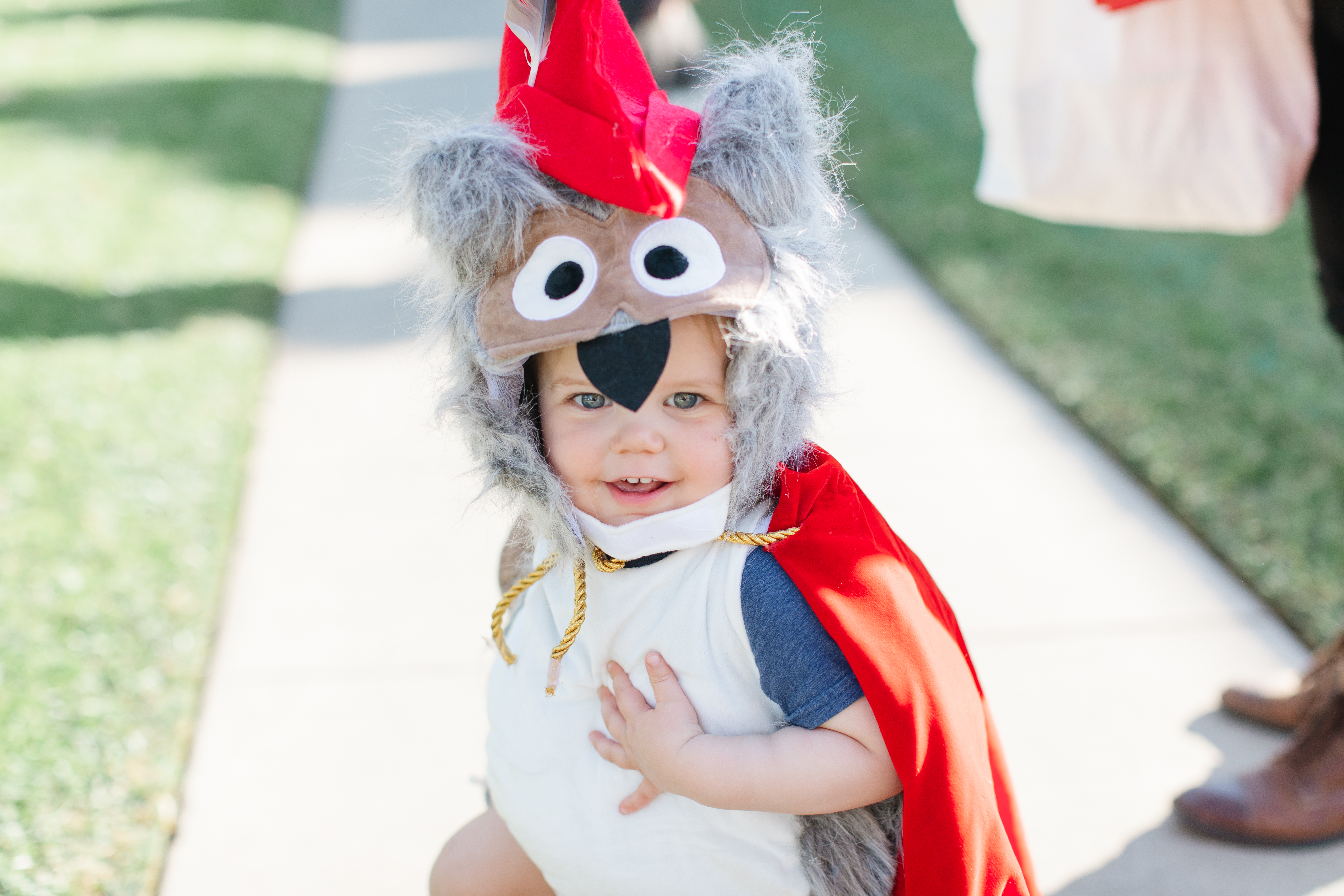 1. KIDS OWL COSTUME | 2. GOLD CORD | 3. TACKY GLUE
Now let's talk about Riley's adorable costume! I bought him the owl costume online. As you can see that costume comes with a tie and leggings. I simply didn't use the leggings and I cut the tie off. And then I actually did a DIY projects for the cape and the hat. It's super easy to do! Honestly all I did was cut kind of a half circle shape out of a large piece of red felt, folded it in half and glued it was some fabric tack and then cut a straight line to make the shape of the hat. Sorry if these directions aren't very clear. It's kind of hard to explain just by writing it out. And then I attached a fake feather. I got all the materials at my local craft store. But I'll link some here for you guys.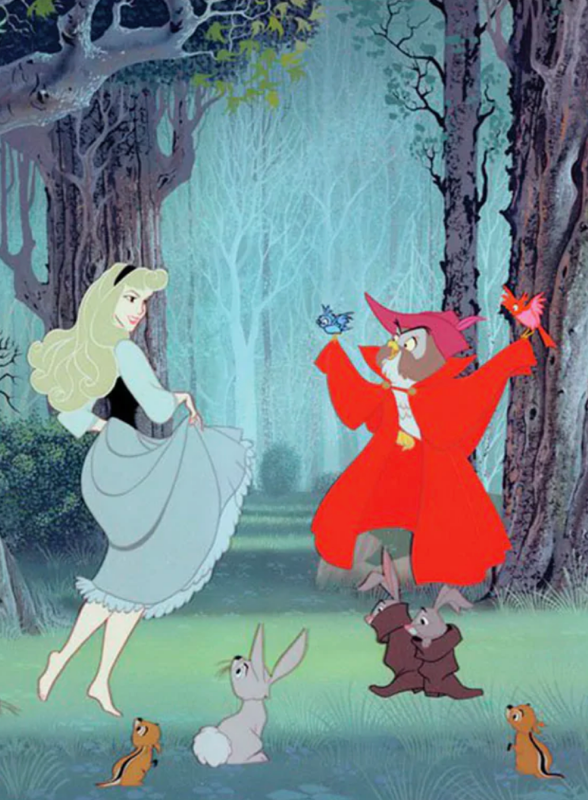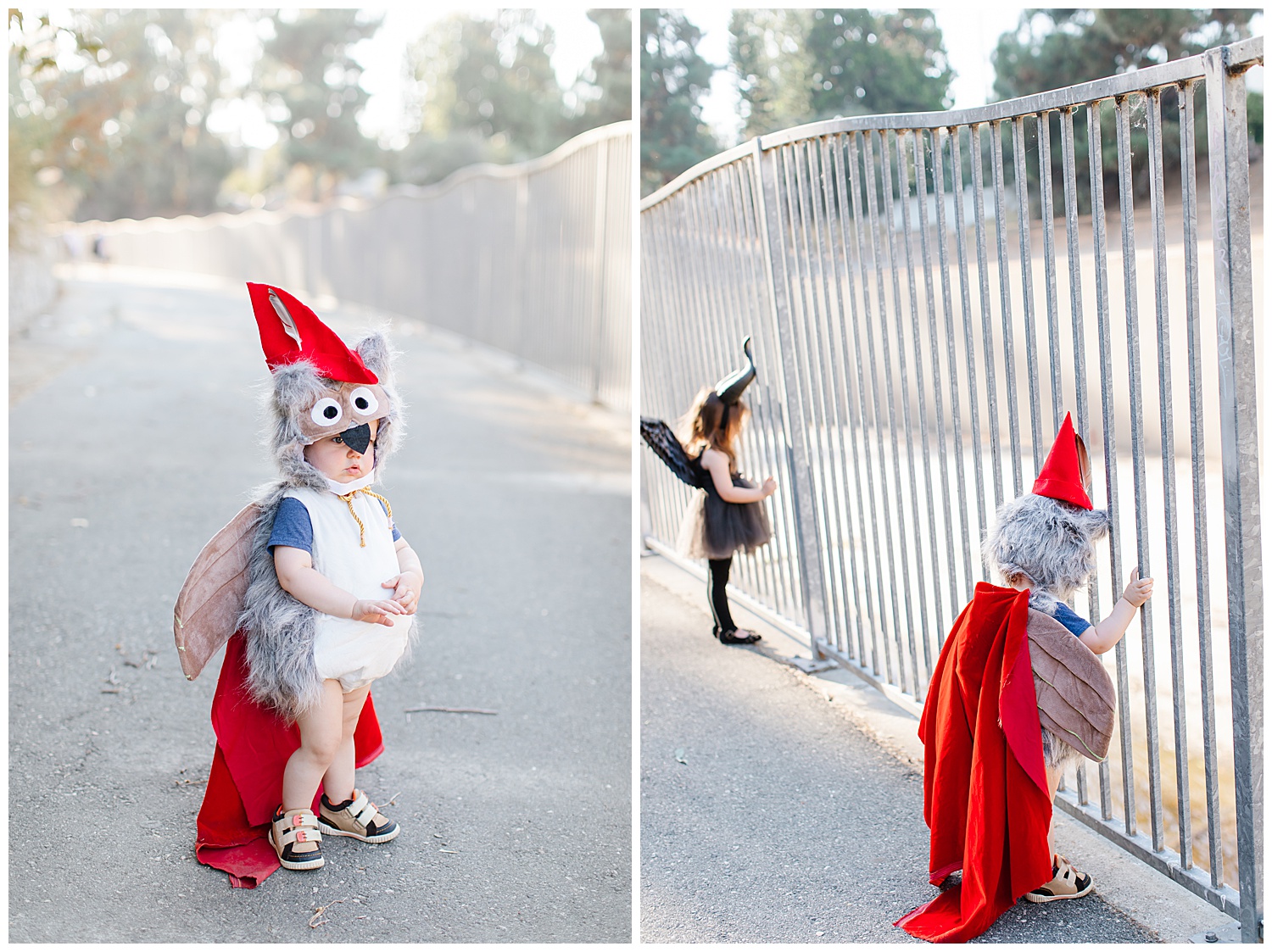 1. KIDS OWL COSTUME | 2. GOLD CORD | 3. TACKY GLUE
For his cape, I cut a piece of red fabric and glued on a piece of gold rope. Then tied it around his neck. Easy Peezy! I did the same thing for Kevin's cape.
Adult Owl
And then Kevin's costume is just stuff he had in his closet. I made it out the same way about Riley's. Just a bigger version. Made a cape the same way I made Riley's. And then he just wore black jeans, a black long sleeve shirt, a belt (all of which he had in his closet), and then he went to a local thrift store to pick up the tan vest. I'll link an adult sized red cape here just in case you don't have size to make one. This one has fast delivery.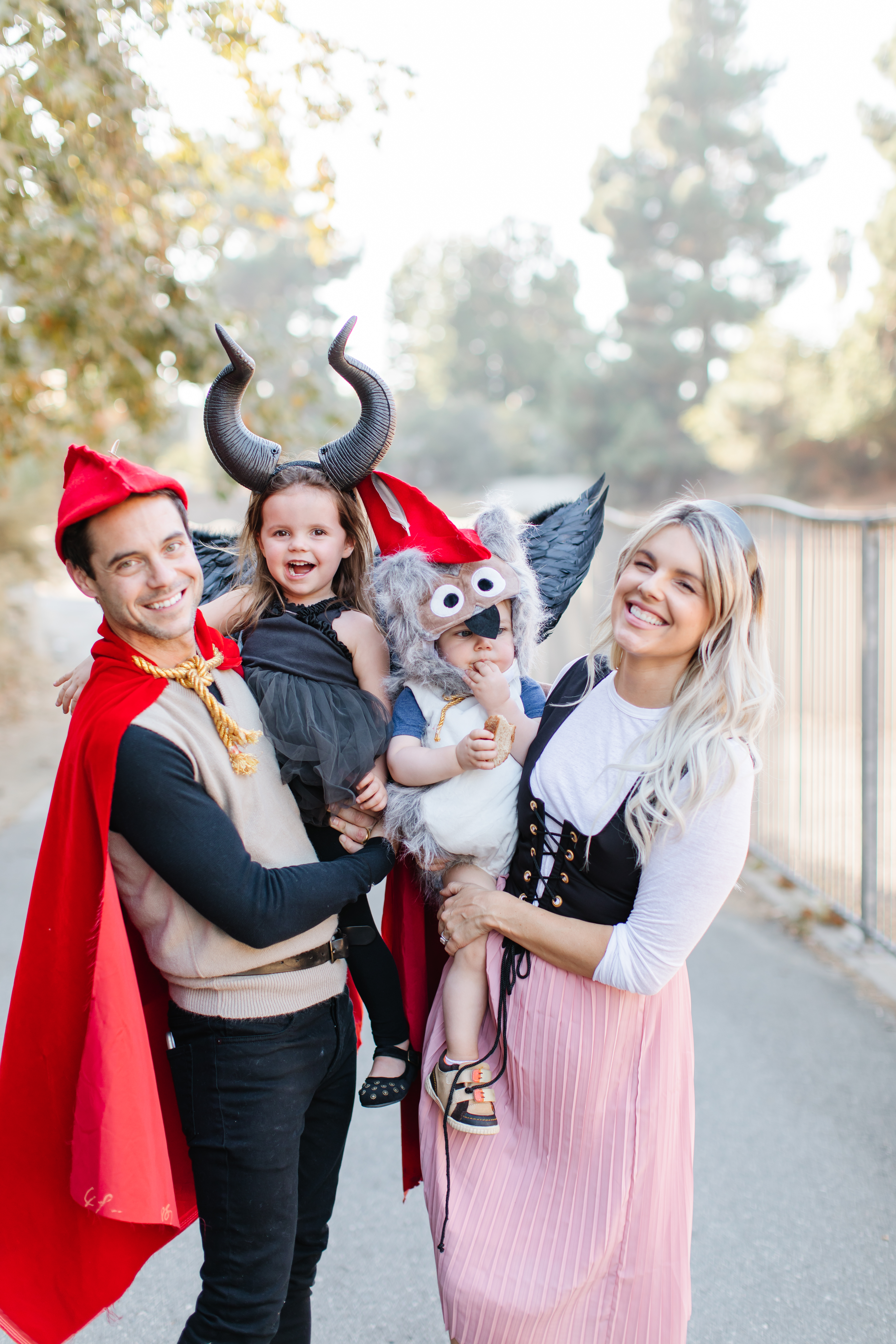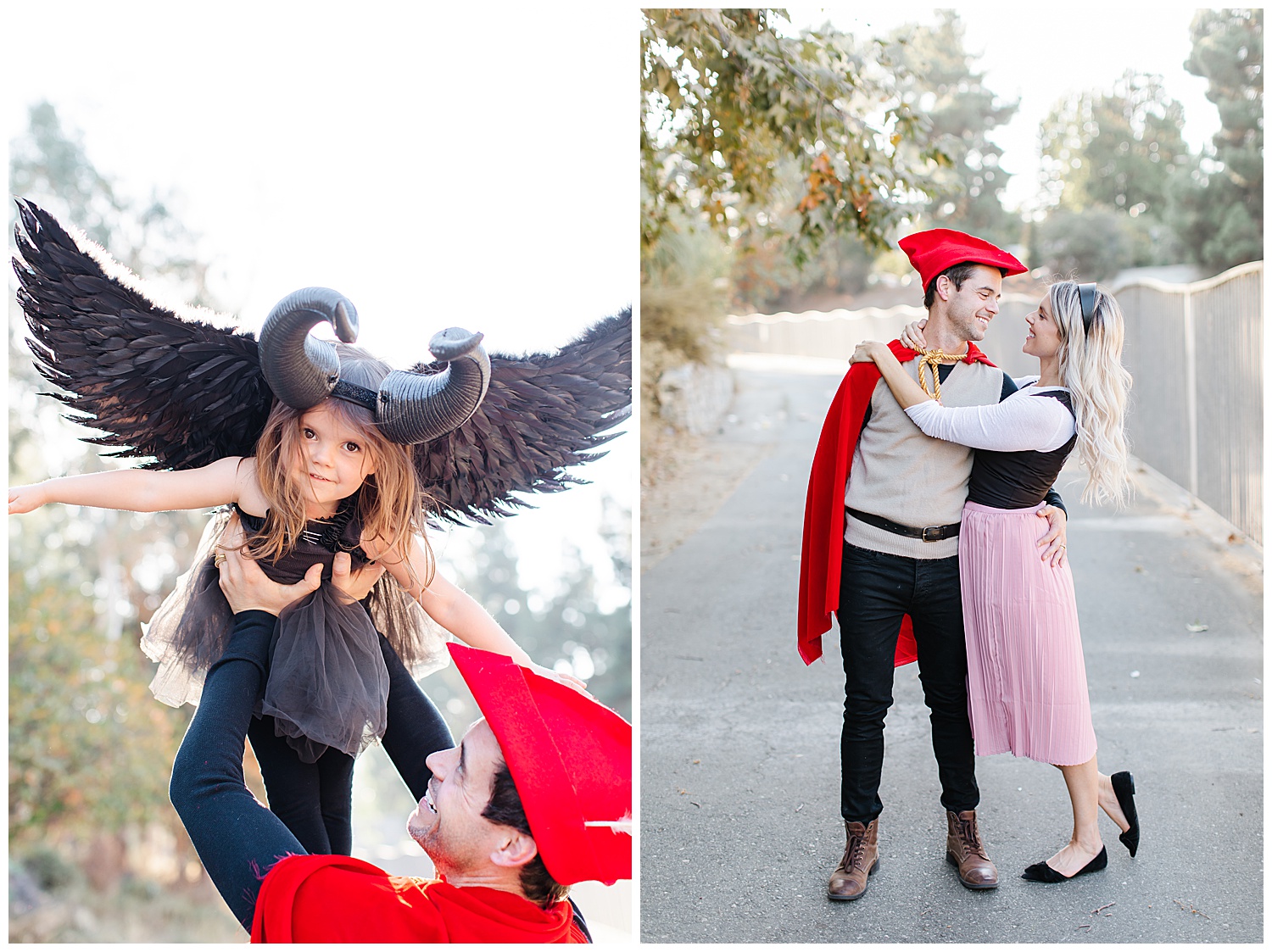 1. MEN'S CAPE | 2. GOLD CORD | 3. TACKY GLUE
Aurora (Sleeping Beauty) Costume
And then last but not least is my Aurora costume. When I was first thinking about being Aurora, I was looking at her princess dress online. But everyone I found looked really cheap. I always think it's better to buy pieces of a costume and pair it with clothes you already have in your closet to create a costume. I just feel like it looks better that way and less cheap.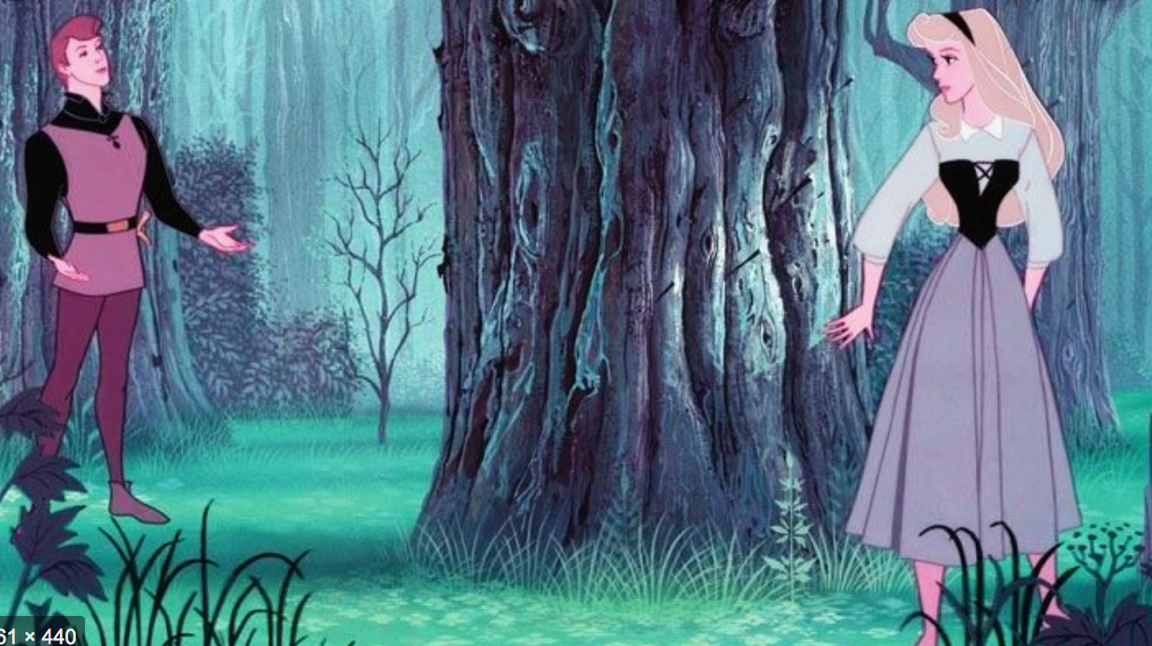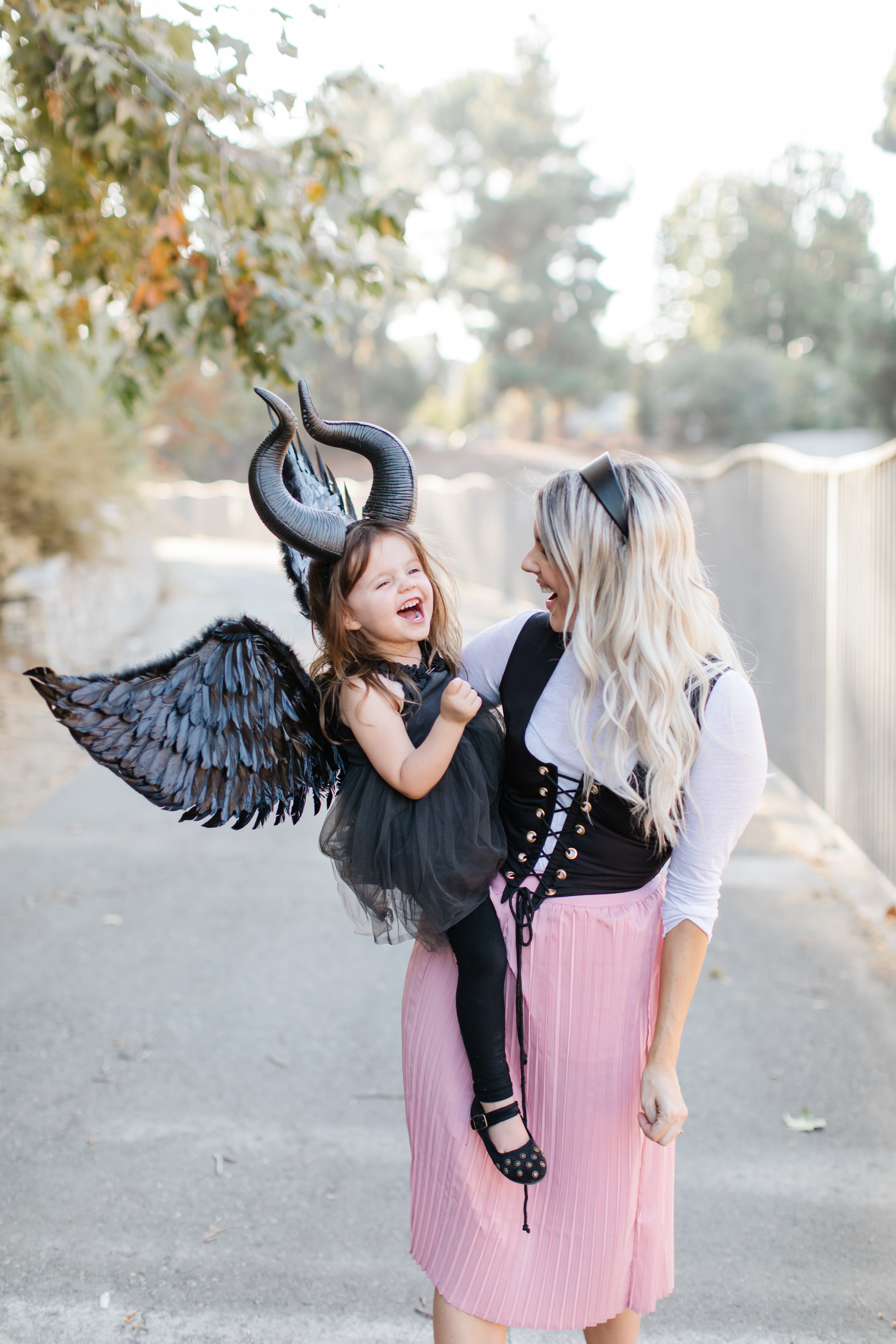 1. PLEATED SKIRT | 2. BODICE VEST | 3. BLACK HEADBAND
So for Aurora all I did was layer a white long-sleeve shirt I had in my closet with this lace-up bodice. Then I bought this light pink pleated skirt. I was trying to find more of a tan one but I couldn't find one with two day shipping. And I wanted it quickly. But the light pink totally works. Definitely size down so you can wear it at the small of your waist rather than at your hips. I got my normal size, a medium, and it was way too big to wear on my waist so I kind of had to tie it in the back.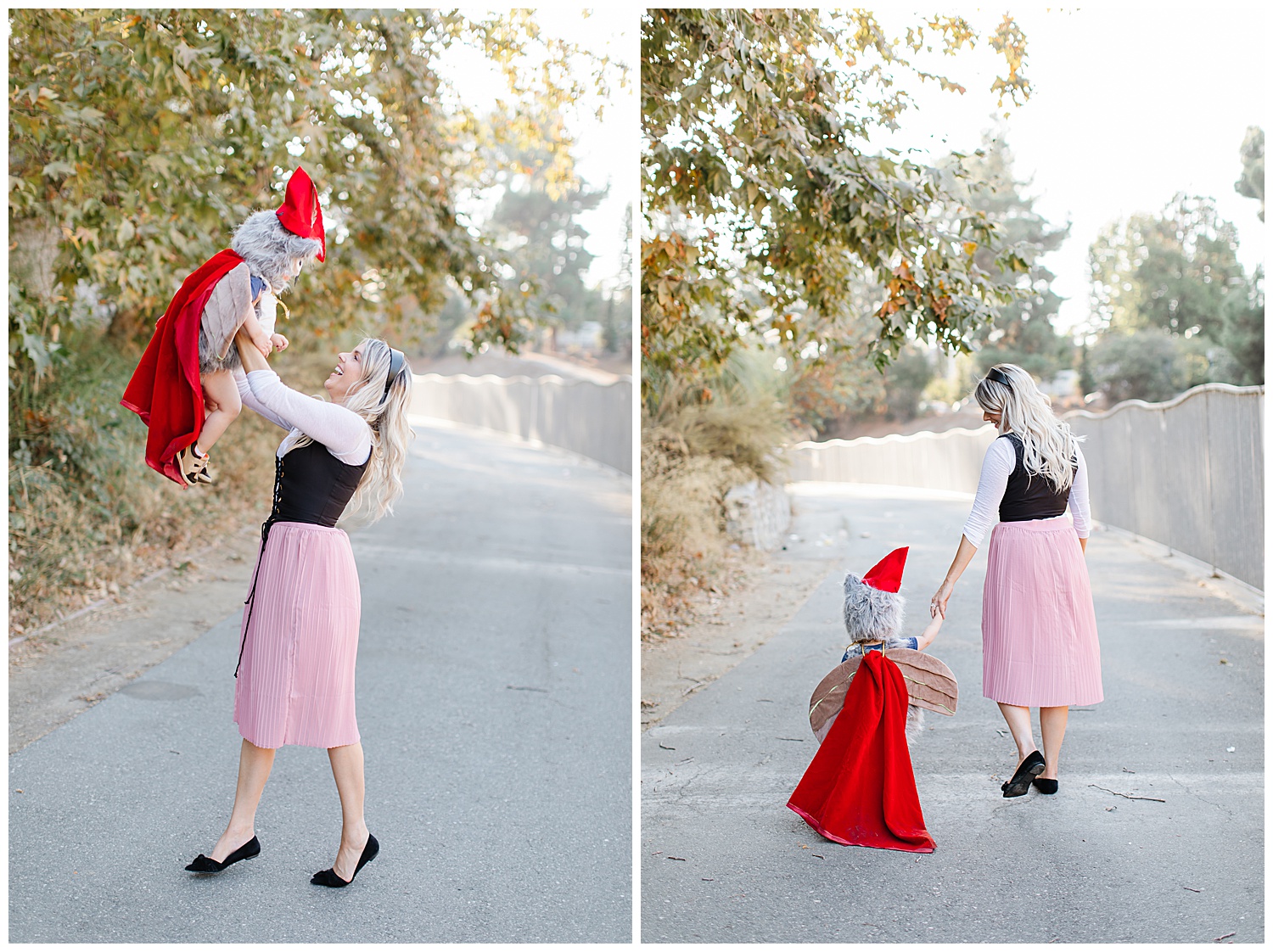 1. PLEATED SKIRT | 2. BODICE VEST | 3. BLACK HEADBAND
Then all I did was put on a pair of black flats and added this large black headband to complete the look. Definitely get a really large black headband to exaggerate it. I almost went with a 1 inch think one but then realized that it wouldn't be as obvious who I was unless I had that really thick headband. And of course if you don't have long blonde hair you could always get a blonde wig.
Well there you have it! I'm so happy with how our Halloween costumes came out. And I'm so grateful for all of these photos that my friend Ashey Burns took. She is so talented and I know these are photos that we will treasure for years and years to come! It's funny, I used to think that spending money on Halloween costumes was a waste. But now I look at it totally differently. I look at it as memories and things to look back on and remember as an amazing time in our lives. And I know I will look back on these photos and have such great memories. Like that Molly thought of her own Maleficent costume!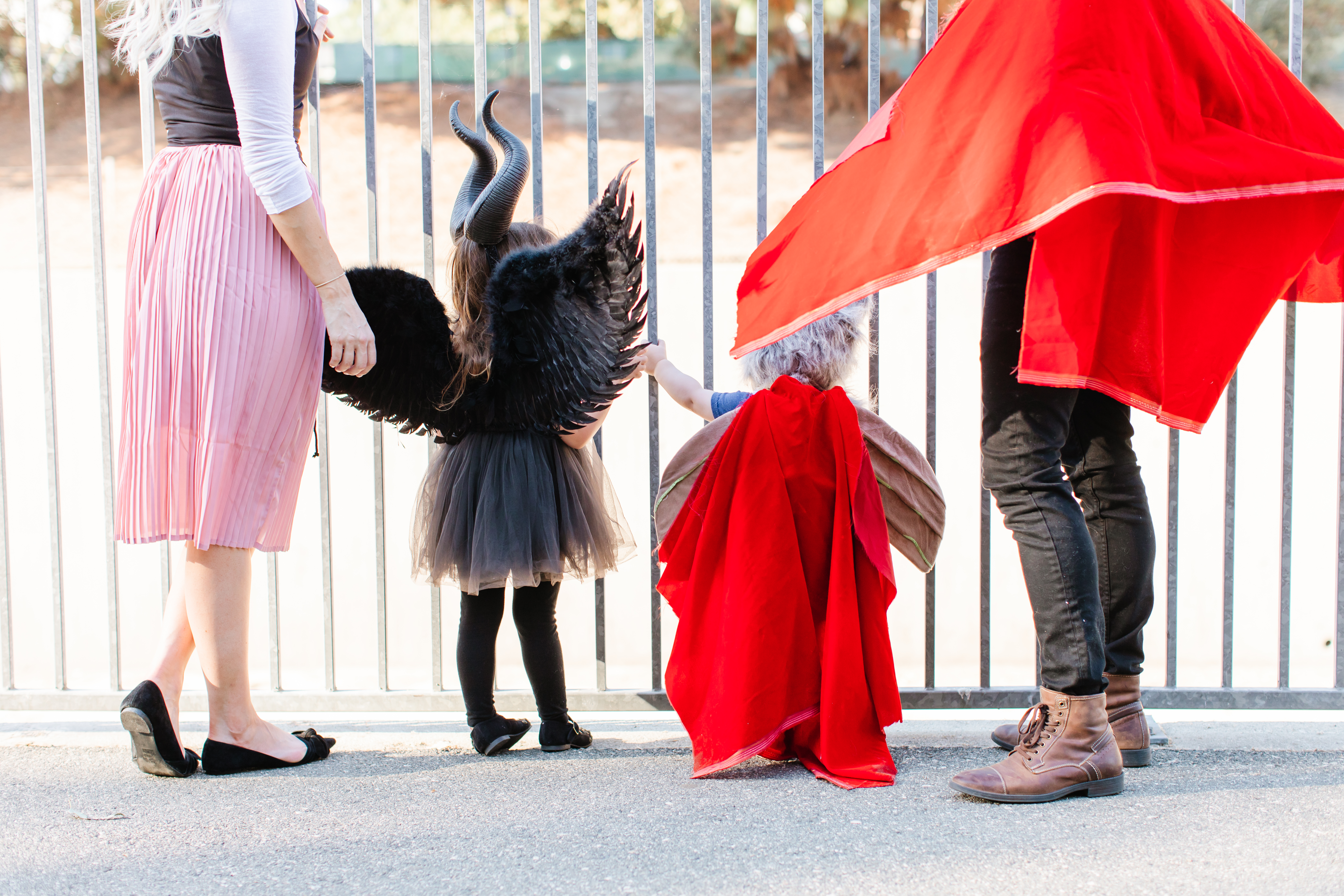 1. PLEATED SKIRT | 2. BODICE VEST | 3. BLACK HEADBAND | 4. MALEFICENT HORNS | 5. BLACK TUTU DRESS | 6. SIMILAR WINGS | 7. KIDS OWL COSTUME  | 8.  MEN'S CAPE | 9. GOLD CORD
So happy Halloween to all of you guys! I hope you found this post helpful and let me know if you have any questions whatsoever. Oh, and here I will link back to a previous year's costume post for more inspiration!