Morning guys! Yesterday I was wearing this $12 jumpsuit and I posted about it on insta stories telling you guys you could find it on the SHOP page of my site and some of you told me you were having trouble finding them. So I thought I would just do a main blog post so it would be easy for everyone to find them. The jumpsuit is so affordable and I think it looks totally chic and expensive if styled the right way so I really want you guys to be able to get it if you want to try it out!
PS, if you're having trouble finding the shop page on my site. It's on the menu bar at the very TOP of my website. If you're looking at my website on a phone then it would be the three dashes in the upper left-hand corner. You just click those and my menu items will pop up. Then just click SHOP. That brings you to the shop page and you're able to shop my looks from Instagram and Instagram story by clicking on the photo of the look you want to shop. Then all the items pop up and you just click the item you want details on. I hope this makes it easier for you guys!
Anyway, let's talk about this outfit really quick. This jumpsuit is only $12! I was really unsure of it when I bought it because it just doesn't look great on the model on the website at all. But I had a vision in my head of what it would look like if it was styled properly so I went for it. Plus it was only $12 and Walmart has a really good return policy so I figured why not.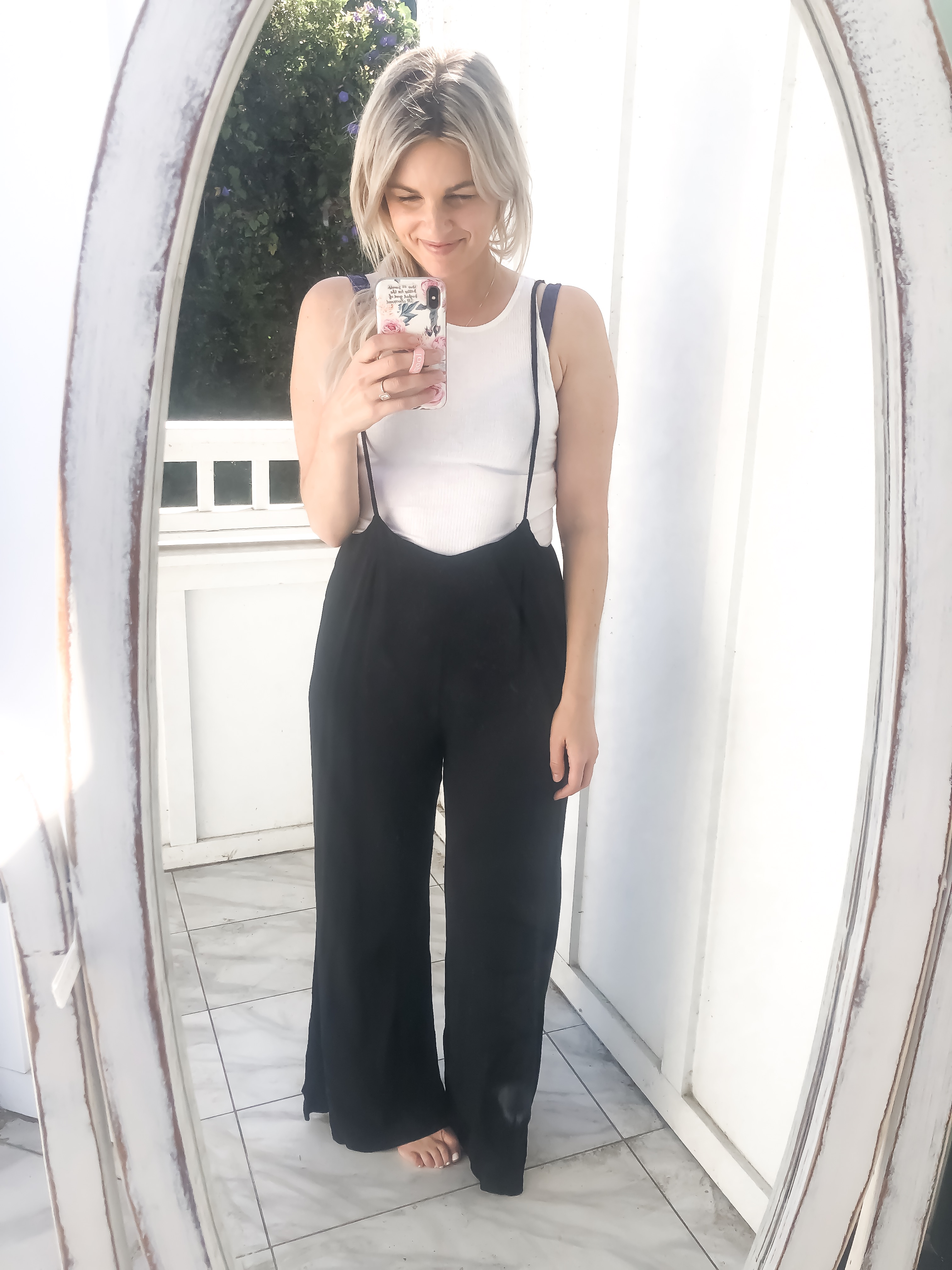 1. FITTED RIBBED HALTER | 2. $12 JUMPSUIT | 3. SUNLESS TANNER
To be completely honest, when I got it in the mail I tried it on with a loose-fitting T-shirt and I didn't like it. I felt like it looked blah and couldn't really figure out why. I like the way the jumper looked and I love my white T-shirts. But I just didn't like them together. So then I decided to try something else and I paired it with a fitted white halter. I'm linking a couple options below at different price points so you guys can snag whatever one you think will work best for you.

Once I paired it with the fitted top underneath I absolutely loved it! Also, I just think the fitted halter neckline was really flattering with a thin straps of the jumper. And you can totally wear a strapless bra with it. I kinda liked the look of my purple bra straps peaking out. Moral of the story. Try pieces on with other options in your closet before you give up on them!
Here are my other thoughts on the jumpsuit. I think the material is really nice for the price. However, it doesn't have any stretch so I definitely feel like this is better for people with a pear shape or hourglass shape. If you're an apple shape it might not work for your body type because it will be too fitted around the upper waist. It's got some room in the lower waist so I even was thinking that it would be cute for somebody that was hiding a very early pregnancy. But again, it's fitted around the upper waist. Sometimes I even take the straps down and wear the pants with the stripes hanging by my side. I'm able to do this because it's fitted around the waist and will stay up. I'm wearing a size medium which is my normal size and I'm 5'7″ 145 to 150 pounds. Depending on the day. Ha!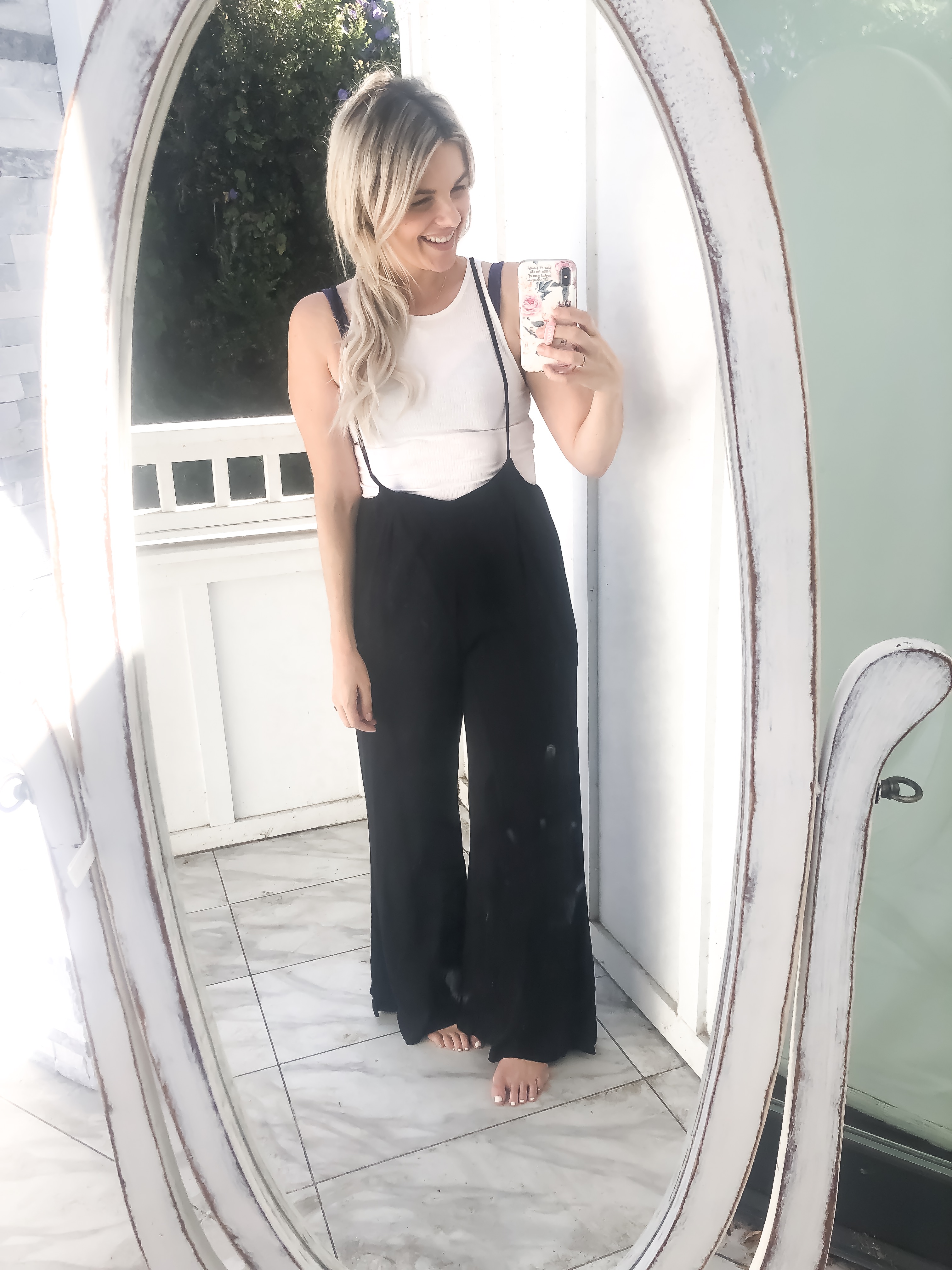 1. FITTED RIBBED HALTER | 2. $12 JUMPSUIT | 3. SUNLESS TANNER
And sorry I don't have better picture than these! I quickly snapped these on insta story yesterday when I was wearing them!
Last thing I want to link real quick is the sunless tanner I use. I like to link this a lot because my absolute favorite one and I tend to get a lot of questions about it, so I like to have it linked in my blog post so I can just tell people to refer to my most recent blog post when people DM about it. It gives super even natural looking color. It is way less expensive than getting a spray tan in a salon. And out of all the sunless tanners that I've used, this one by far has the least aggressive smell. In the past, I would never dare put on sunless tanner and go about my day because the smell can be so strong. But this one isn't! It's relatively subtle for a sunless tanner and sometimes I'll put it on and then go work on the TV show I work and nobody notices. Or at least, nobody says anything. Ha!
I just realized that free delivery for Walmart is only if you spend $35 or more, so I wanted to throw this other outfit in here in case you needed some inspiration to meet that. By the way, I want to mention that this is NOT sponsored. I know I mention Walmart a lot, and I work with them too, but that's because I have a passion for finding affordable clothing! And I truly have GREAT luck with their website. So again, this isn't sponsored in any way.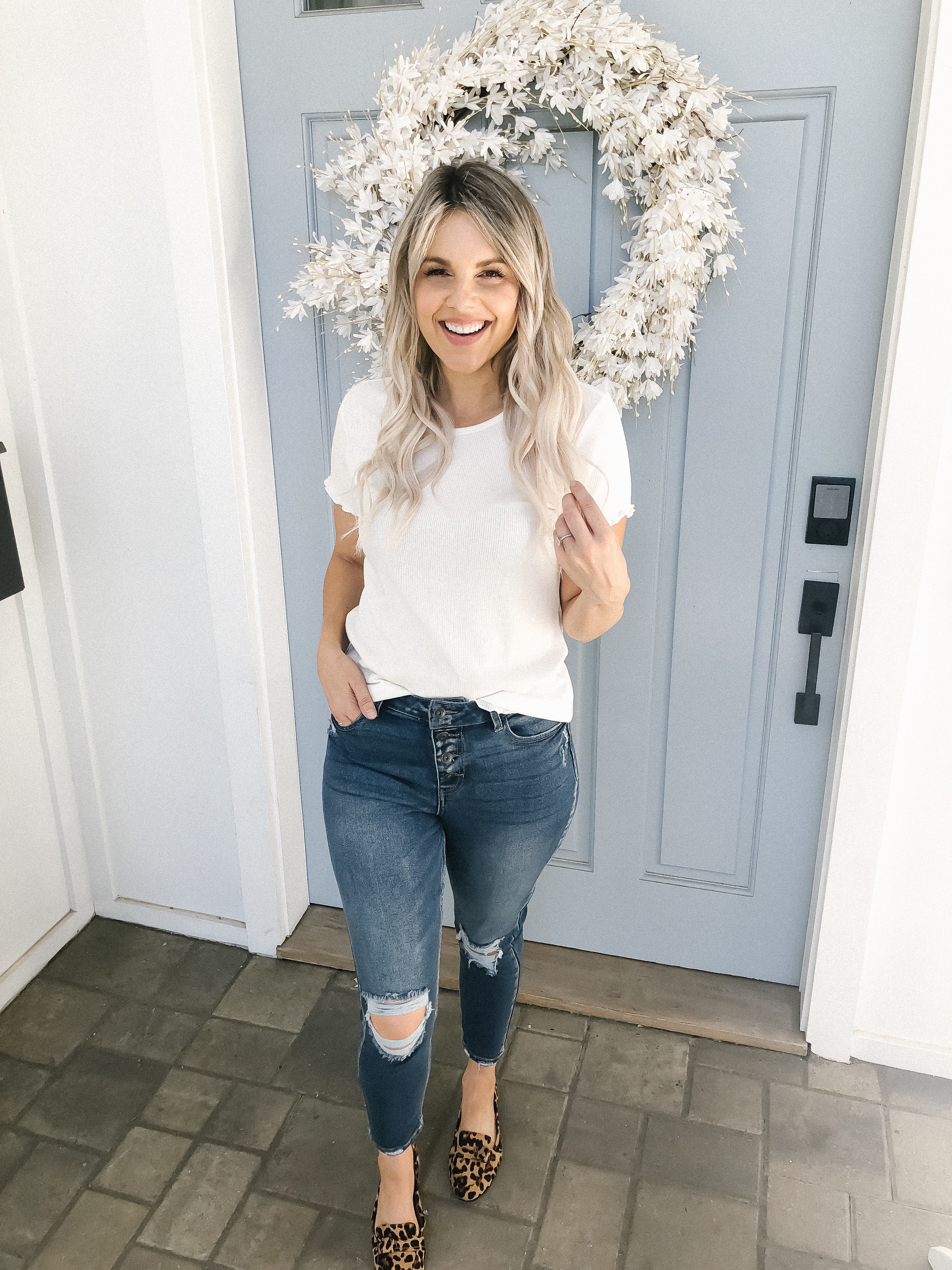 1. WHITE TOP | 2. $17 JEANS | 3. LEOPARD FLATS
The jeans are seriously one of my favorite pairs of high-waisted jeans ever. If not my absolute favorite. They are only $17! Can you believe that? They have a great stretch to them and are so comfortable. One of my friends just got them too, and she told me that the tag says that they are made from recycled water bottles!!! I had no idea and that makes me love them even more!
So needless to say, I am absolutely crazy about them! And I really couldn't rave about them more! I got a size 11 and I'm normally a size 28 in jeans for reference. And they fit perfectly. I chose the size 11 based on the size guide on Walmart's website. I love that they have the distressing around the knees and the high-waist is an absolute must for me!
My white top comes in a two pack (one black and one white) for only $13! So that's less than $7 per shirt! I love them because they are ribbed and have a slight ruffle around the sleeve. And then you know how much I am loving leopard lately. These loafers are only $30, and I was very surprised at how comfortable they were when I put them on. Even now when I am wearing them frequently, they have really held their shape and just overall feel good on my feet!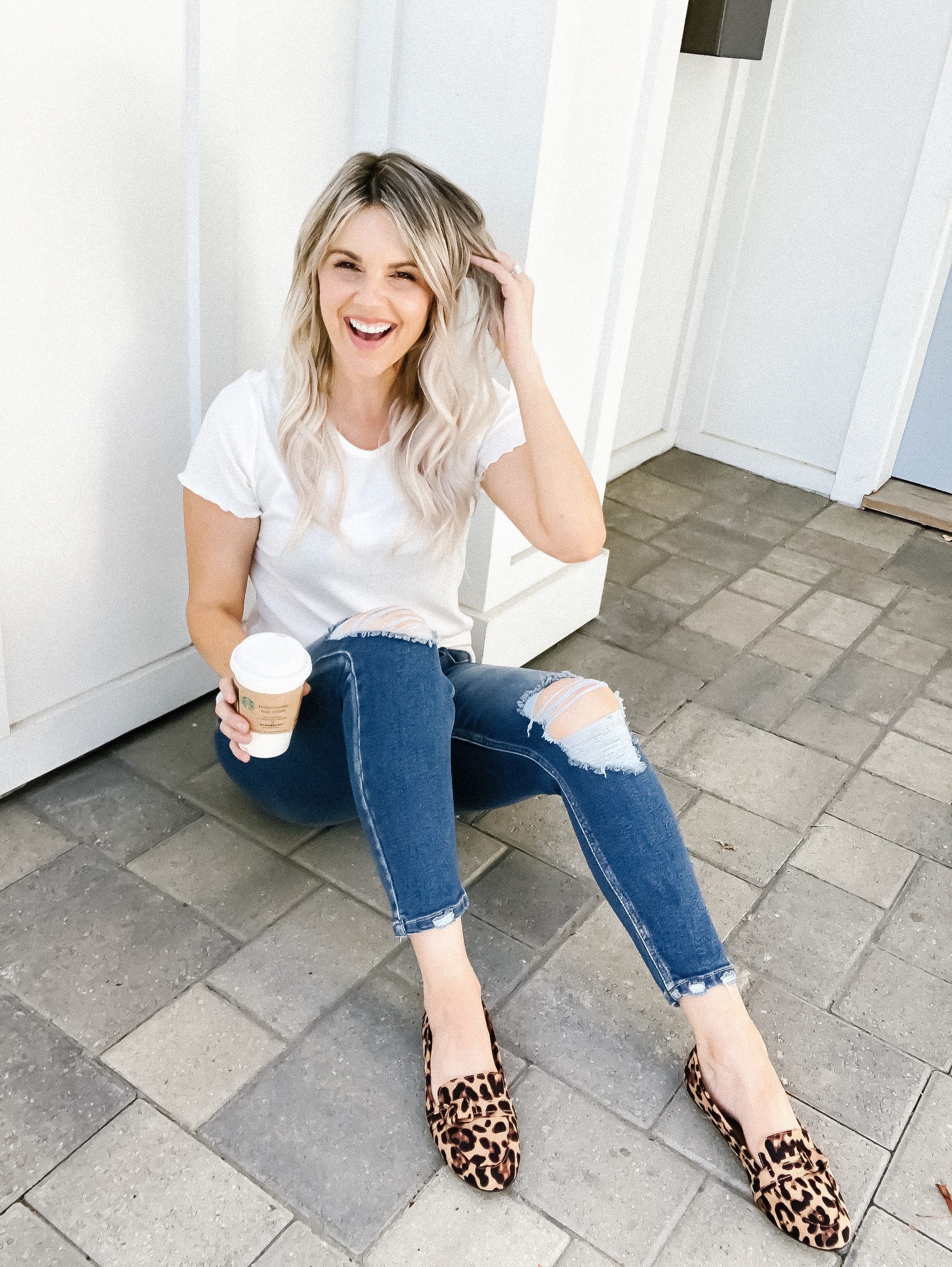 1. WHITE TOP | 2. $17 JEANS | 3. LEOPARD FLATS
Well that's it for me, just wanted to get this post up since a lot of you seemed interested in this jumpsuit. And they truly are great so I hope you love it if you get it! If you do get et it, please come back to the blog and leave a comment to let me know what you think! I always love hearing back from you guys when I recommend something. Love you guys – have a great Wednesday!