Hi guys! Happy Affordable Friday! You guys know me, this is my favorite day of the week! I know normally in my Affordable Friday post, I like to post multiple outfits. But today I'm focusing on this one outfit! Well, technically there's two outfits because I want to show you how to wear the black boots with both a dress and pants. But in general, I wanted to focus on this leopard print dress look and only this look because I love it so so so much!
The dress and boots are both from Walmart so if you like the look as a whole, you can order them from one place and get them quickly! I ordered these and I got them both two days later. I love how quick Walmart's shipping is!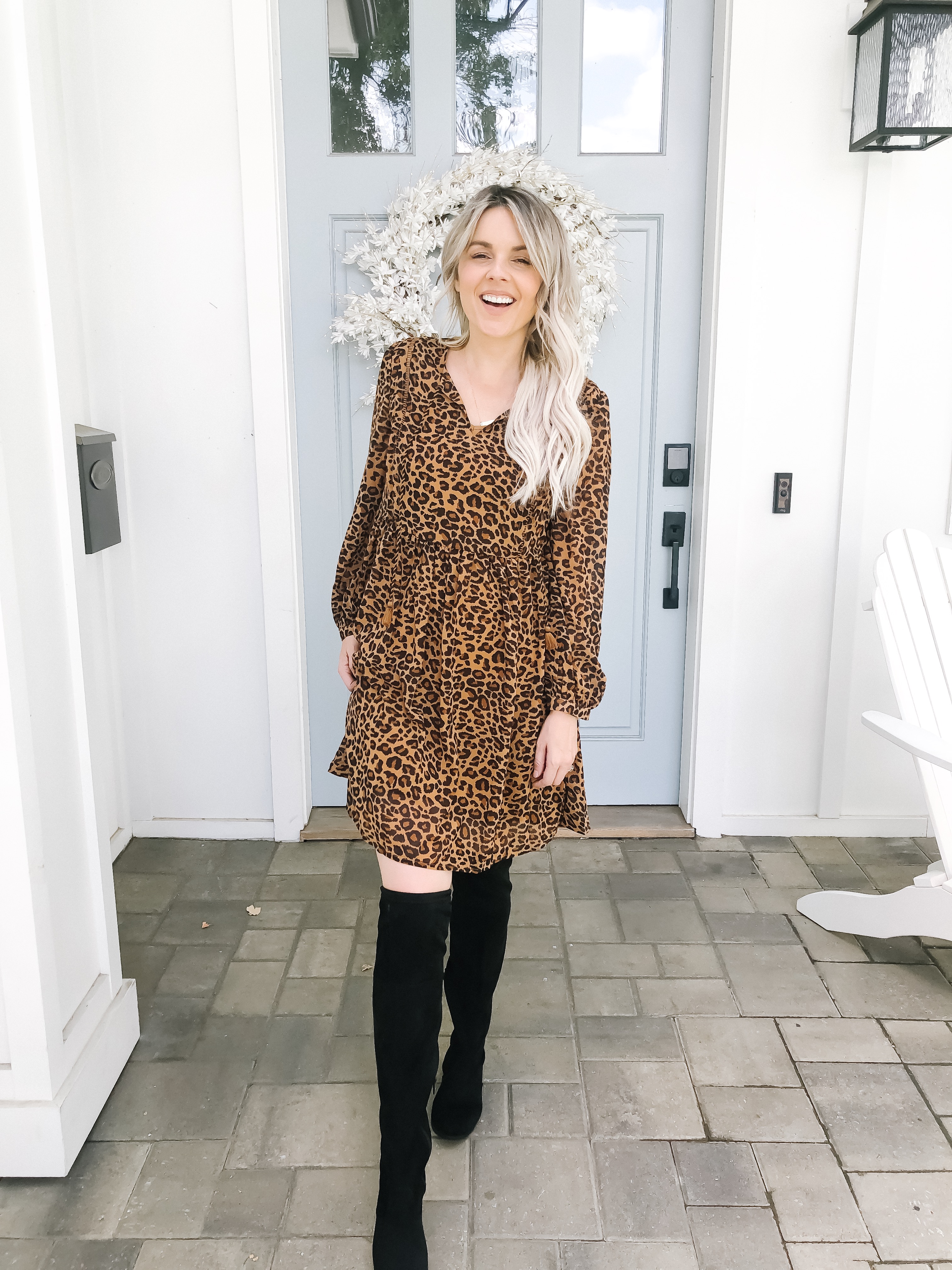 1. LEOPARD PRINT DRESS | 2. BOOTS | 3. SUNLESS TANNER
Honestly, I truly didn't know what to expect about the dress when I ordered it online. Mostly because I ordered a small. I never buy a small in anything! I always get a medium. But the reviews said to size down so I decided to take the chance and do that. And I am so glad I did! If I had gotten the medium it would've been way too big on me! Honestly, I could even argue that the small is a tad big. But really, the loose fitting shift-dress look is really flattering and on trend.
This dress is great if you have any extra love on your tummy that you want to camouflage and it's really great if you're trying to hide an early pregnancy! I'm just going to say right now, I am not trying to hide an early pregnancy. Ha! Don't wanna start any rumors. So if you decide to get this dress, definitely size down! Which unfortunately means, if you're already a size small this dress might not be right for you because if you order the small, which is the smallest size, it will likely be big on you. But on the plus side, if you're normally size XXL or larger, the XXL size might work for you!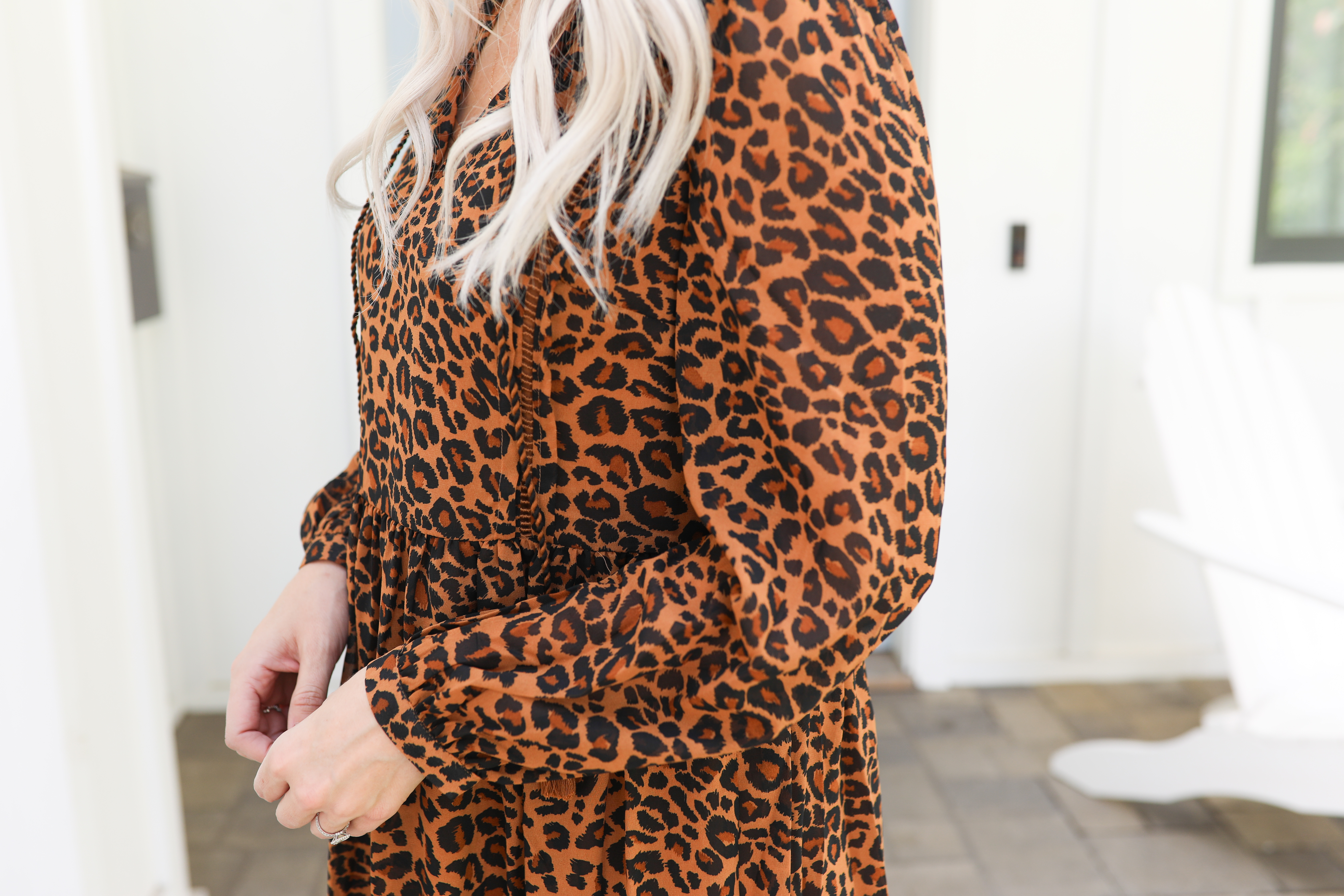 1. LEOPARD PRINT DRESS | 2. BOOTS | 3. SUNLESS TANNER
The exact same dress also comes in black, cider (floral), and blue. And one of the best parts?! It's only $29! It's just such a steal, and if you've been wanting to try out the leopard print trend, I highly recommend this look.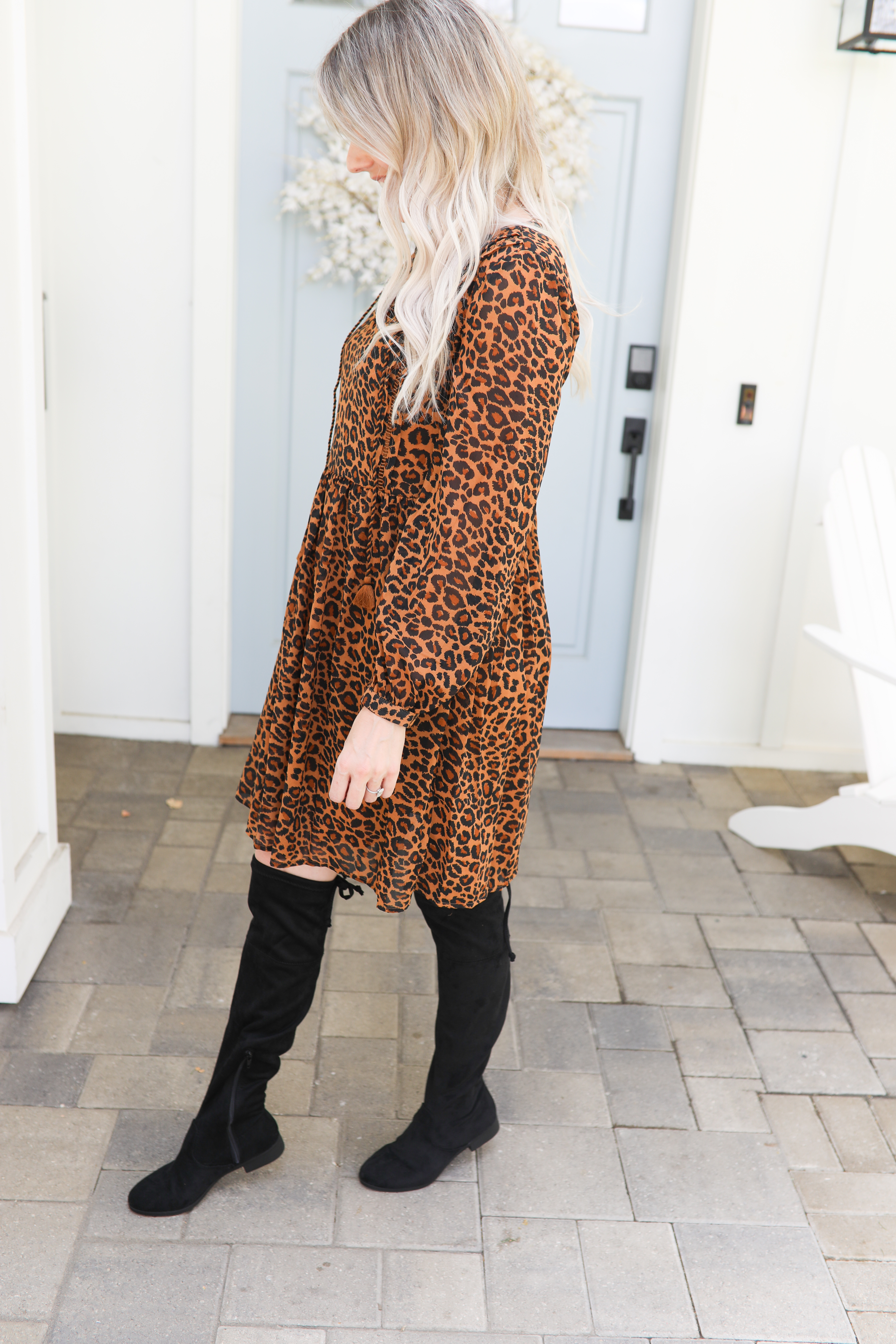 1. LEOPARD PRINT DRESS | 2. BOOTS | 3. SUNLESS TANNER
Also, I really can't recommend these boots more. They are a stretchy fabric which is great if you have wider calves. But they also have a tie around the top that you can tie so that they don't fall down on your leg. They also come in a taupe color that is really, really pretty. I told you guys this before, but I bought these exact same boots, well practically the exact same, with a heel and they were $80. So to find basically the same thing as a flat for only $20 is so exciting to me!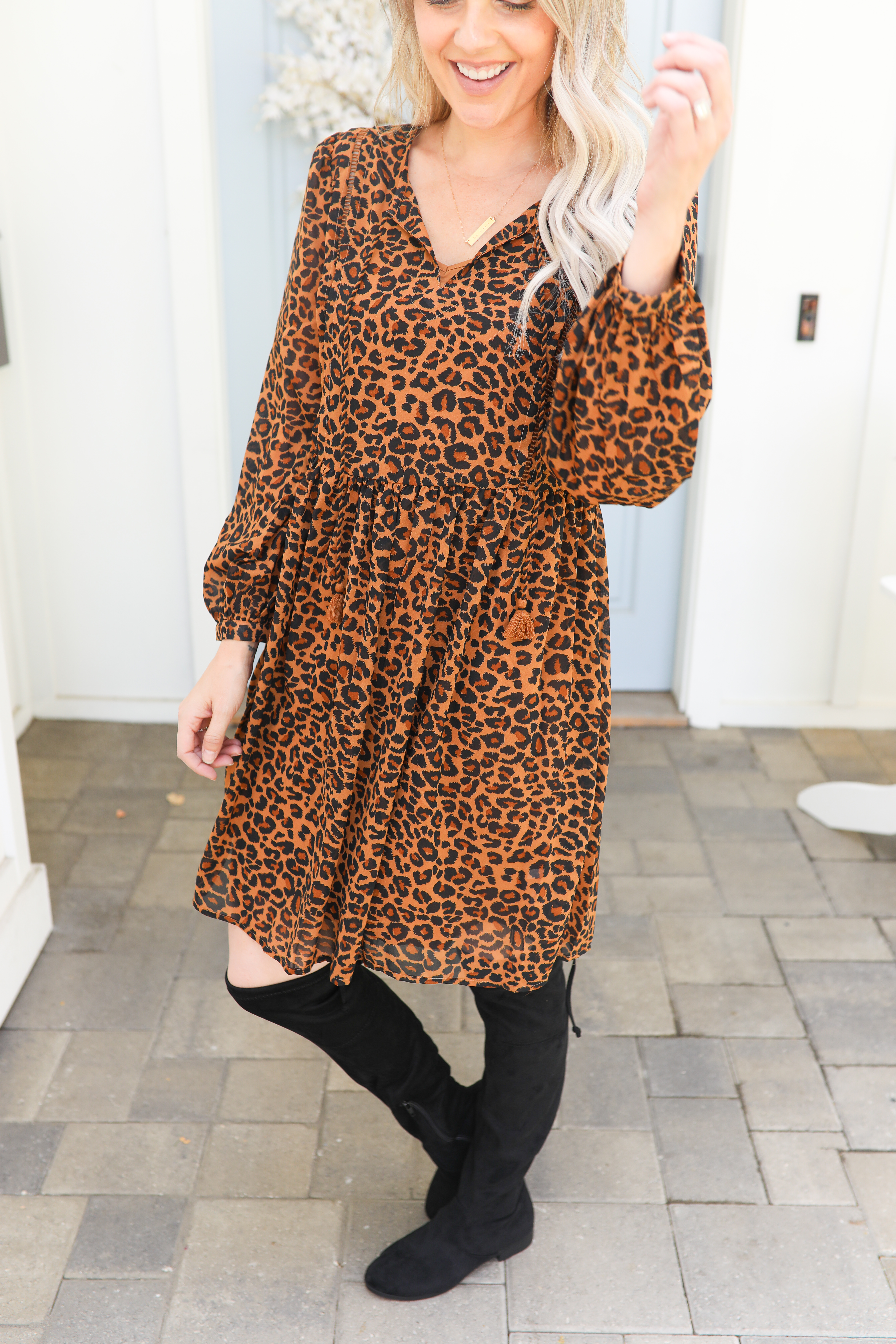 1. LEOPARD PRINT DRESS | 2. BOOTS | 3. SUNLESS TANNER
And real quick, I wanted to show you this next look just to show you that the boots can easily be worn over jeans or jeggings. I'm wearing a $12 pair of jeggings in these photos. But they look just as good over jeans. And as you can see I'm really into the whole leopard thing right now. Ha! My leopard top is only $9 FYI. Walmart actually has a ton of animal print in their October Edit, which I HIGHLY recommend checking out for so many cute looks that are affordable!!!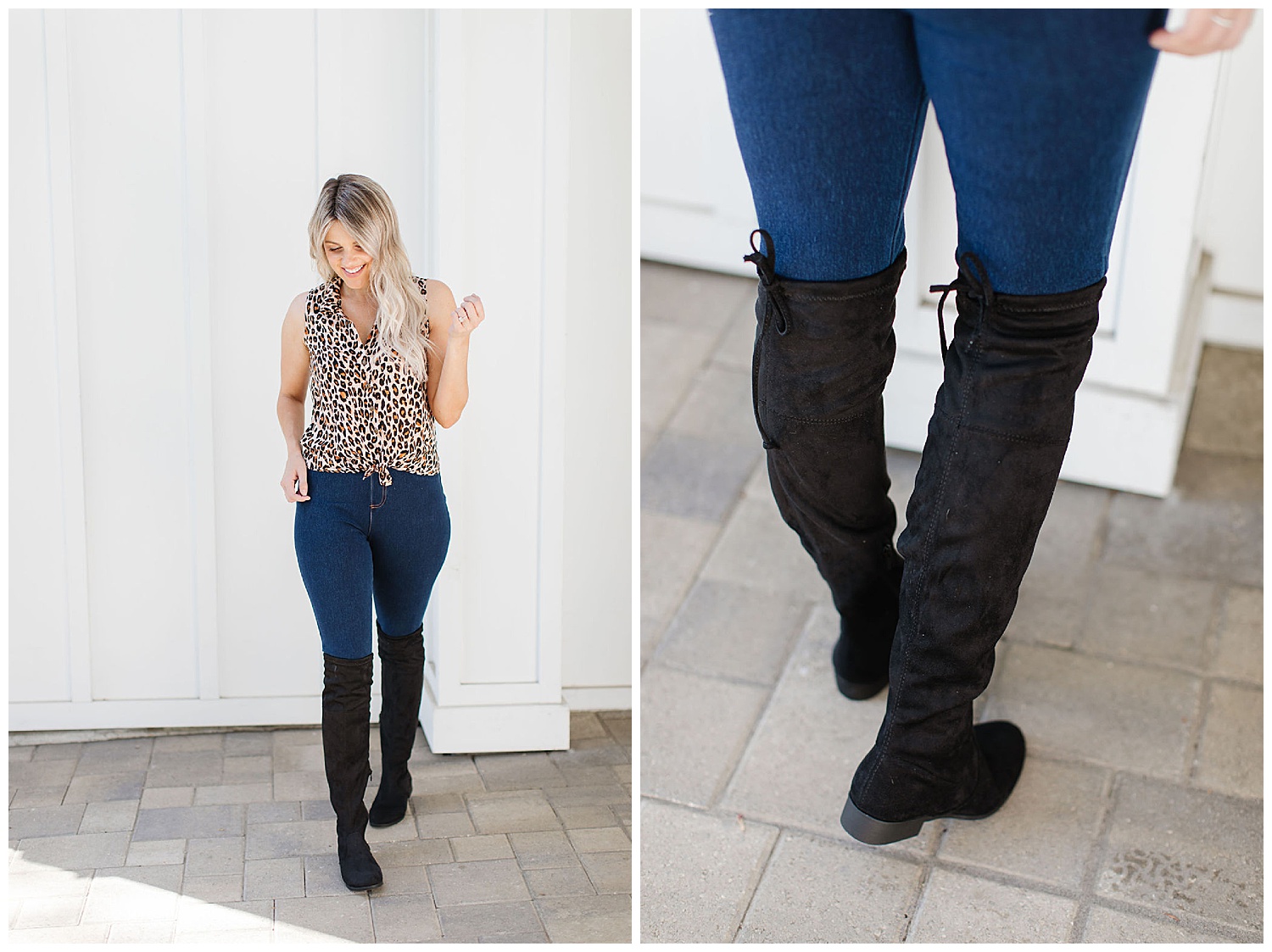 Also, last but not least, I just want to quickly mention the self-tanner that I use. I've used Clarins for quite a while now and I swear by it! It gives such a beautiful and natural color and I couldn't recommend it more. And with the cooler months coming up, I know many of us are going to be spending much less time in the sun, and in general I wear so much sunscreen that I don't get tan, so I hope you guys find this very useful in the coming months!
What do you think about this look? Are you loving that animal print is so on trend right now? What is you favorite way to wear it? Shoes? Scarf? Sweater? Dress?
And thanks to Walmart for being a sponsor of AliManno.com!