Hey guys! I wanted to get a blog post up super quick because I got dozens and dozens and dozens of DM's from all of you asking about this tiger striped sweater that I'm wearing today. Not only did I get a bunch of requests for details on it from you guys, but I can't even tell you how many people at work stopped me asking me where I got it. Okay, I can tell you! Ha! It was at least five different people! Which is a lot. Ha!
Anyway, it's super comfy and soft. Not itchy whatsoever! And I would say it's true to size. I'm wearing a size medium which is my normal size. And it's got some room in it. If you want it to be more fitted I would say size down.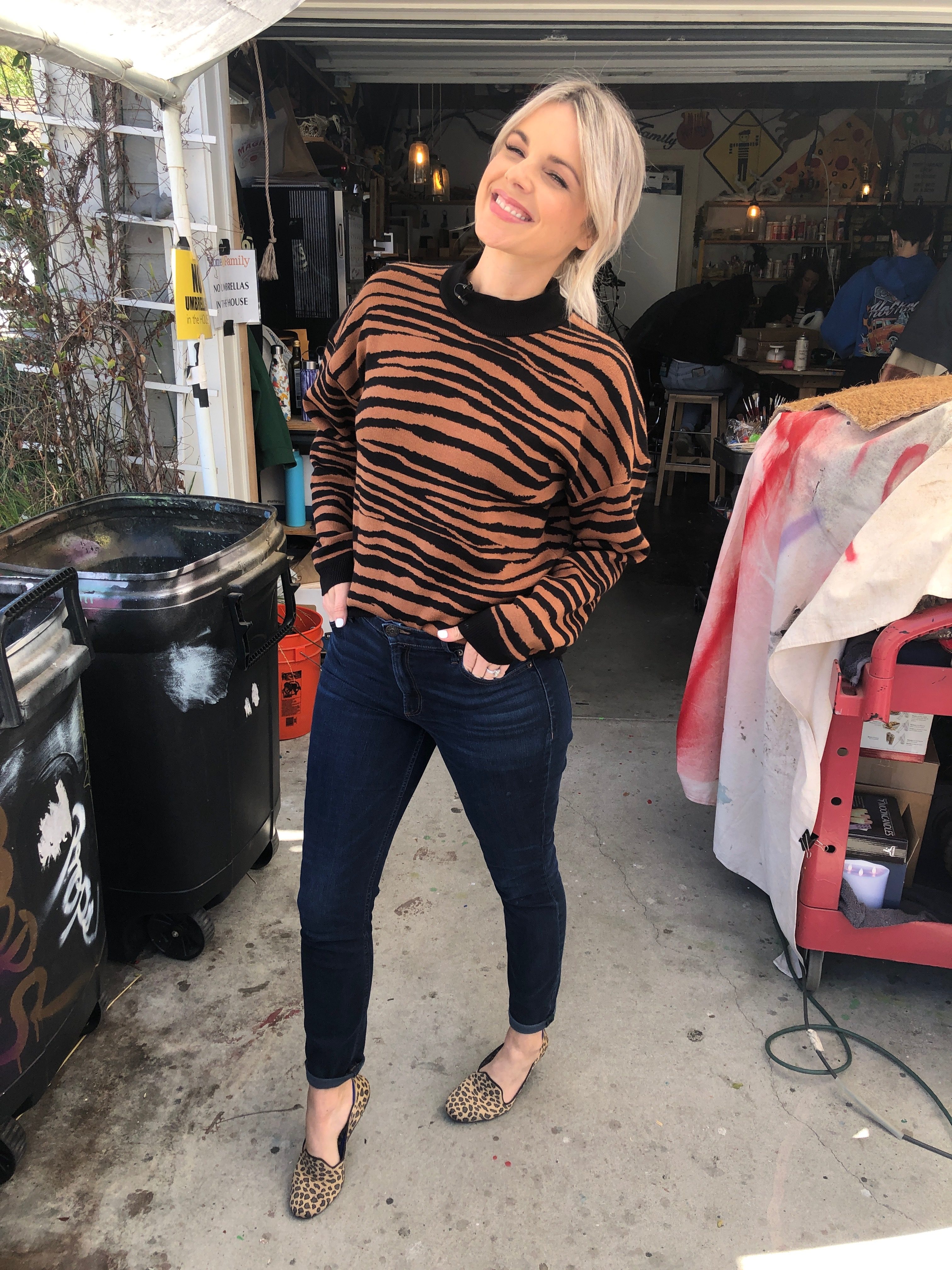 1. TIGER STRIPED SWEATER | 2. $9 JEANS | 3. LEOPARD LOAFERS MADE FROM WATER BOTTLES
I'm wearing my $9 jeans from Walmart with it. I wear these jeans all the time and I've written about them multiple times, so I'm sure you guys know all about them at this point! But I'll link them again just in case you haven't snatch them up yet. I was actually wore my $17 jeans from Walmart that are by far my favorite pair of jeans I own to set! But because they have the ripped knee, I decided to switch into these jeans since I wore this outfit on the TV show that I work on today. I just thought the ripped jeans were a little too casual for TV. But, to be completely honest with you guys, if I had to choose between the $9 pair and the $17 ripped pair. I would 100% go with the $17 ripped pair. Plus, I love that they're high waisted! I'm going to change into the ripped pair after work, so I'll do a quick Instagram story about those two so you guys can see me wearing this top with both pairs of jeans.
I know it might seem a little over the top to wear a pair of animal print shoes with an animal print top. Ha! But today at work I did a segment about animal themed wall hooks for your kids room so I thought the animal print on animal print worked! By the way, the shoes are Rothy's. If you haven't heard of Rothy's shoes, I really really really really hope you guys check them out! The shoes are made from recycled plastic water bottles! How cool is that?! They're definitely on the pricier side for a pair of loafers. But it is worth every single penny because they are good for the environment. So if you can swing it, please consider getting this pair of loafers over something else.
And I promise you, they are one of the most comfortable pair of shoes I've ever worn in my life! I can't even explain it but something about the material they made out of the recycled plastic water bottles is magic! You would think they wouldn't be comfortable because of the material they are made out of but the opposite is true. They are so so so so form-fitting to my foot and comfortable!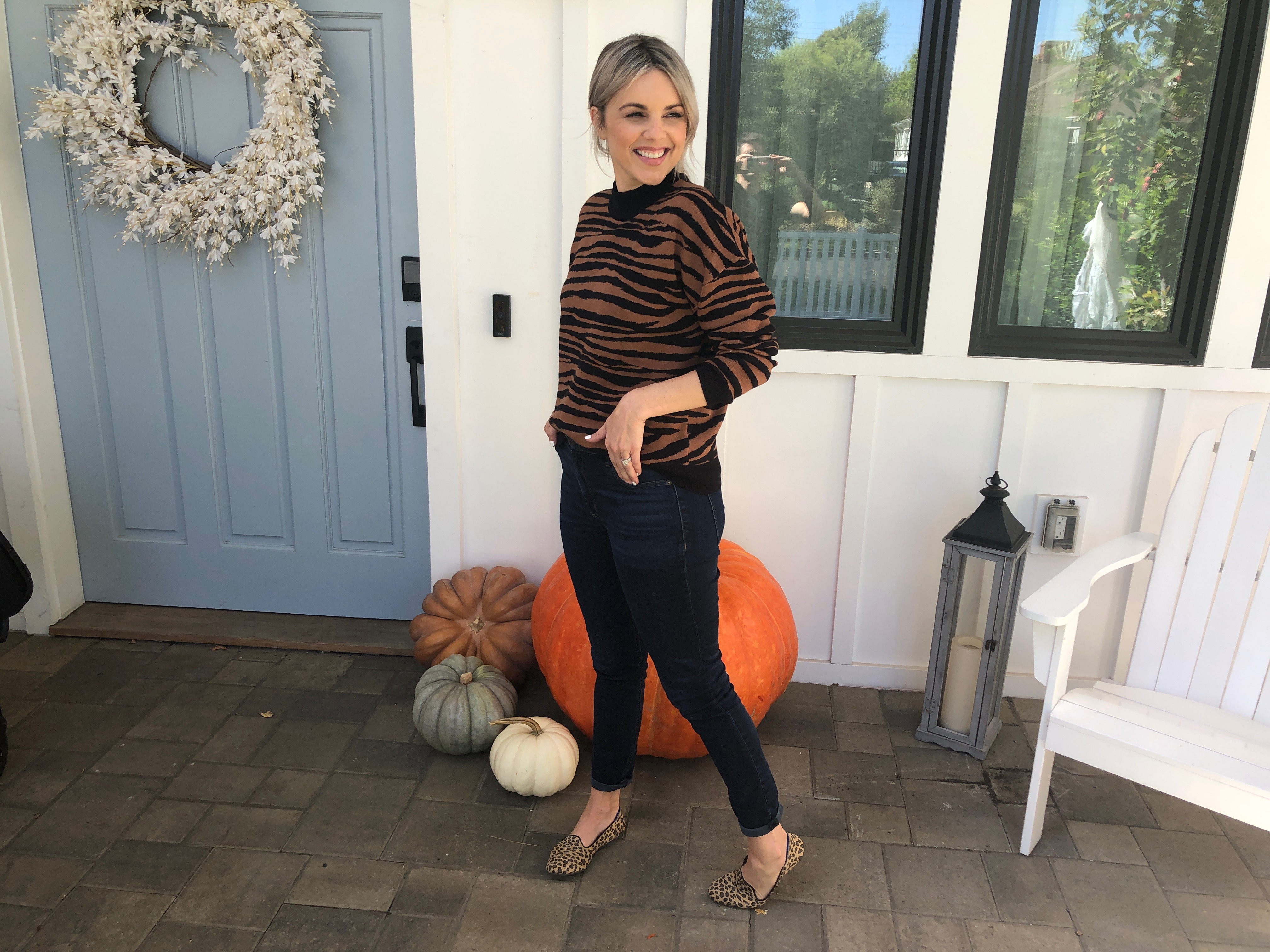 1. TIGER STRIPED SWEATER | 2. $9 JEANS | 3. LEOPARD LOAFERS MADE FROM WATER BOTTLES
Anyway, just wanted to get this blog post up quick so you guys could shop this tiger striped sweater outfit if you wanted to. I hope you guys are having a great Monday and if you haven't already, consider entering my September monthly giveaway today! For those of you who don't know, I've started this new thing where at the end of every month I will giveaway a huge prize package to one of my followers who has liked all of my photos for the month.
I know it may sound silly to do this type of giveaway, but the reason I do it is because when people are liking and engaging with my photos on Instagram, brands see that and know that you guys are real and engaged with what I'm doing and then more opportunities come my way. So it's a way of you guys giving back to me and me giving back to you! And I'm so so freaking excited because this month, part of my prize package includes a wagon that costs $600! You guys probably recognize the wagon because it's in so many of my Instagram stories because we use it all the time with our kids. If you don't have kids, it's also great for lugging groceries around if you live in the city. And it folds down nicely to be stored easily and fit in a car.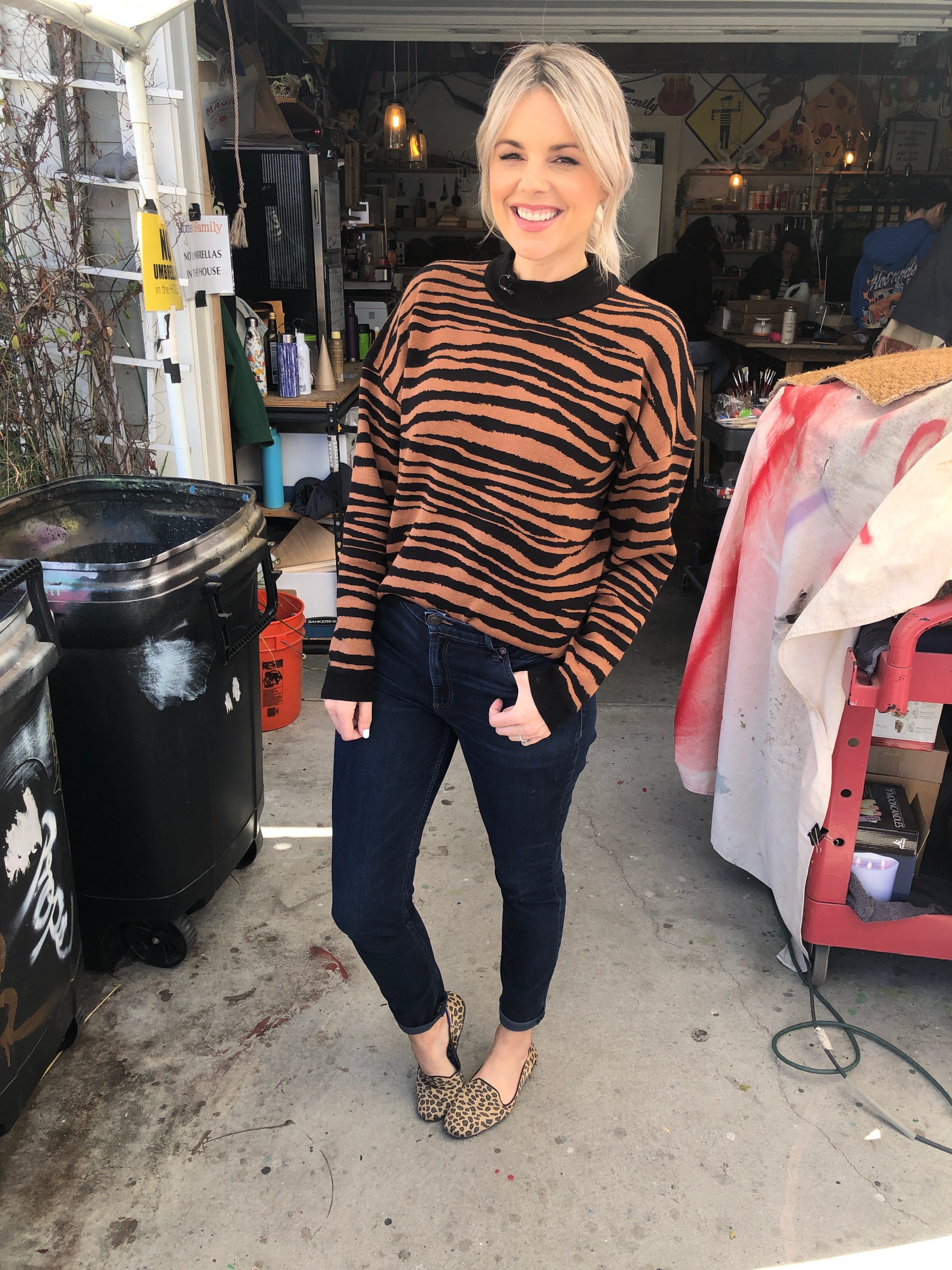 1. TIGER STRIPED SWEATER | 2. $9 JEANS | 3. LEOPARD LOAFERS MADE FROM WATER BOTTLES
But that's just one of the prizes in September's giveaway. There is a bunch of other stuff as well, so if you want to enter just make sure you liked all of my photos on Instagram for the month of September and you're automatically entered to win! I'm going to be choosing a winner around 4 PM pst. And if you don't win, don't worry because I'm going to be doing one of these big giveaways every single month for people who like and engage with my photos! So thank you also so much for supporting me and engaging with me and being a part of my community. I'm going to try to get back to all of you as much as I can because it means the world to me and my family!