The other day I was thinking about how even though summer is basically over for most people's kiddos, for those of us with kids under the age of 6, we still have our kids most of the week. Meaning that most children in preschool don't really go five days a week and are out by about 1pm. That still leaves a lot of time for us parents to entertain them and do fun activities! So just because summer is practically over, activities are just beginning! And so for that reason, I have been brainstorming fun activities to do with Molly on no-school days, or days where she gets home early and we need a project! So every once in awhile, I will now bring you a post all about an activity to do with your kiddos!


1. MY DRESS | 2. MOLLY'S DRESS | 3. SMALL CUTTING BOARD | 4. LARGE CUTTING BOARD | 5. KEURIG
Lavender Scented Play-Dough
Who wants to learn how to do a project that is not only fun, but is filled with calming aromatics!? Me!!! This craft is so a two-parter, and can be done on two separate days (to get even more play time out of it), or all on the same day! I recently found this when I was googling for ideas, and I really wanted to share it because I think it is such a cute and fun idea! So here we go!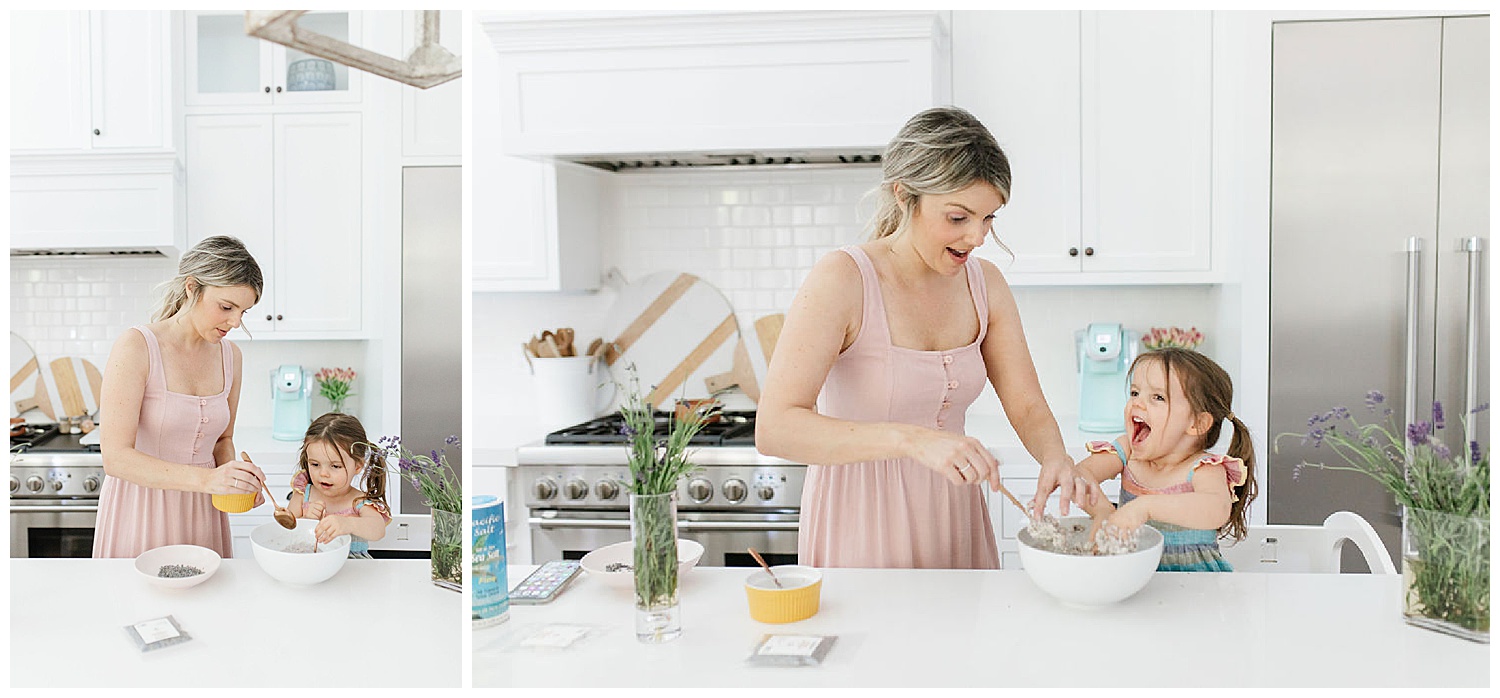 Like I mentioned, this is a two part activity because the first portion is letting your kiddos play with salt, some chalk and the lavender. Put it in a big bin or a cookie sheet! You might want to do this outside, especially if you use a cookie sheet so that your kids don't get salt all over the place. Basically, just pour the salt and lavender onto the tray or in the bin, and add in the chalk. Provide them with tools, like funnels and cups, so that they can play with the mixture. They can run the chalk through to their heart's content, and the more they do, the more it will "tint" the chalk. Make sure to supervise so that they don't eat the salt.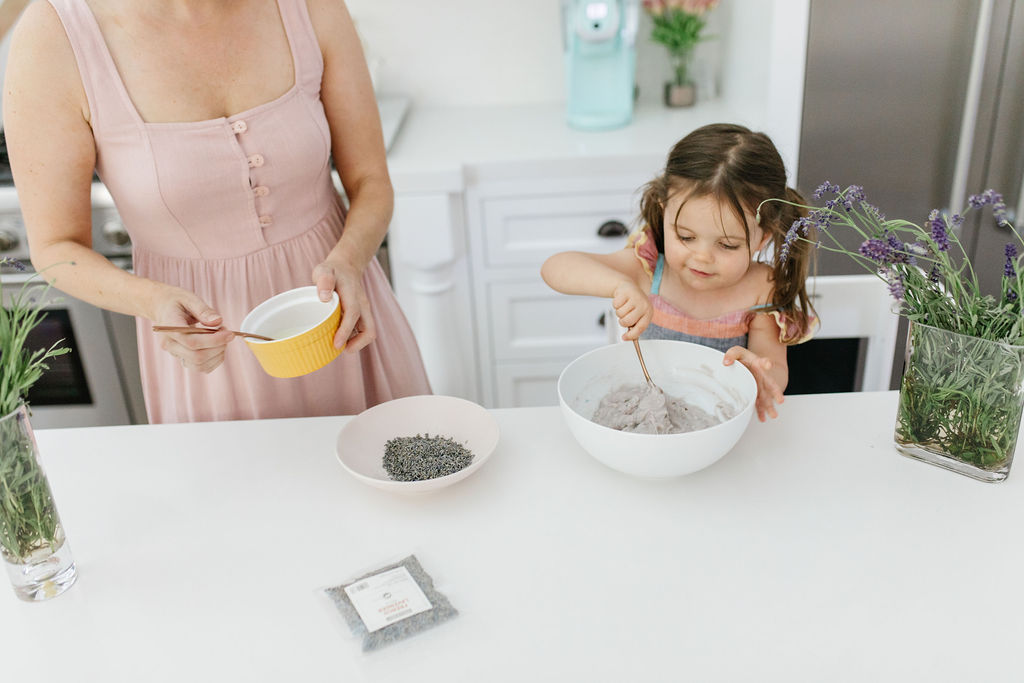 Salt + Lavender Activity Ingredients
a few cups of salt (only 1 will be used for the actual dough)
loose lavender
chalk – purple is preferred
tools like scoops, funnels, mini colanders and sand toys

After they have tinted the salt and are done playing with it, you will make the dough!
Lavender Scented Dough Ingredients
1 cup of the salt+lavender mixture from above – or 1 cup salt and a package of lavender if you are skipping step 1
2 cups cold water
2 cups of flour
1 tablespoon vegetable oil
2 1/2 teaspoons cream of tartar (very important!! – the first time we did this we didn't have it and tried a lemon juice substitute and we couldn't get the Play-Dough consistency)
a few drops of red and blue food coloring -or purple if you have it!

The recipe is pretty simple – and smells great! Put a large pot on the stove with water and bring it to a boil. Add in everything, except the flour. Let the salt dissolve slightly and then add in the flour. Stir it in – the dough will become thicker. Turn off the stove. Let it cool in the pot in a large ball in the center.
Another way you can do it is to boil the water and set aside. Put all the other ingredients in a big bowl, and then pour the water in and stir! If a kiddo is helping you with this part, make sure that they wait until the mixture is cool before they start mixing with their hands.

1. MY DRESS | 2. MOLLY'S DRESS | 3. LARGE CUTTING BOARD | 4. LAVENDER
Once you have the big ball of dough, knead it out on a flat surface with a bit more flour (I recommend on a marble countertop or wooden cutting board) until it isn't sticky. I gave Molly some cookie cutters and other Play-doh toys we had around the house. The perfect activity for multiple days of play! We keep our extra play dough in the refrigerator to ensure that it stays fresh, but it does not have to be refrigerated.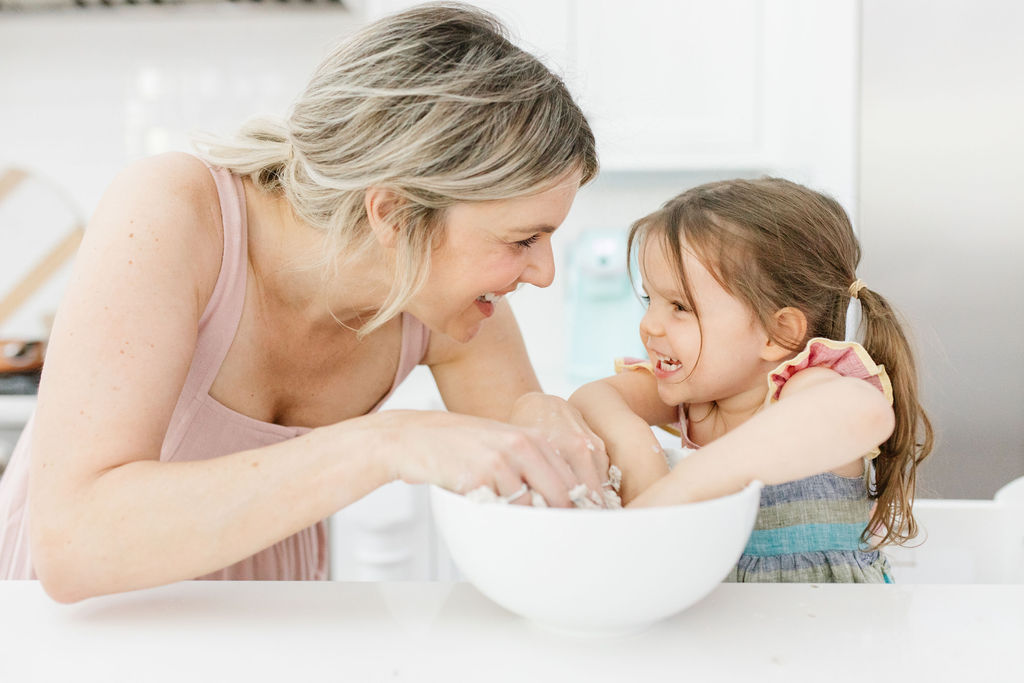 1. MY DRESS | 2. MOLLY'S DRESS | 3. LARGE CUTTING BOARD
There you have it! I hope you have such a great time doing these activities with your little ones. Molly can't wait to make more play dough! I love the lavender because it is a calming scent and the perfect thing to play with before nap or bedtime! But I have been trying to think of another thing to mix in next time, maybe rose petals? Do you have any other suggestions? Also, please let me know if you have any favorite activities that you like to do with your kiddos in their spare time! I love when you guys have discussions with each other in the comments! Moms (and dads) helping moms! I love it!!