Today's Bachelorette blog is heavy. Meaning that there is a lot to discuss. I am so glad that they decided not to leave us hanging and at least showed us the Luke portion of the rose ceremony today! I think that will give the final 3 men more of the attention when they show that portion of the rose ceremony! That being said, let's get right into the Luke portion and Men Tell All!
Rose Ceremony
Luke coming into the rose ceremony didn't bother me. If you really care for someone and love them you should fight for them. What bothered me is that when she asked him to leave very sternly multiple times he didn't listen to her at all. I just don't think he really respects women. It's like he thinks or thought that Hannah can't think for herself and make her own decisions and he had to help her see and feel what he thought she should see and feel.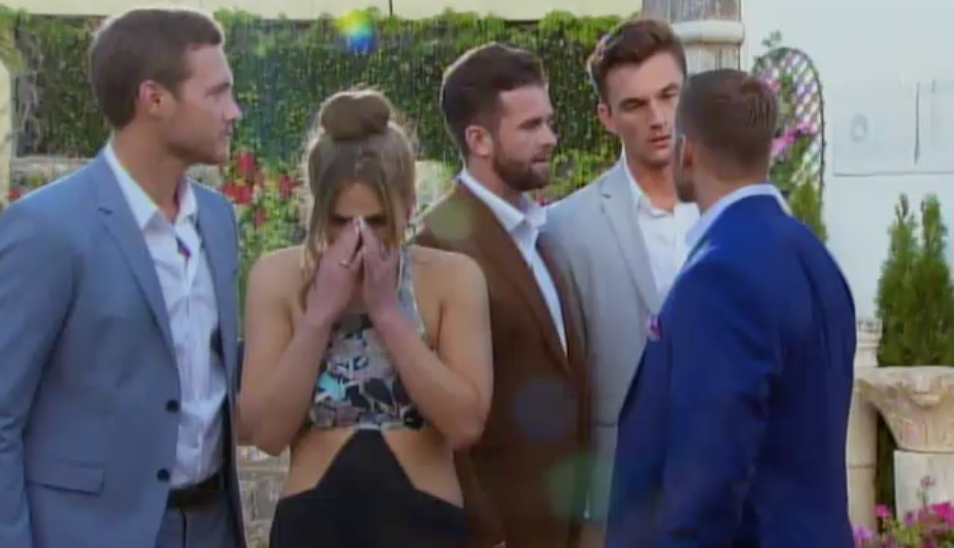 One thing I found kind of concerning though – when Chris Harrison told Hannah that he had a ring in his pocket and was ready to propose I feel like the look on her face said it all. She seemed like she wanted that. And look, I can't know for sure what she was thinking and feeling. None of us can. But she didn't roll her eyes or seem frustrated with it, she just got really bright eyed with the big wide eyes like she couldn't believe it. But it didn't seem like it was in a bad way. I most felt like she wanted him to come back in that moment. Again complete speculation but it's just the feeling I had.
Luke and Chris Harrison
When Luke sat down with Chris Harrison, I couldn't put my finger on why he was taking such a long pauses in between answering Chris's questions. I feel like it could've been one of two things. Either he was thinking in his head how he can manipulate the answer and everyone around him, or he truly just does feel so misunderstood from the season so he was being super careful about what words are coming out of his mouth. I feel like it was a little bit of both honestly. And don't think Luke is this terrible human being! Of course not! I bet he is deep down a good person and tries to do the right thing. I just think that he's so misguided and makes bad choices. I don't know if it's how he was raised or something he went through his life. But I do think he's misunderstood in that way. I don't think he's trying to be a complete jerk, it's like he's lying and he doesn't even know he's lying. In fact that's exactly it! He's a pathological liar. The way pathological liars brains work is they lie so much and so often that they can't even distinguish the difference between the lie and the truth. I've grown up with people like this in my life. And they're not bad people! Some of them are the nicest, greatest people I know! But the lies make life better and you do it so much and so often that you don't even realize you're doing it anymore. I think that's Luke.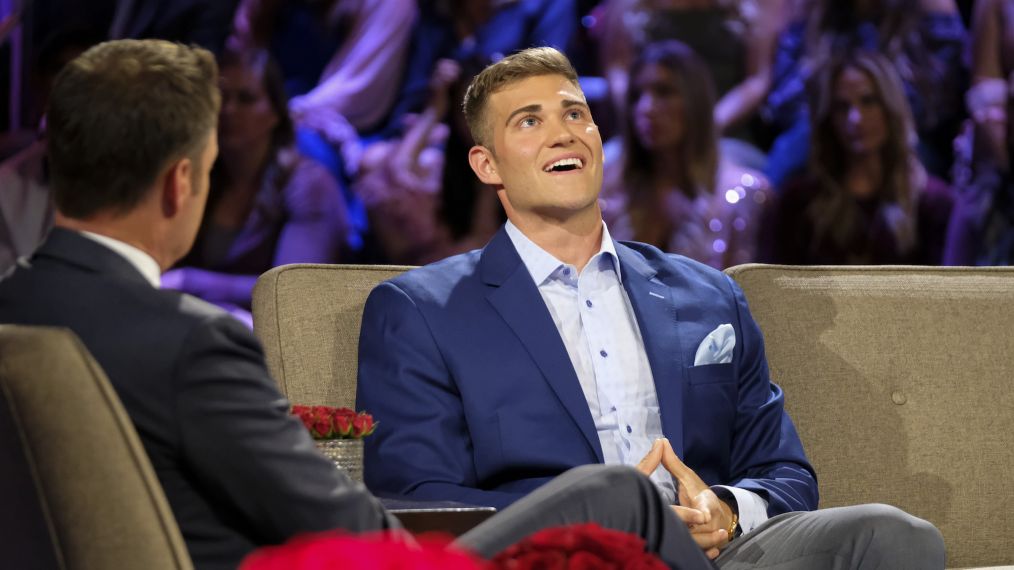 The Men Versus Luke
Biggest problem with Luke in all of this is that he doesn't own up to any of it. I wish that he watched the season, saw what a jerk he was and just came out and said wow I was a jerk. People mess up and I'm sorry. He still would've gotten a little shit from all the guys but I think they would've come around to respect him taking ownership for it. I just feel sorry for him. I never wish any ill will towards anyone to be honest. Even if they do really shitty things. Well aside from murderers and things like that. But you know what I mean. I never want someone to hurt even if they've done something that has shown poor character. But Luke just makes it so hard to forgive anything he's done because he shows no remorse for any of it. Yes, at one point he did apologize but that was after making excuse after excuse after excuse. It's like he just says what's convenient to say in that moment. Okay, let's talk a little bit about the guys and what they said to him.
Conor –
I think Conor saying "fuck you" to him at the beginning of the episode was completely uncalled for. And calling him a psychopath isn't helpful either. I mean, really, what good can come from calling an actual psychopath, a psychopath. It's just hurtful and unnecessary.
Matteo –
I don't remember him at all but he said he made it to Rhode Island and I thought it was super mature and nice of him to say that he thought that Luke had been punished enough until this point because of not only feeling ostracized from the group, but from what he's experienced from being on the show and publicly dragged through the dirt. Not that he didn't deserve it. But I kind of agree that he's been punished enough. Heck, I was the Bachelorette and probably had the love and support of 90% of the viewers, if not more. Most of the time the Bachelorette does. That 10% that didn't care for me and said horrible things about me on the Internet broke my heart. I remember sobbing and feeling so defeated by it. So I can't imagine being Luke, regardless of the shitty things he's done, and how he must feel right now.
Chris' question about them both not being virgins –
I found this question to be completely unfair. Not being a virgin and questioning the person you think you're about to propose to within two weeks on whether or not they're having sex with other people are two completely different things. I don't believe that Luke ever said that it wasn't OK that Hannah wasn't a virgin. I'm pretty sure he knew that she wasn't and he never said that. Instead he was upset that she just had sex with someone else when in his mind he loved her and they were going to be together forever. I said in my last blog and I'll say it again, but I do not blame him for asking the question. It's how he did it that made it inappropriate. He made it about faith and not about feelings. And when he made it about faith he was essentially judging her and calling her un-Christian. That was shitty!
So I just wish Chris Harrison didn't ask that question because my answer to that question is yes, not being a virgin and not sleeping with someone two weeks before you're about to get engaged to someone else are two completely different things. I get that this is the Bachelorette and that's how it works. But people are people that have human feelings. How would you feel if the person you were completely madly in love with flat out told you they slept with somebody else the night before and you were planning on proposing week later. Can you imagine how heartbreaking and devastating that would feel? I just want us all to remember that. I know it sounds like I'm defending him in this. I'm really not. I'm just trying to see the little bits of good within him and cut him a tiny bit of slack because he's been through enough. I read an article, or headline rather, saying that he left the Men Tell All In Tears. And it makes me sad. I don't want anybody to feel like that. So I'm not defending him at all in this. Except for this one question. It wasn't fair.
Is Mike The Next Bachelor?
Honestly, based on some things I've heard through the grapevine I thought Mike was a shoe-in to be the next Bachelor. Which honestly I wasn't super pumped about. Look, I think there for sure should be a black bachelor. IT IS TIME!!! And I think Mike would honestly be a great Bachelor! The problem is we never really got to know Mike. We didn't see enough of him on the show and he didn't last long enough to really get to know him. Traditionally the Bachelor or the Bachelorette comes from the top four. And that's because you really get to know those people and fall in love with them. I like Mike but I haven't fallen in love with him because I just don't know him yet.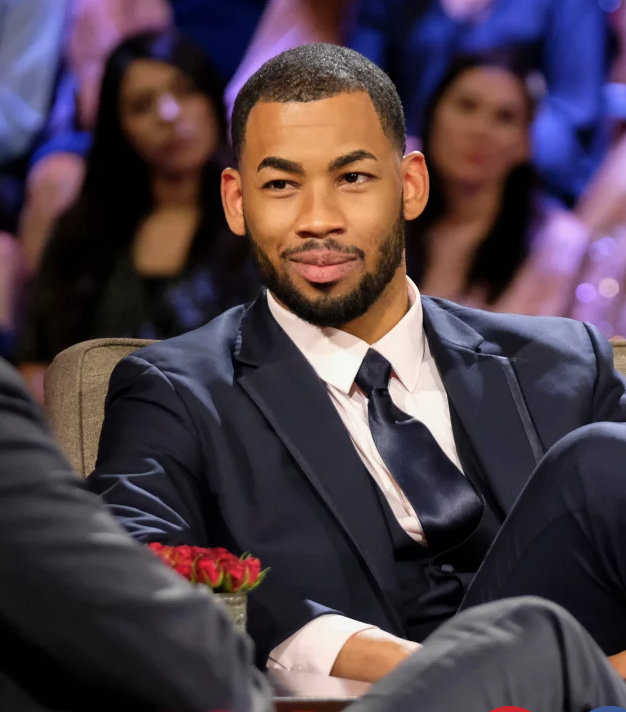 But I will say after watching the show last night, I do not Mike will not be the next Bachelor. He didn't get enough time on screen which is the number one reason I know it won't be him. And we also didn't hear him give a big speech about how he is ready to find love. Every single season the next Bachelor or Bachelorette gives a mini speech about how they're ready to open their heart and find love again. I did it, Hannah did it, and every other Bachelor and Bachelorette has done it at the Men Tell All or Women Tell all. At this point I think it's pretty safe to say it will be Tyler or Peter. Who do you think it will be? Or are you still convinced it's Mike?
Hannah
Man, I was so happy to see this side of Hannah. I know I've questioned her maturity and decisions many times throughout the season. I hope you can all agree that I did it with the upmost respect for her. She is part of my Bachelorette sisterhood and I would never want to speak badly of her. Anything and everything I said comes from a place of love. However, I will say last night I was just so proud of her! She spoke with class and authority and love for herself. Most importantly. Respect for others as well.
All that said, I do however wish they did address the fact that sex in the fantasy suite can be hurtful to someone. They made it all about a woman being able to do what she wanted with her body and have sex and it's not anybody else's business. And while I kind of understand that I also don't. I've already kind of explained myself on this, but I just wish somebody brought up the fact that having sex with somebody and having sex with somebody else a day or two days or three days later it's hurtful. Because at the end of the day that's what it's about in my mind.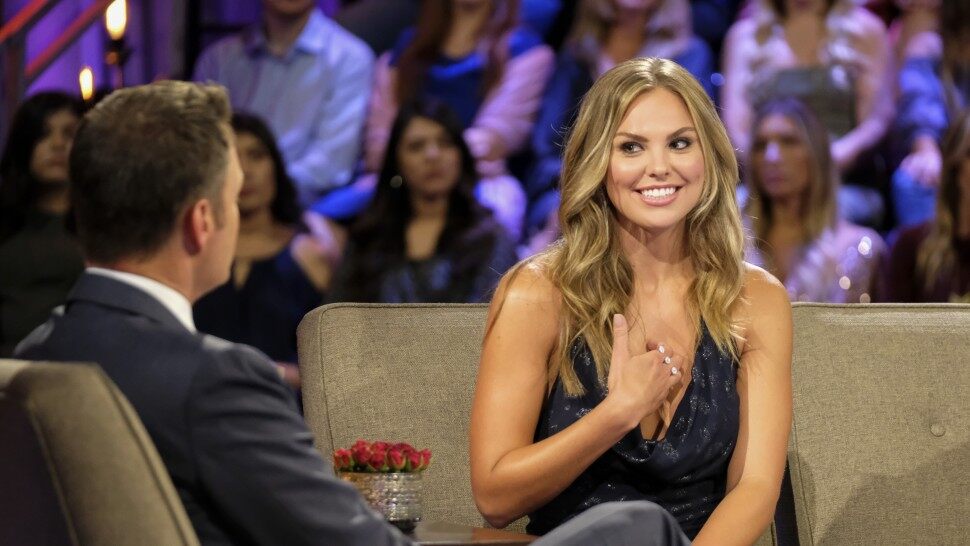 Having sex with more than one person in a week isn't wrong. Some of you may disagree with me but I don't think it's wrong. As long as you feel good about it. But what does feel wrong to me is being in a relationship with three different people that are all telling you they're in love with you and then having sex with more than one of them. Does that make sense? And I get that it's the Bachelorette. But I guess I'm just saying it's kinda messed up! But in the same breath, I will say that sometimes in order to make up your mind you need to have sex. I feel weird even saying this because I'm married with kids but I can wholeheartedly say that if one of my guys didn't leave in the top three on my season, I would've had sex with more than one person. But because one of the guys I really cared about left, I only slept with the guy ended up with in the end. It feels weird to talk about this publicly but I'm just gonna put it out there. But thinking back on it, it really doesn't seem like that's okay – to sleep with two people in a week when your are one a WEEK from getting engaged to one of them. I'm so curious what you guys think about this. It's just such a difficult situation to talk about because it's not normal life. So I don't blame Hannah whatsoever for sleeping with more than one guy. Because I'm pretty confident that she slept with Jed as well. I just find it hard for everyone involved.
I was able to find her dress from Men Tell All! It is on the pricey side, but so pretty and available a handful of sizes as of now!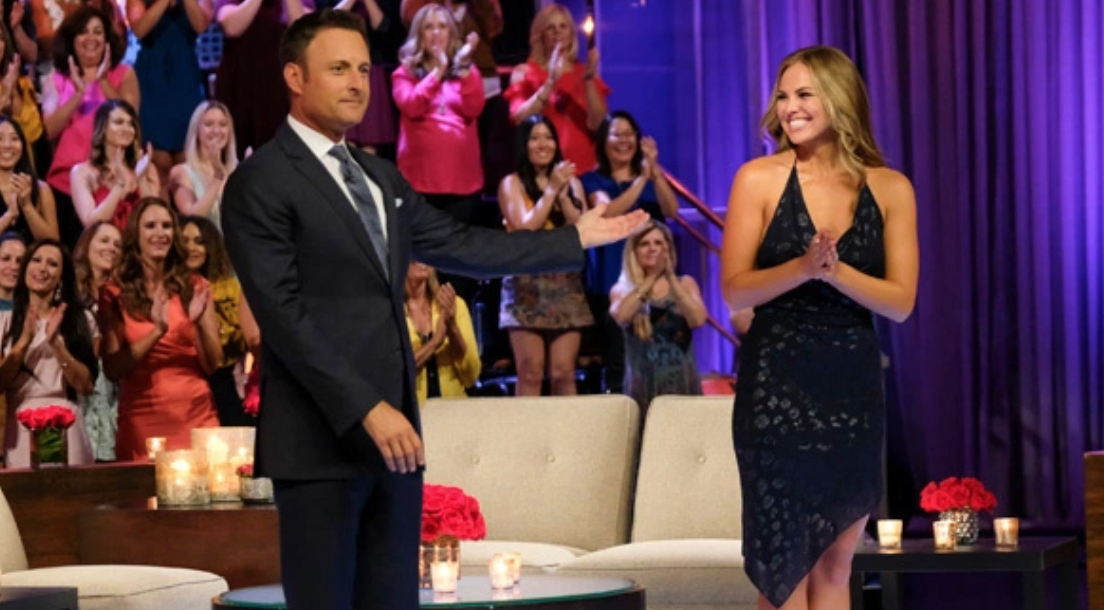 The Finale is SO Soon!
Ah! Can't believe this season is already almost over! I think we will be finding out who the Bachelor is super soon and I am really excited! I know you guys sometimes say that I know spoilers ahead of time, but I can honestly say that as I am writing this I do not know who the Bachelor is going to be! Also I CANNOT wait to tell you my Bachelor/ette news, it's coming so soon! Let's chat all about this weeks MTA episode, and who you think or want to be the Bachelor!
UPDATE:
I just wanted to write a quick update to this post. I truly feel bad that anyone thinks that I am in anyway insinuating that the way Luke treated Hannah was OK. I've read read this blog and try to find a place where it seems like I'm saying that and I don't see it. But I think where I did mess up is that I didn't clearly state in this post how sooo not ok his behavior towards her has been all season! I believe he's naïve to an extent but I also believe he did some serious manipulating throughout the season. I talked about this in multiple past blog posts, so I guess I just kind of thought you guys knew I felt that way about him all along. But it is completely my bad for not reiterating that in this post. And even though as a mom (and human) I feel bad for the way he was bullied last night. And I truly feel that bullying is not OK – no matter what the circumstance. And I'm very firm on that! I'm also a mom to a daughter and I would never want my daughter to end up with someone like Luke. So I'm not saying he's a great guy, I'm just saying he's a human being with feelings and what he took on last night was A LOT.  Just because he hurt others doesn't give anybody the excuse to hurt him back. That's all I was trying to say. Just because Luke can't always do the right thing. That doesn't give us the permission not to do the right thing either.
And same with Hannah! I know Hannah didn't make some of the best decisions this season. And I have been vocal about disagreeing with the way she's handled some things. But just because you or I disagree with some of her choices, it doesn't give us the right to be nasty to her. And once again, I obviously make mistakes, but I try really hard to have empathy for her and understanding when I disagree with her. I know people who know Hannah personally and they say she has a huge heart and is an incredibly sweet person. And I know that's true! She's a young girl who is trying to find love and doing in a very public way. I commend her for putting her life out there. And I support her through and through EVEN when a disagree with her! It's really hard to learn about yourself and grow personally on national television for everyone to judge. I know because I've been there. So sending Hannah a big hug today too!
Anyway, I appreciate all the comments. It's very obvious that all of us are very passionate about what happened last night. And I really just appreciate you guys coming here and sharing your feelings. I won't always say the right thing. I try to, but I'm not perfect. So I appreciate the feedback as always.
As always, I will end my post with a few recap photos from the past week! First, make sure you check out my blog post from this morning! It contains the 3rd and final portion of my Walmart Baby Registry series! I feel like I saved the best for last… because it's all about sleep! It is SO important to get good sleep when you are a parent, and I give you all the tips and tricks that I have gathered over the past few years of my kiddos lives!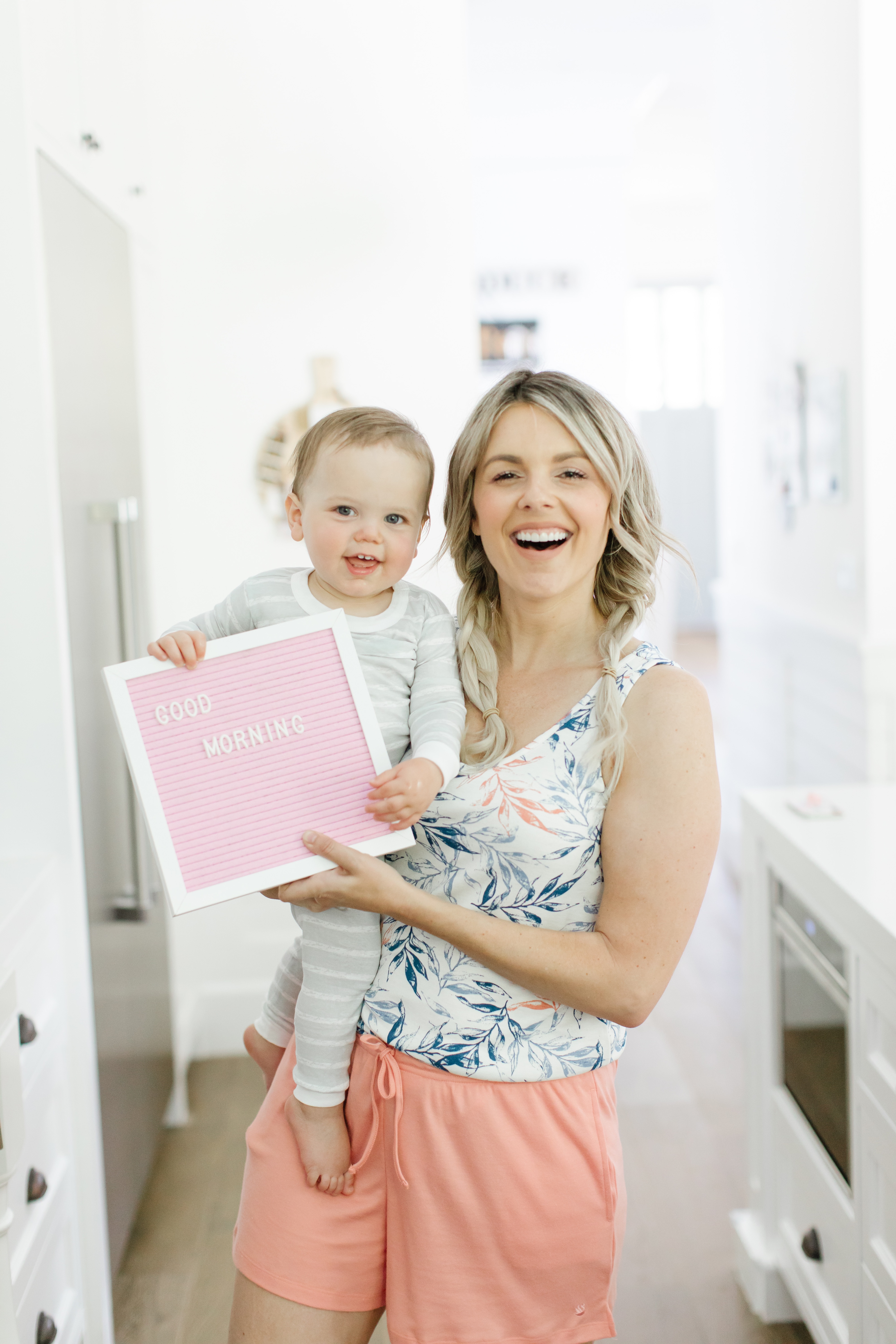 1. RILEY'S 2-PIECE PJS | 2. MY PJ TOP | 3. MY PJ BOTTOMS | 4. LETTER BOARD
Also, I wanted to share with you a few items that are still available from the Nordstrom Anniversary Sale! It is now open to the public! Woo!
I love this outfit because it is so "comfy and cozy" as me and Molly say! The cardigan is lightweight and can easily be worn in layer without add bulk! That's one of my favorite parts about it because I typically can't layer sweaters like this. There is still great stock in it, in a bunch of colors! As for the Rails flannel, it is a great deal! Typically Rails items are all at least $150, so to get this for less than $100 is amazing. It is really soft and honestly I could wear it to sleep because it is so comfortable! The jeans are on sale for $59 and there are a handful of sizes left if you still want to grab them!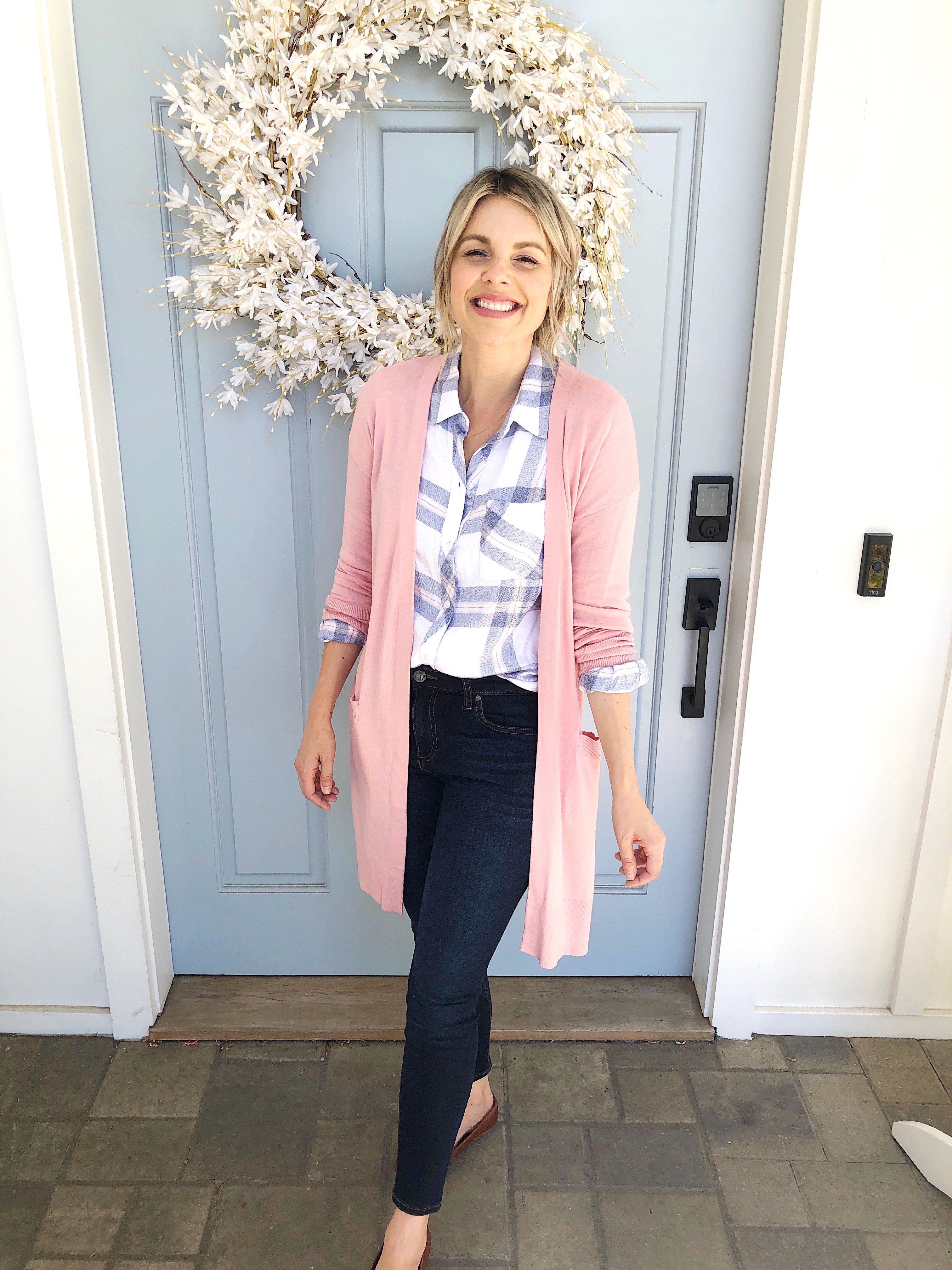 1. CARDIGAN | 2. PLAID TOP | 3. JEANS | 4. SHOES
I have been in love with these Nordstrom brand pajamas ever since I gave birth to Riley. Let me tell you, they are the softest pajamas that I have ever owned. I only wanted the softest material to touch his new baby skin. And I think these are the only pajamas I've ever bought and that didn't shrink in the wash. That's one of my biggest problems with PJs – I'll buy them and the fit perfectly and then I'll wash them and they don't fit anymore. These totally don't shrink and hold their shape! They are apart of the sale, and so are the more summery short sleeve version for only $32 for the set, that still have black in stock!

 1. NORDSTROM BRANDS LONGSLEEVE PJ'S | 2.  NORDSTROM BRANDS SHORT PJ'S
My favorite joggers are fully in stock! Wooooo!  These BP. lounge jogger pants are part of the sale! They are high-waisted and so comfortable! I am obsessed! They are only $35! They come in both regular and plus sizes! I've said this in my other blog post about these pants but they are truly my favorite item in the sale! After I bought them I wore them for two days straight! And that's not an exaggeration! I even napped in them one day because they're so comfortable! And I love that they are dressy enough that I can wear them in a sweater like I am below but I can also dress them up even more with a lace Cami or dress it down with the white-tee like I did in the side-by-side photos below. I'm telling you, if you haven't gotten these joggers yet please get them! You will truly love them so so so so much! The sweater is still in stock in a few sizes too!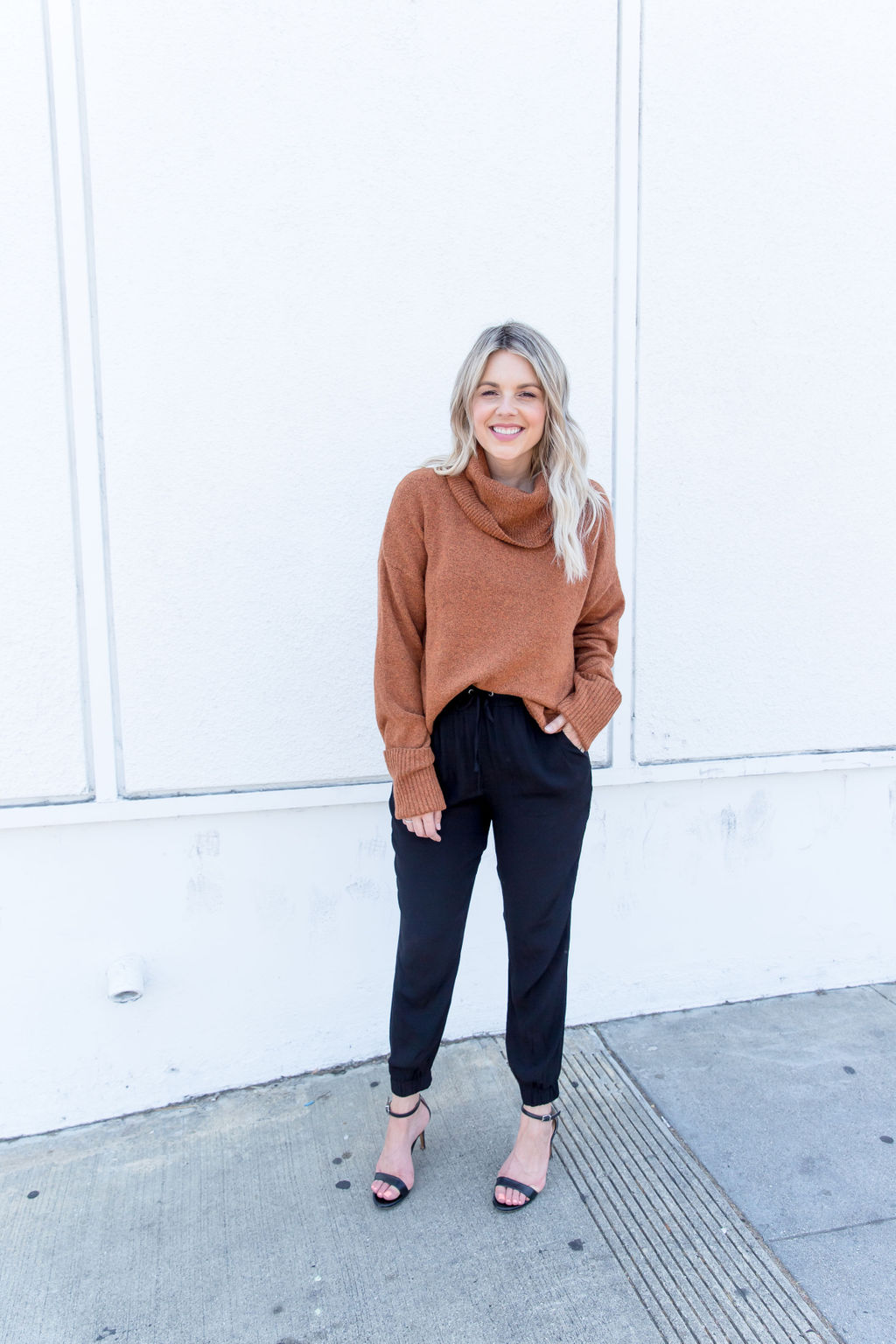 1. SWEATER | 2. BP. JOGGER LOUNGE PANTS
These heart PJ's are so feminine and sweet. They are sold as separates and are on sale for $25 each. You could totally just buy the joggers and a pair it with a white tee and it would be a really cute PJ look! I've been investing in PJs more often lately because you spend so much of your life in bed that I want to be super comfy and feel good even when I'm sleeping. Plus I kind of like putting on a cute pair of PJs at night! Heck, I'm a mom and on days I don't have to go to work I'm in my PJs most of the day anyway! So might as well have some cute ones! Stock is still pretty good for these!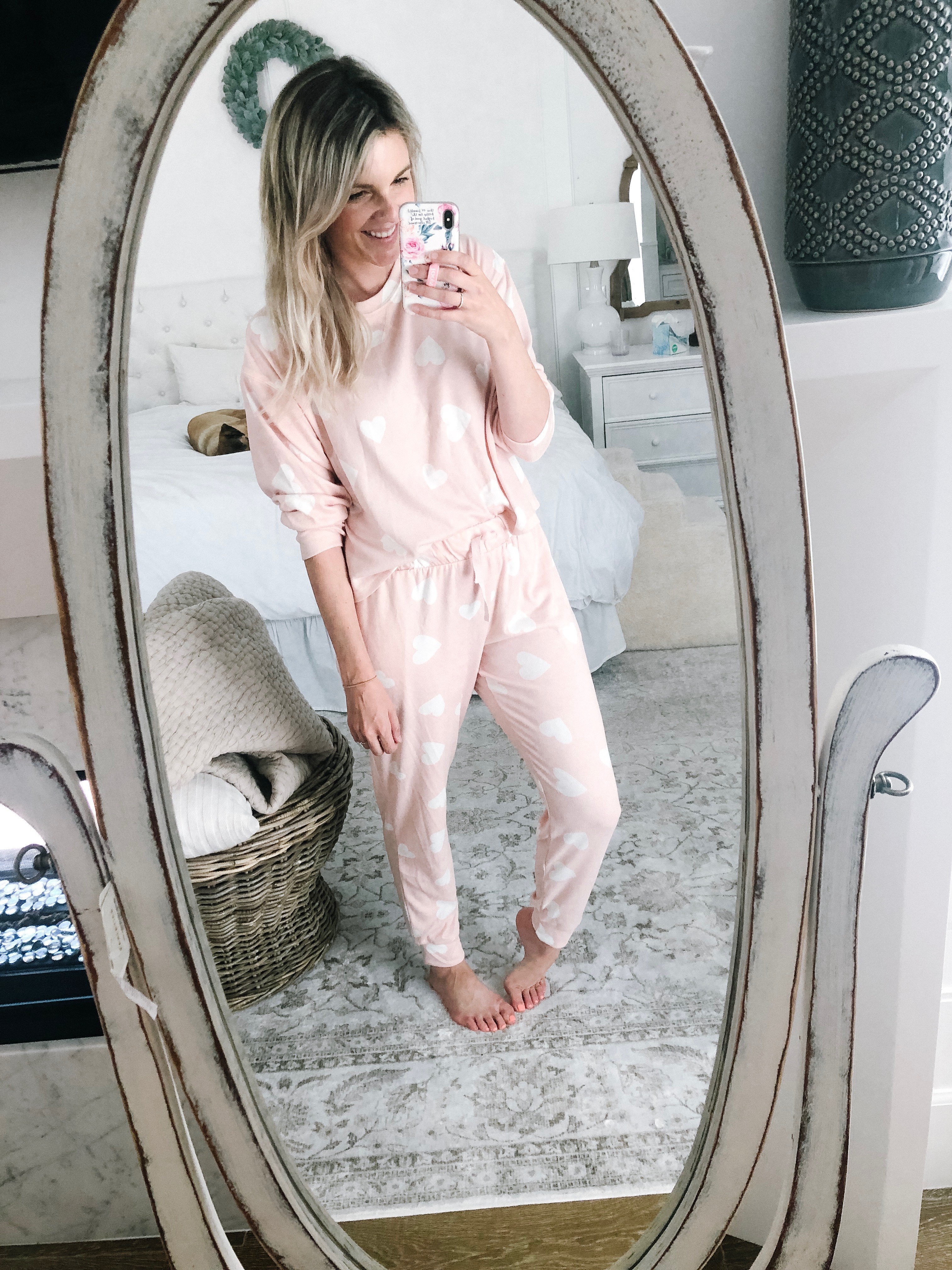 HEART PJ TOP | HEART PJ BOTTOM | HEADBOARD | SIDE TABLE/DRESSER | MIRROR
So this dress sold out REALLY fast in the leopard print. I mean look how cute it is!!! It is still in stock in a floral print, and I am really, really hoping that this dress comes back too! Both prints are apart of the Nordstrom Sale and are only $38! I just can't even believe that price because the dress is so gorgeous and high quality! I also found a faux leather jacket that is apart of the NSale and really similar to mine, for only $65!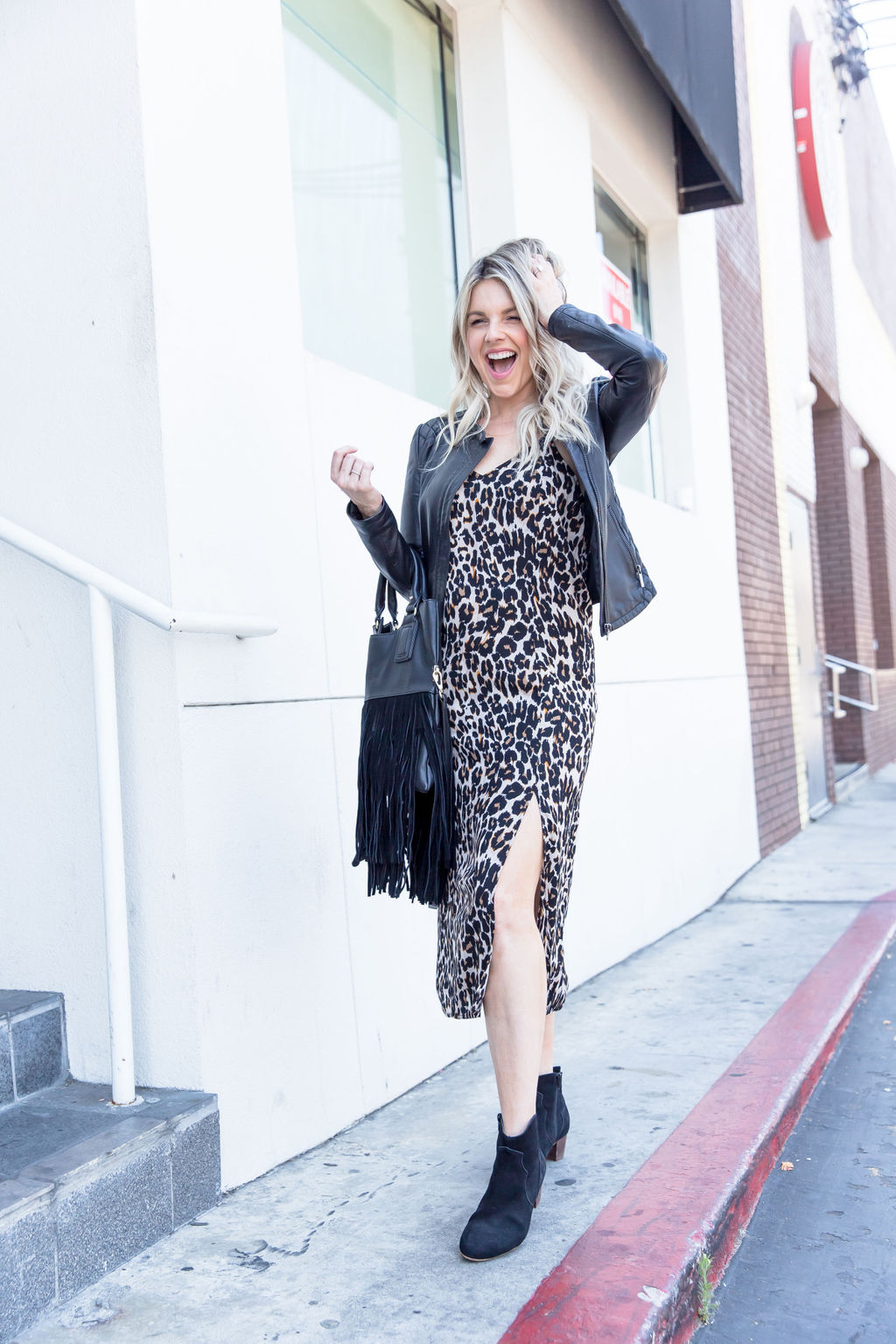 1. DRESS | 2. JACKET | 3. SIMILAR PURSE | 4. BOOTIES