Ah! This episode has me feeling all sorts of things. Honestly my head is spinning a bit trying to wrap my head around some of it. Ha! Apologies in advance if I talk in circles a bit, there's just so much going on! Let's get right into it!
Peter's Fantasy Suite
Oh Peter! He is just such a little sweetheart! But I feel like we saw two completely different sides but last night. One side of him pre-windmill and another side of him post-windmill. Ha! Obviously, we all know what happened in that windmill. Twice! But it's funny because he was so insecure and awkward about saying I love you and just very awkward in all of his adorable Peter ways before the fantasy suite. But the next morning he just seem like a totally different guy to me. In a good way! He was still his sweet adorable self but had this confidence that was extremely attractive in my opinion. Post-windmill Peter could be the Bachelor!
That said, for the first time all season I kind of feel like it could be Peter in the end. I never thought I would say this but I believe them when they say the relationship went to another level after the fantasy suite. And not just because they slept together. But you could just see this intense connection between them the next morning. I felt like there was no other guys in her mind when she was with him that morning. So I think it could be him in the end. But if it's not, he is honestly my pick for the next Bachelor! I think he would be one of the best Bachelors ever!!!
Tyler's Fantasy Suite
OK at this point I'm convinced it can't be Tyler. I understand that she wanted to know if there was something more than physical and I think it's great that she did that. But if they end up together how is she possibly going to explain that she slept with Peter and not him? I just feel like that's going to be a really tough pill for anyone to swallow. Heck, finding out that the person you get engaged to just recently slept with someone in addition to you is extremely painful. But knowing that she had that intimacy with someone else and not you has got to sting. It's so weird even talking about this. Like, in the real world this wouldn't be a thing. If one of my girlfriends came up to me and told me that the guy she's been dating just slept with somebody else and then proposed to her I would tell her she's insane. Ha! So I don't even really know how to talk about this stuff. But what I will say is that there is no judgment from me whatsoever you guys. I have said this time and time again on my blog but most people are intimate with more than one person on the show. That's because you're put in the situation where we are expected to get engaged in such a short period of time and physical intimacy is a big part of that. I actually applaud her for being so open about it. There have been times where I thought the making out with multiple guys was a bit much because she had so many left still. But just because it's a bit much for me doesn't mean it's much for her! And she should live her life however she pleases! I just try not to have double standards when it comes to these things. And I know if this was a season of the Bachelor and the Bachelor was talking about sleeping with multiple women I would think he was being a jerk. So I do think she needs to be a little bit careful about what she's talking about publicly because it could be hurting the guys. In fact I'm sure it is. Sorry I feel like I'm talking in circles but it's just such a weird topic and I keep having different thoughts about it.
All in all, Tyler once again proved to be such a standup guy! And I'm super excited that there are two really strong candidates this season to be the next bachelor. Makes me already excited for the next season! Here are the links to the swimsuit Hannah wore to the massage part of their date! The bottom's are actually on sale right now!! There are two different tops that match and I have linked both!

Jed's Fantasy Suite
I totally get where Jed is coming from when he pulled her aside and asked her how she could be interested in someone like Luke. Honestly, I did the exact same thing the season of the Bachelor that I was on. The guys name was Jake and he had a girl that stuck around till the very end actually, that I couldn't understand what he saw in her. And look, at the end of the day it's none of my business what somebody saw in somebody else unless I'm considering being with that person too! I truly don't know that I would be compatible with somebody who saw somebody else so differently than I do. As I say that out loud. Yes I am writing this blog talk to text, it comes off my tongue in such a gross way! Like I feel like I'm being completely close-minded. But the more I really sit down and think about it, I feel like to be married to someone you have to be similar on so many levels. Yes, opposites attract and I do believe that people can balance each other out. But I think on fundamental beliefs and how you view the world and others you have to be pretty similar to stay married to someone. For example, Kevin and I have always said since we first started dating that we have the same brain. We truly would finish each other sentences and always have the exact same thought on something. I think that's one of the things that makes us such a strong couple. But when you're a couple and you see things so differently, you tend to butt heads a lot. For example, Roberto was the guy that I ended up with on my season of the Bachelorette. He's a great guy! I honestly think someone will be lucky to marry him one day. And I truly mean that. But we saw the world so differently that we never stood a chance. And I think that's what's happening with Hannah and Jed. I don't know that they see the world and see situations the same way. All that said, I'm sure there are some of you that will read this and think or even comment below saying that you and your husband are polar opposite's and happily married for 25 years! And if that's the case that's awesome! I definitely think there are exceptions. But you know the movie He's Just Not That Into You? Well, if you're familiar with it I would say those people are the exception, not the rule. So if Hannah and Jed end up together, which I think there is a super good chance they will, I really hope they are the exception and not the rule. Especially because when he told her he loved her, her feelings were written all over her face. She loves him too. I know a lot of people have different opinions about Jed because of the ex-girlfriend scandal. For those of you that don't know what I'm referring to, there is a girl that he was dating right before he left to come on the show. And while I think that was a really crappy thing for him to do, I do still think that he is falling for Hannah in this process and never thought he would. I've also said this so many times on my blog in the past but nobody goes on the show thinking they'll actually fall in love and everyone's usually surprised when they do. I think Jed never thought in a million years thought he fall for her but he is. All that said, and because I don't know the truth around the situation with Jed's girlfriend, I feel like we will learn more of the truth once the season is over and I'm holding out judgment until then. I will say that Jed has shown absolute transparency throughout this process. The fact that he came clean about wanting to come on the show to boost his music career was incredible in my opinion! And the fact that he sat down with Hannah at their dinner on this date and hold her some really hard things but in a super respectful way just made me really admire him.  I just loved the conversation. I feel like the show can be a bit over-the-top at times and it's the same thing over and over and over. So when we get to see real conversations it makes me happy. Because that's what relationships are. Although I wish Hannah kept it together a bit more. She needs to respectfully here people out. Especially at this point. But I also get that she is FLOODED with emotion. I cried SO much at this point in my journey as the Bachelorette and would get in fights with the producers about it. Ha! So I know how emotional this point is.
Luke's Fantasy Suite Date
I'm surprised she saved the bucket list date for Luke. On my season I remember saving my favorite dates for the guys I liked the most. So it seems pretty obvious to me that going into the day she really felt like he could be the one in the end. But let's not waste time and get into what happened on their date. First thing I want to talk about is I'm confused about the timing of the date. Obviously the way it's edited it's made it seem like this was her fourth fantasy suite. However, the way Luke was talking made it seem like he was telling her she shouldn't have sex moving forward. Like if he was the last fantasy suite about a week of time would've been between the last rose ceremony and his date. Even maybe a little bit more time because they were 4 fantasy suite dates this season instead of three. So I'm wondering if Tyler's date was actually after this but they told Hannah she couldn't tell Tyler anything about it. I'm not really sure. And that also makes me wonder if that's why Hannah was so adamant that she and Tyler should not be intimate on their date. Maybe she was worried how her conversation with Luke would come off on national television, and I get that, so she wanted to make sure it didn't seem like she slept with all the guys. I don't really know. I'm confused about it. What are you guys thinking?
So here's my first thought about what Luke said. I get that he doesn't want to marry Hannah if she sleeps with the other guys. This may not be the popular opinion. But I get it! In addition, on the season of the Bachelor I was on I left before the Fantasy Suite dates so I don't know what it's like to be in that position, but I feel like it would be too hard for me to be with somebody knowing they just were with somebody else. So I think he had every right to ask the question. But I also think Hannah had every right to defend herself! Again this is just one really weird conversation that wouldn't have it in the real world so it's hard to even talk about. In the real world Luke having these questions for the girl he's dating would not be frowned upon. I'm actually not yet. I think you have a right to thought! I think for Hannah to say she's not "strapped down to a man" isn't fair at all. She's dating these guys hoping that one of them wants to propose to her. I don't think she should look at it that way. I think she should respect the fact that he could be hurt by her sleeping with somebody else and would want to know. And I think she should've talked to him about that. Am I totally off? Do you guys totally not agree with me? Or maybe we do completely agree with me! I don't know! The one thing I do think that he really messed up on was talking about this in front of the cameras. He should've had this conversation with her in the fantasy suite. It's almost like he was trying to publicly bash her for having sex outside of marriage. So that is where he really messed up! But the only reason I'm giving him the benefit of the doubt is that I know you're just not always thinking clearly on this dang show! It's a really emotional point in the process. And I know I did some really crazy things and said some crazy things around fantasy suite week. It's just such an emotional time! So I guess what I'm trying to say is that I think Luke had every right to ask what he asked. But because it came from Luke it's just not OK. He's just showing that what he says is always said as a way to try to manipulate Hannah. And I think that's what he was trying to do here. So the clarity that he wanted isn't what bothered me. The manipulation behind the clarity he wanted is what bothered me. Sorry if I talked in circles here. I just feel like this is a really confusing episode and it's hard for me to wrap my head around everything. Oh! And here is her outfit from part of her date with Luke! Remember when I did "The Many Outfit's of Hannah" post?! I tried to find everything from the season teaser, and this was one of them!

1. Track Jacket | 2. Black Top | 3. Striped Pants
Final Thoughts
I have no doubt when Luke shows up next week she's going to make him leave. There's no way he ends up in her top two. Although, the show tends to surprise me these days! Who do you think will be the top two? Right now I feel like it's Peter and Jed. But I'd love to know what you guys think! Let's discuss in the comments below!
ALSO, I saw that the Walmart "The Big Save" sale was extended and is ending tomorrow! Be sure to check that out and let me know your favorite sales from Walmart and the Prime Day sales in the comments below!! 
My entire outfit in the post below is from Walmart! I've linked the items below. But seriously I just love this top, it is so darling! And how can you beat $16 jeans?!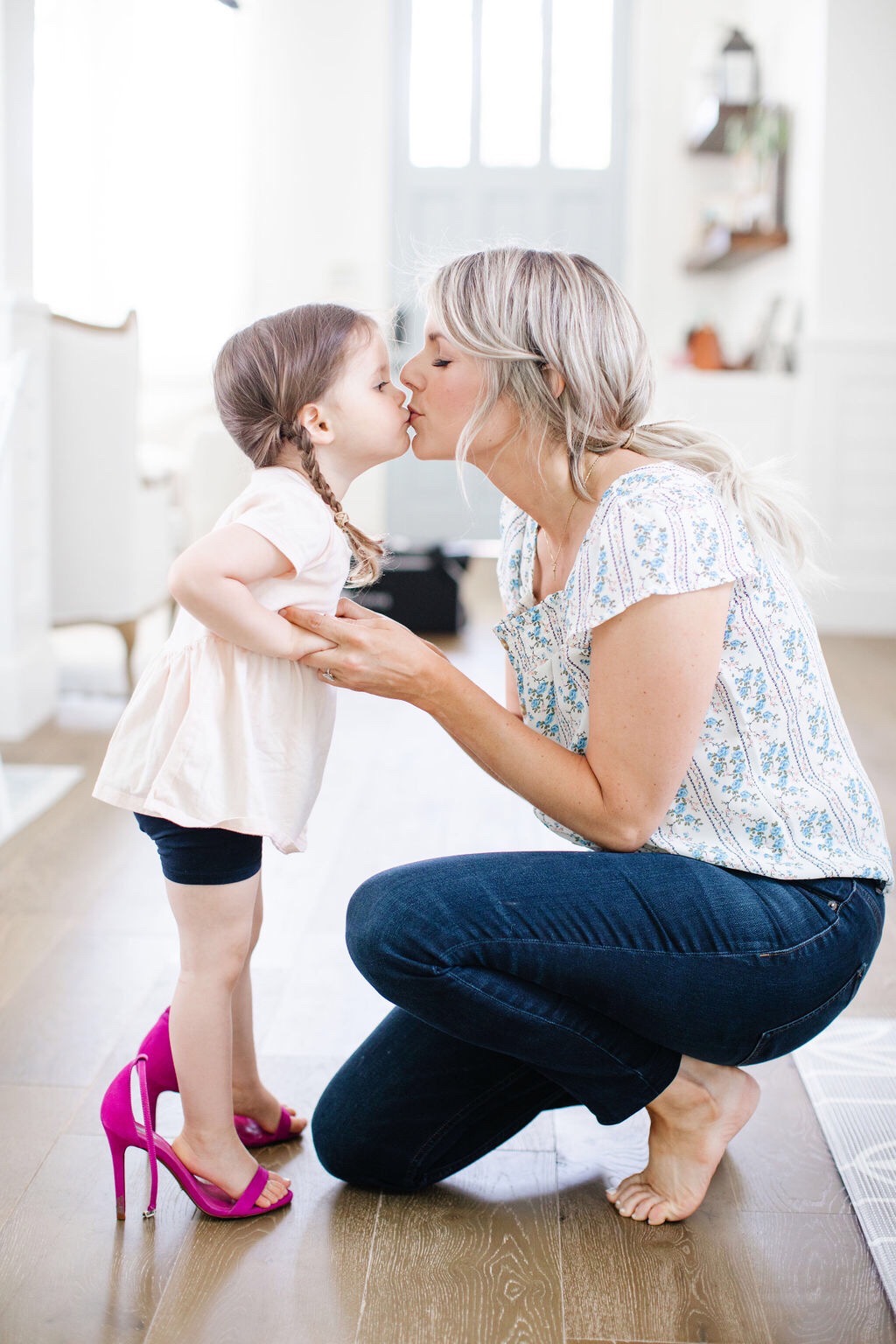 1. MY TOP | 2. MY $16 JEANS 
Before you go… As you know, the Nordstrom Sale is going on right now! Currently, only people that have the credit card can shop, but on Friday it goes open to the public! I think the deals are that good that the card is worth it, but if that's something that isn't for you, save these in your cart until then!! I blogged about these heart PJ's yesterday, but they are so dang cute that I wanted to put them here as well! Each piece is $25.  You could totally just get the bottoms and pair them with a white T-shirt and it would be so cute. They're super soft, I love the blush color, and the hearts just make them really sweet and feminine. I just love them!!!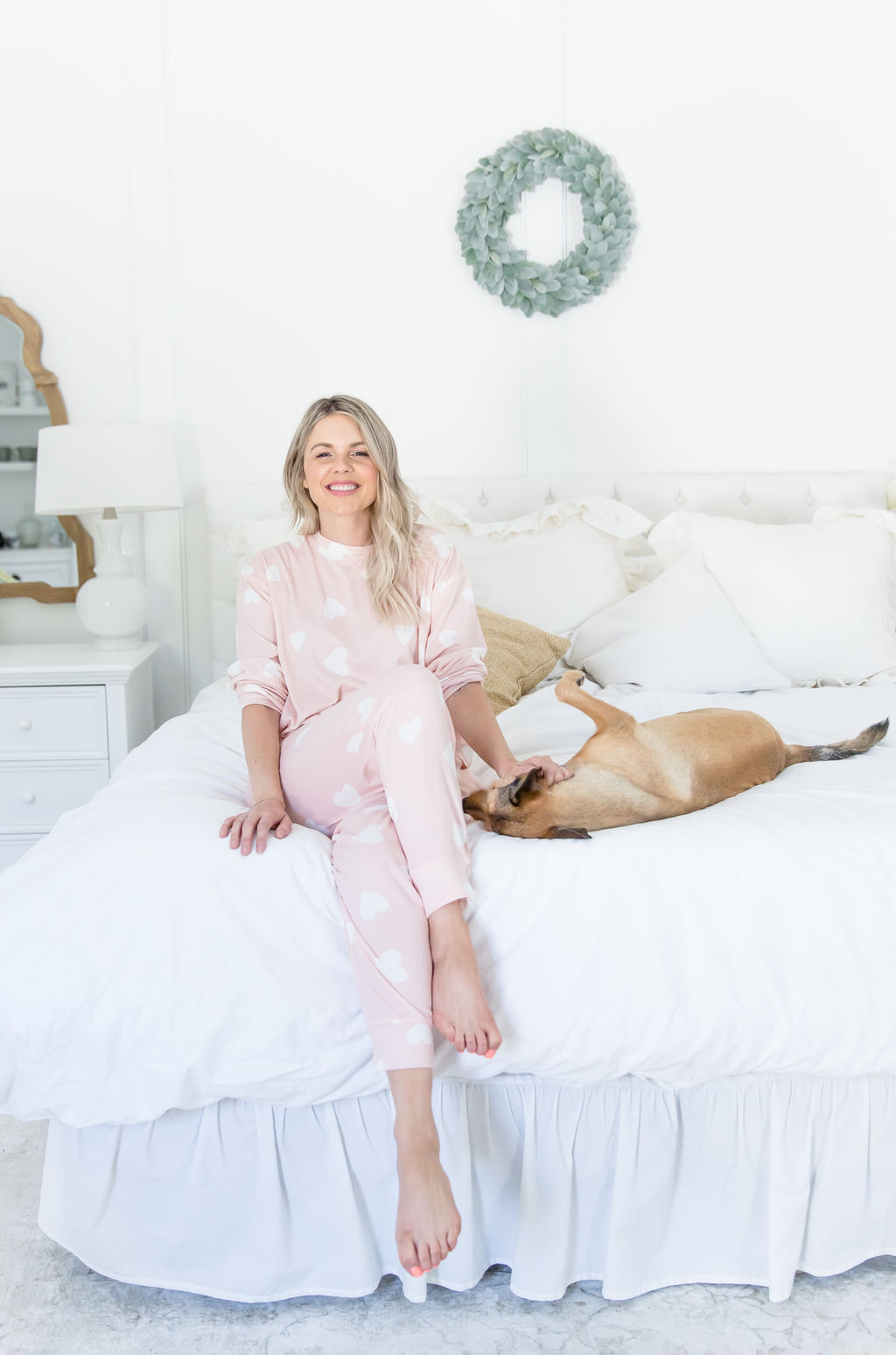 HEART PJ TOP | HEART PJ BOTTOM | HEADBOARD | SIDE TABLE/DRESSER | MIRROR
Another item that you've definitely seen me in is these joggers!! I seriously wore them for two days straight, don't judge! Ha. They are so comfortable and can be worn dressed up or dressed down. I've worn them lounging around the house and also to a friend's more formal birthday with a pretty top and jacket! They are $35 and high waisted. You heard that right! Only $35! And they come in plus size too! Yay! I seriously cannot recommend these enough! Snag them before they're gone!

WHITE TEE |HIGH WAIST JOGGERS | PLUS SIZE JOGGERS | LEOPARD LOAFER
Here are the joggers in another look with this cowl neck sweater that I got for under $50! It's almost sold out but if it's still available in your size you have to get it! And if it is sold out in your size come back in a week or so cause sometimes Nordstrom restocks their items from the sale. I really hope they do restock because I really want to buy it in the cream color. It's so comfy and really flattering for an oversize sweater look. Plus I absolutely am obsessed with the long cuff on the sleeve. It's honestly one of my favorite sweaters ever.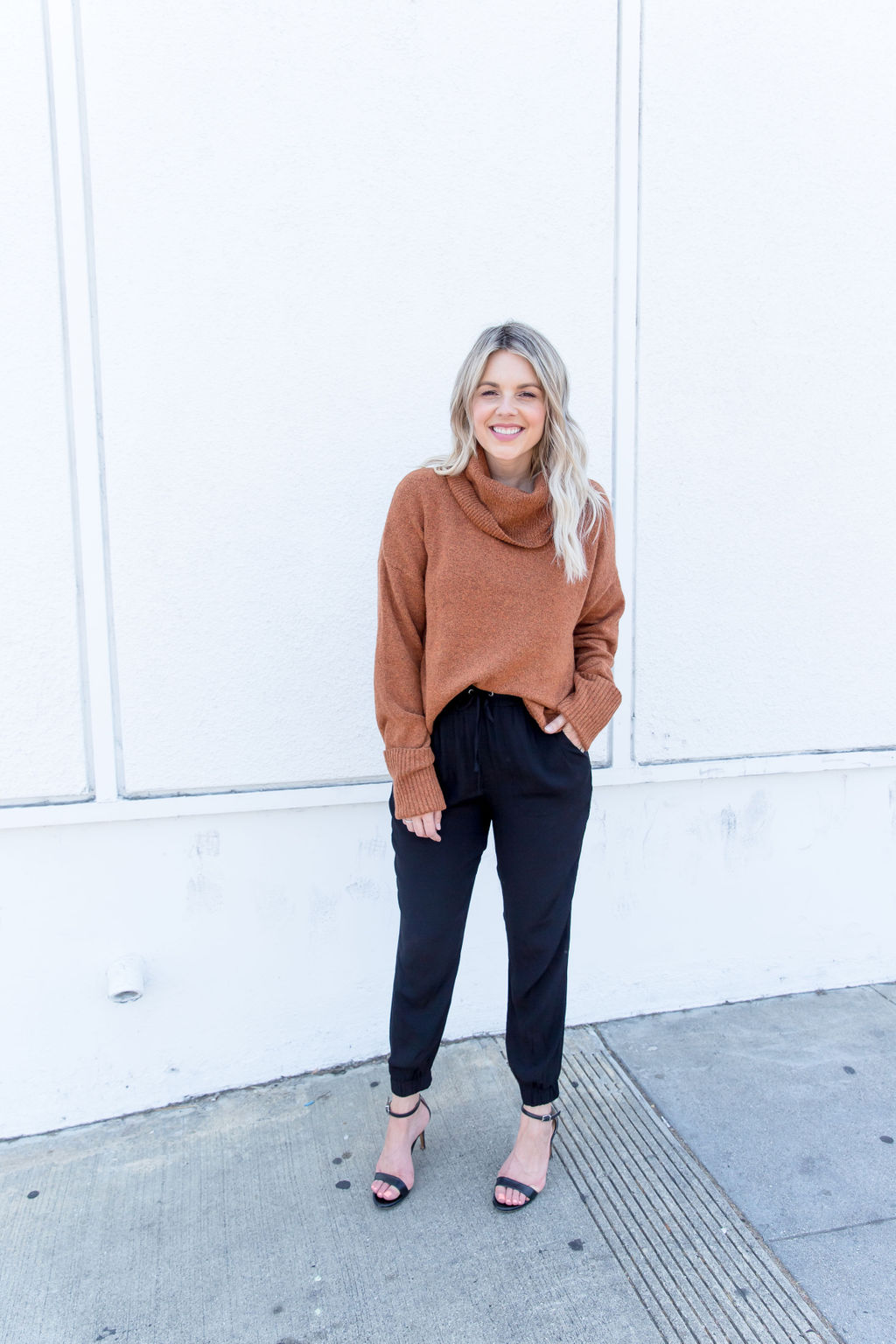 COWL NECK SWEATER | HIGH WAIST JOGGERS | LOW HEELS