Good morning guys! That's right, good "morning." I realize it's afternoon, and even evening in some places, but I just woke up from a much needed nap. Kevin and I went out to celebrate a friends birthday last night and stayed up much later than we normally do. And I was hurting this morning! So when the kids went down for their nap's,  Kevin and I did the same. Ha!
And of course I took the opportunity to snap a couple pics to sharethese PJs with you guys because they're part of the Nordstrom Anniversary Sale! And each piece is on sale for $25! You could totally just get the bottoms and pair them with a white T-shirt and it would be so cute. They're super soft, I love the blush color, and the hearts just make them really sweet and feminine.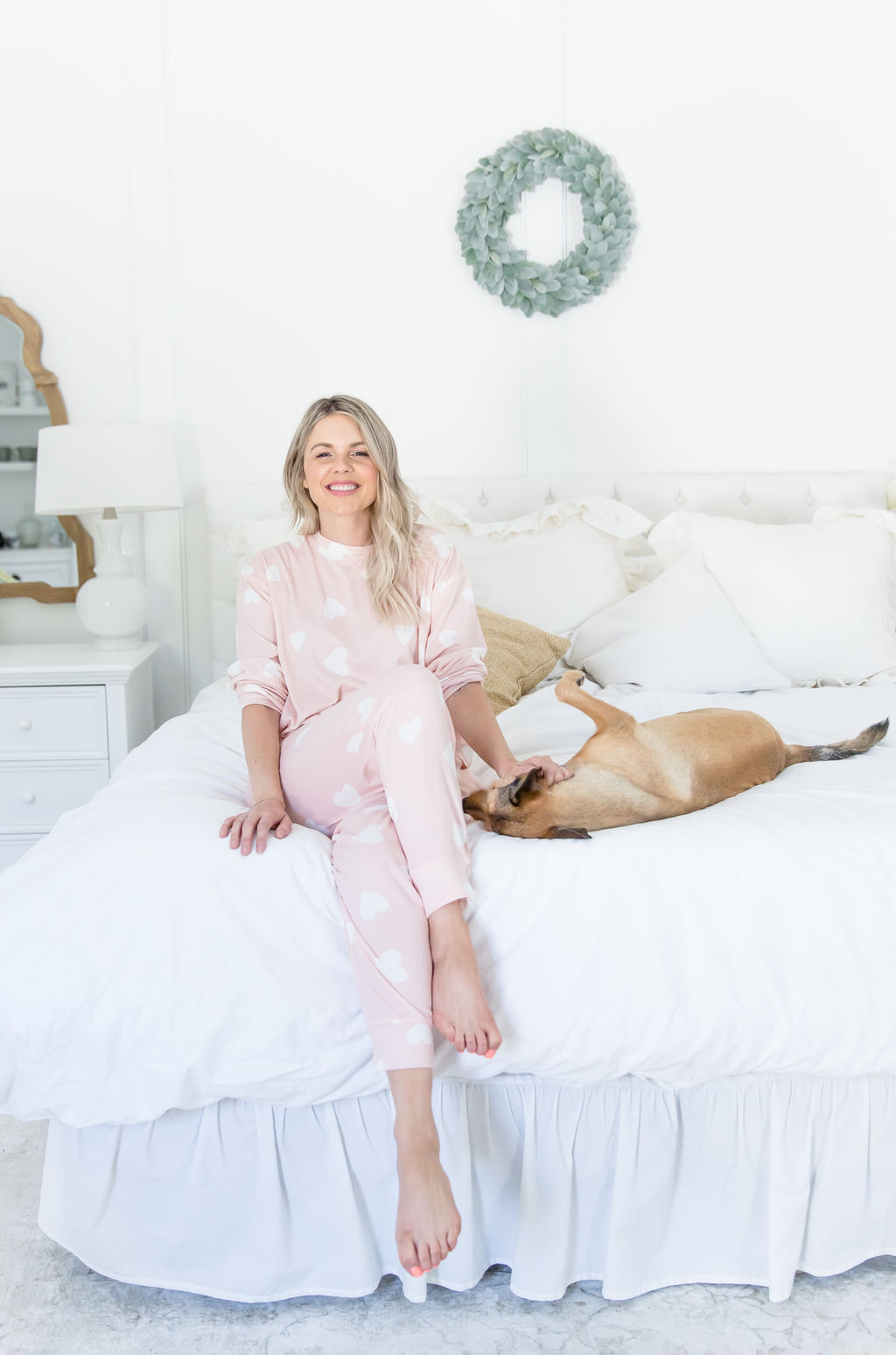 HEART PJ TOP | HEART PJ BOTTOM | HEADBOARD | SIDE TABLE/DRESSER | MIRROR

HEART PJ TOP | HEART PJ BOTTOM | HEADBOARD | SIDE TABLE/DRESSER | MIRROR
I actually found myself buying a few pairs of PJs at the Nordstrom Anniversary Sale this year. I also got the pajamas in the photo of me and Riley at the hospital in gray stripes too. I bought the navy ones when I was pregnant because they were so soft and I wanted something soft to wear in the hospital when I first gave birth to Riley. Only the best for his sweet newborn skin! So when they went on sale I snagged another pair. Me and my girlfriend Valisha were talking the other day about how we don't have that many great pajamas, when pajamas should be one of the pieces of clothing we invest in more than anything! Only because you spend so much of your life in bed and why not feel good in something super comfy! Plus, I think waking up in a cute pair of PJs just kind of starts your whole day off on the right foot.
And FYI, I got a 8-10 US in the top and bottoms
Anyway, had to share with you guys! Hope you're having so much fun shopping the anniversary sale like I am! You also have to check out my post about these $35 high waist pants if you haven't already. I AM OBSESSED! And they are still fully in stock! I never no idea how. They are my favorite piece from the sale.