Time to talk about last night's episode of The Bachelorette! I didn't watch with my kids, but the photo below of me giving ALL my roses to Riley is just cute, so I thought I would include it in the post. I linked our outfits and some kitchen stuff in the photo below for those interested. But let's get into the show…

1.EARRINGS | 2. FLORAL DRESS | 3. FUCHSIA SHOES| 4. RILEY'S OUTFIT
First (Group) Date of the Season
To be completely honest I was really disappointed with the first date of the season. Having guys take off their clothes and be objectified is just not cool in my book. It was the other way around (so on a season of the Bachelor), I would've been absolutely horrified if the first date of the season or really any date on the season was the women being asked to strip down into bikinis and walk the runway to be oogled over. I try not to have double standards that are different for men and women. So I just thought the date was in poor taste.

The one thing I kind of did like about the date was seeing how uncomfortable Jed made Luke P feel. Just because Luke P was looking Jed up and down when he walked the runway. He knows he has some competition. And like I said in my blog post last week, I think Jed will likely be in the top two. And now I even think he will be the final guy standing!
And I also said this last week, but his singing is just insanely good that I have to say it again! He's for sure going to get some sort of record deal out of this. And I'm not hating on him for it! Work this show for all it's worth. If you can get love out of the show and a record deal, why not get both! The important thing is that his intentions for being on the show are for the possibility of love first and foremost and I think they are.

I feel like a broken record here but I also said last week that I thought Luke P looked like he was auditioning for the Bachelor on the very first night. And I still think that! He just seems to say what he thinks she wants to hear and what he thinks will make him a good candidate for the next Bachelor. It's all BS in my opinion! And last night when he told her he's falling in love with her that just blew my mind. That's insane! Look, I'm not saying that love at first site is completely bogus. I believe that you can fall for someone (in lust) pretty instantly. But I just don't feel a sense of genuineness from him. He's legitimately spent a total of two hours with her between the rose ceremony night and this first date. You get so little time with each person. I just think he saying what he thinks he supposed to be saying. I'm not a fan.
And it's no coincidence that he got the first impression rose AND won Mr Right. My guess is it was probably a tossup between him and Jed. And the producers thought it would create more drama if he got it since he just got the first impression rose. That's just my hunch. I bet Hannah didn't get to pick. Because when she talked to him at the after party she seemed very weary of his decision to use that word already. So I definitely don't think it was her choice. I bet the other judges chose (I think she would have chosen Jed). But when Luke P. told her he meant it, she totally fell for it. She is putting on the blinders with him. I am worried for her!
First One-On-One Date
I found her one-on-one with Tyler extremely boring. It just felt like there was zero connection. They felt like friends – not romantic at all. Don't get me wrong, I think he is a charming and super sweet guy but I just could barely keep my eyes open watching their date. I do like him though. And I'm sorry this is the shortest recap of a date ever. But I just don't have much to say.

1. SHIRT | 2. JACKET | 3. PANTS | 4. SNEAKERS
Group Date #2
I think it's pretty obvious that she isn't into Cam. If she was, she would've been so excited that he came to visit her on the date. Imagine if that was Luke P or Jed. Her reaction would've been a lot different – check out her facial expression in the photo below. I did think it was very mature of the guys when they approached Cam about it. A few of them stepped outside to let him know they didn't appreciate it. They didn't lose their cool raise their voice. I just thought it showed how stand up Hannah's guys are.
I also want to say that the guys that didn't get time with her aren't going to end up with her at the end. While I get that they were upset about it, the producers really just ended the date to make it seem like it was Cam's fault that they didn't get time. But at the end of the day, Hannah is going to make time for the guys she's most interested in. So I feel pretty certain to say that the guys that didn't get time with her won't end up with her in the end. And that's not because of Cam. It's because she's just not that into them.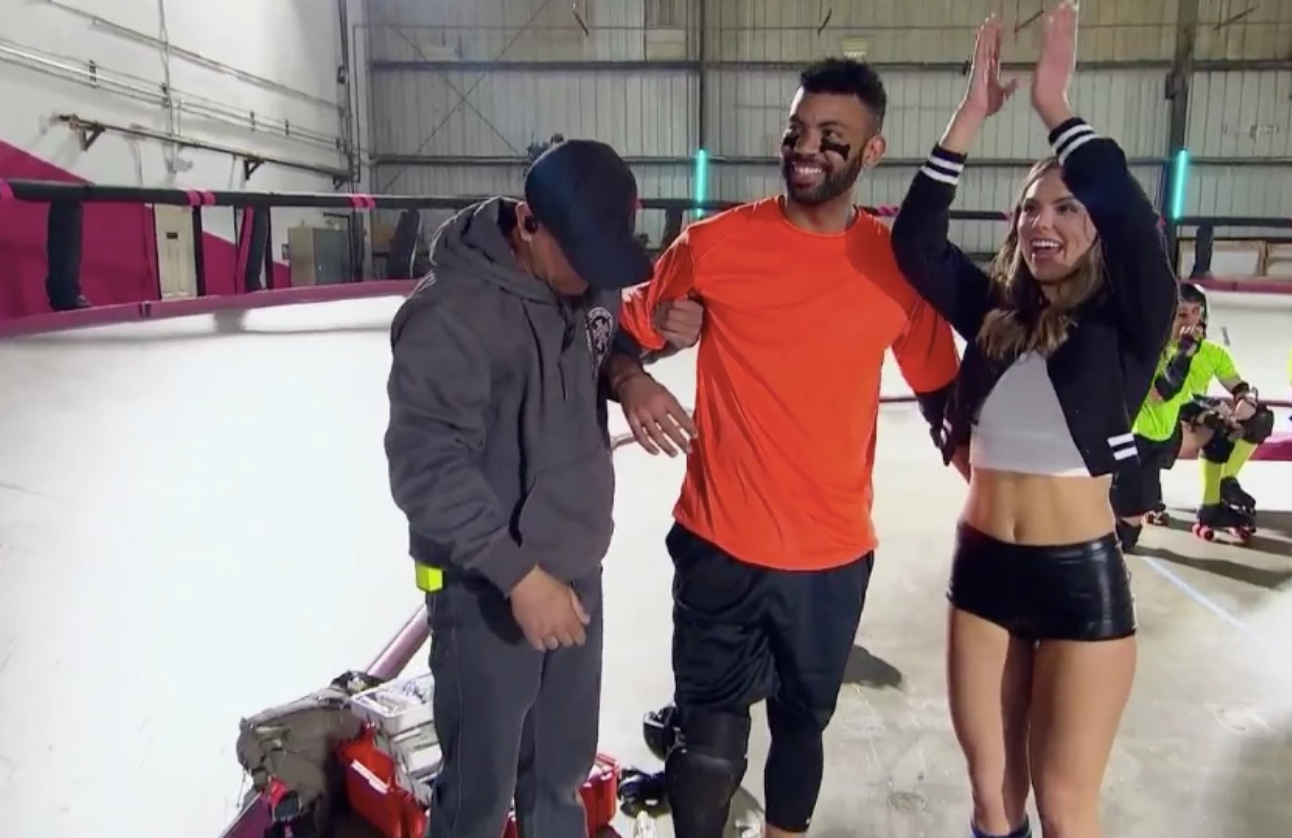 1. JACKET
Rose Ceremony
Oh my. I'm not even sure where to begin about her speech when she walked in to the rose ceremony. Honestly, I thought somebody had died when she walked in and started her speech the way she did. Then as she started talking I realized she was just emotional about the entire experience. Honestly, if I was one of the guys I'd be terrified. I can be an emotional person myself. But her speech didn't make any sense – she wasn't really clear on why she was upset and she just seem to be overreacting in my opinion.

That said, I do adore Hannah. I think she's a very sweet girl and I will be rooting for her every step of this journey. But I think she lost a lot of people during that speech. And I think she probably freaked out the guys. If the Bachelor came in on the second rose ceremony crying because he said he didn't know how to handle it I would be completely turned off. Again – trying not to have a double standard. I'm just worried about her at this point.
I also think her age really showed during that speech. I don't think she's emotionally ready to be married. And look, I was only one year older than her when I was a Bachelorette. But I don't really think I was ready then either to be honest. I thought I was at the time! But looking back now, I wasn't mature enough.
The dress she is wearing here is the same designer as last week, so I won't link the exact since it has to be custom ordered. I linked a few similar options though!

Luke and Jed Awkwardness
I think she's getting a little too ahead of herself with Luke. It's going to backfire, I just know it. She's not thinking with her head or even leading with her heart. She's leading with another body part if you know what I mean. She sexually attracted to him and I get it. But I just think she needs to pump the brakes a little bit. She even knows that it's inappropriate at this stage in the game.
But what really bothers me about it is that she completely lied to Jed about what was happening. She said the massages were funny, ha ha! But what was going on with her and Luke was not funny whatsoever – it was very steamy. At one point she even said told Jed that if he had come into the room in his underwear afterwards and said "well if we're giving massages" that she would've been like "bye Luke!" And we know she wouldn't have. I don't know, I just thought that her completely lying to Jed about what the situation was wasn't necessarily the right thing to do. I would've preferred it that she acknowledged how awkward it was, apologized that he had seen, and then talked about how difficult the experience is and how she does know what she's doing.
Goodbyes
No real surprises there. Instead I'll just end this by saying Riley gets my rose EVERY time 🙂 BTW, he is turning ONE this week! Insane right? I feel like he was just born!

1.EARRINGS | 2. FLORAL DRESS | 3. FUCHSIA SHOES| 4. RILEY'S OUTFIT