Morning Luvs! I can't believe today's the last day of the Nordstrom Anniversary Sale! As you guys know, this is a sale I look forward to all year so I'm pretty bummed to see it come to an end. However, maybe that's a good thing because I've spent way too much money shopping the sale this year! Ha! I just couldn't help myself because some of the items were such great deals. So today in the blog I'm rounding up my favorite looks from the sale that are still in stock so you can snag them up before the prices officially go up tomorrow!
This jacket is so cute and so well-made. I love anything by free people but I normally don't buy their stuff because it's not usually affordable. However, since this jacket is part of the sale, I was able to snatch one up at a price I was comfortable paying. At under $100, it's definitely an item worth having! It will be really great to layer this fall but also it's not too heavy that it can't be worn at night in the summertime or spring time. And if you read the reviews on Nordstrom, I'm not the only one who love this jacket it has 4 1/2 out of 5 stars and people are raving about it!

1. NECKLACE | 2. JACKET | 3. WHITE TEE | 4. HIGH WAISTED JEANS | 5. BOOTIES
The leather leggings below are by Spanx and it's mind blowing how much they suck you win! This is another item that if you read the reviews on Nordstrom, people absolutely love these and so do I! I actually did a blog post showing you guys three ways to style these leggings and I hope you guys found it helpful! These leggings are my must-have item from the sale this year!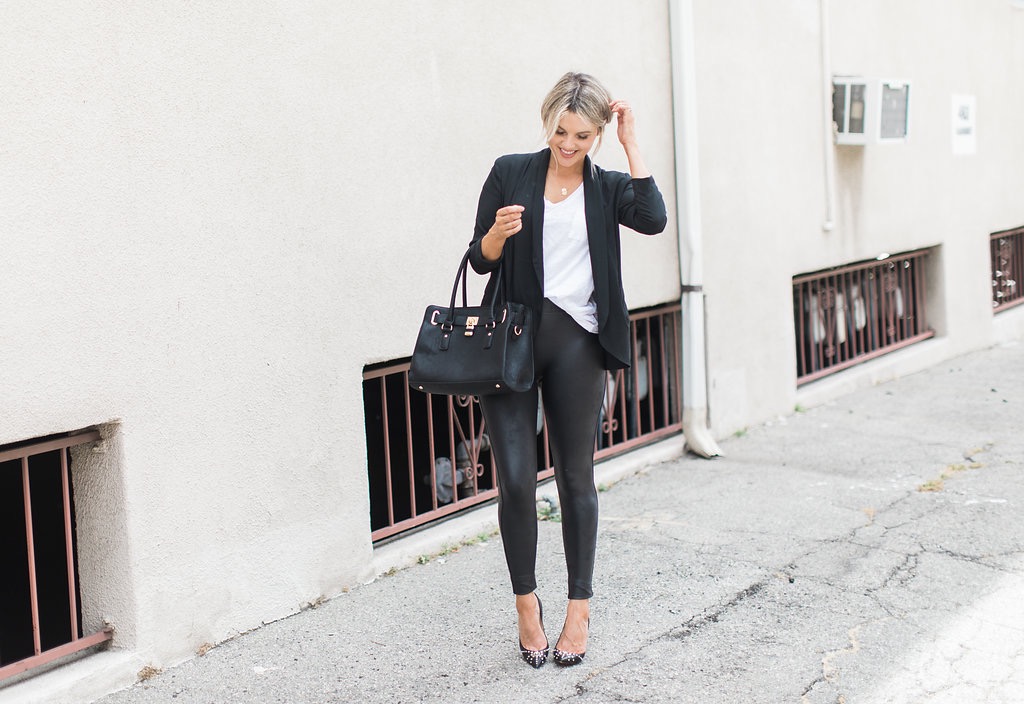 BLAZER | 2. WHITE TEE | 3. LEGGINGS | 4. BLACK TOTE | 5. NECKLACE | 6. SIMILAR HEELS
I don't know about you guys, but I love a good sweatshirt! Especially during the fall and winter. There's nothing better on a cold night then putting on a super soft and comfy sweatshirt. This one is so soft and I just love the good vibes emblem on the front.

1. GOOD VIBES SWEATSHIRT | 2. HIGH WAISTED JEANS | 3. CHUCKS | 4. RINGS
Oh man, I forgot about this shirt. This might be my one MUST-HAVE item from the sale! I have no idea how this shirt isn't sold out yet! In fact, it's fully stocked! The shirt is one of my favorite shirts I have ever purchased! And it's under $50 right now. It's great to wear to the office but also kind of sexy to wear out to drinks after work.

1. NECKLACE | 2. PAJAMA TOP | 3. PANTS | 4. BRACELET
This last top is on sale for only $23 right now! The print I'm wearing is only left and limited sizes, but it's also available in blush which would go with so many things, and it's available in a navy and white print that's just perfect for fall!

1. SUNGLASSES | 2. EARRINGS | 3. FLORAL TOP | 4. JEANS | 5. PURSE | 6. FRINGE HEELS
Last but not least this top ispart of the sale and I've actually never posted about on here before. It's just a fun shirt to wear with the big, playful sleeves! It's a favorite for others too because its only left in size small!

1. RED TOP | 2. PANTS | 3. $39 PURSE
Hope you guys are able to snatch up a few items you luv on this last day of the sale!
Save
Save
Save
Save
Save