Morning Luvs! I really love today's blog post so I hope you guys do too! I got these faux leather leggings at the Nordstrom Anniversary Sale and I thought it would be fun to show you guys 3 different ways to style them. Really anyone can rock a leather leggings no matter what your style is. And they instantly add a little edge and style to many items you might already have in your closet.
First, let me talk a little bit about these faux leather leggings. I was super intrigued when I saw they were 40% off for the Nordstrom Anniversary Sale because they are by Spanx! I figured that if there by Spanx they must be super flattering and that is definitely the case! I got a size medium, which is my normal size, but I almost wish I got a small so they would've sucked me in a little bit more. So I would actually recommend sizing down in these. Just to get that extra bit of Spanx action going on. Ha! And just so you know, the Nordstrom Anniversary Sale ends on August 6 so you only have a couple more days after today to get these on sale! After that, the price sheets up to $100. Now let's style these bad boys!
LOOK ONE
This is definitely the most simple way to style faux leather leggings and definitely something you guys could style with items you already have in your closet. All you need is a loose fitting tee, a cute black cross body bag, and black pumps. The key to this look is really a t-shirt with a loose fit and heels. I don't think flat shoes would work with this look as it would become off-balance. The tee is super casual so you need to heal to dress it up a bit. Otherwise the leather leggings seem out of place. (Unless of course the flats are converse! Those would totally work! Thanks for the comment below Elspeth!) If you'd rather use the exact items I did to style this look, the T-shirt is $24 (I sized up to a large to get ta very loose fit and I've had mine awhile so it stretched out even more over the years – which I like!) and the crossbody bag is only $39. The heels are Christian Louboutin and obviously much more expensive. They were a gift to me years ago so unfortunately they're no longer in stock even if you wanted to splurge on them. However, I found a somewhat similar pair HERE if you're interested.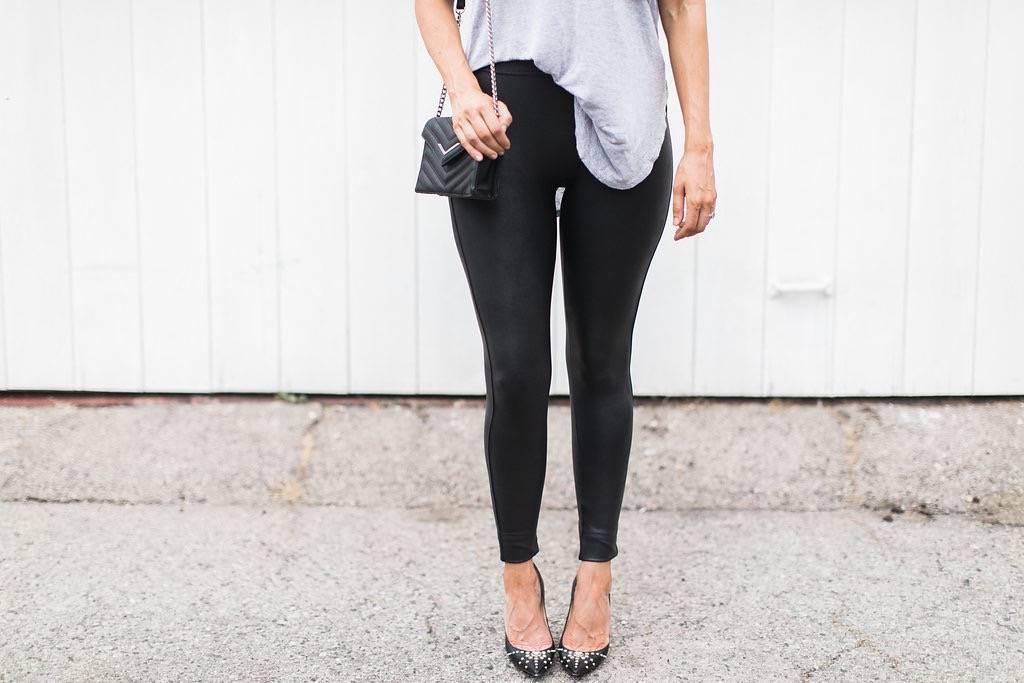 1. GREY TEE | 2. FAUX LEATHER LEGGINGS | 3. BLACK PURSE | 4. NECKLACE | 5. HEELS
LOOK TWO
I honestly can't decide which of these three looks is my favorite way to style leather leggings. But this one may just slightly edge of the others and be my favorite! I think it's a perfect look for the office and then really cute and sassy to wear out for drinks after work! I paired it with my favorite white tee ever that's only $20 that you guys have heard me rave about on this blog over and over. And then added a simple black blazer over it. Many of you may already have a black blazer and a white tee in your closet. I thought the larger satchel was more appropriate for a bag with this look (Mine's only $39 BTW). However a crossbody bag like the one I styled above would also work. Again, just throw on a black pair of heels and you're good to go!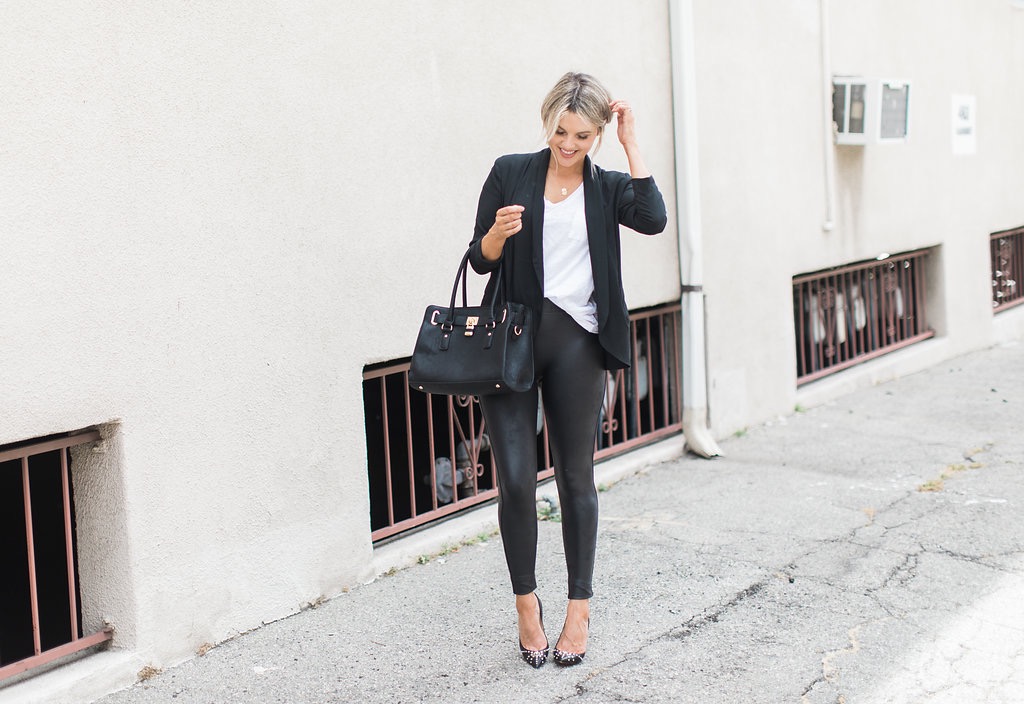 BLAZER | 2. WHITE TEE | 3. LEGGINGS | 4. BLACK TOTE | 5. NECKLACE | 6. SIMILAR HEELS
LOOK THREE
This look is definitely for those of you who have a more casual or edgy style. The boots are honestly what make this look! I just discovered this shoe company and have become completely OBSESSED with everything they make. And when I received these boots in the mail (along with a few other pairs I ordered), I was truly blown away by the quality. Definitely a brand to consider when you're stocking up for boots for this fall!
The rest of the look is really only an oversized sweater and a fringe bag. Both my exact sweater and bag are from last season and no longer available, but I linked similar items below.

1. OVERSIZED SWEATER | 2. LEGGINGS | 3. FRINGE BAG | 4. BORN BOOTS
Hope you guys enjoyed this post and found it helpful! I really loved styling these looks and I hope you guys love them too! Let me know in the comments below which of the three is your favorite!
Save
Save